South African Man Wows With Unique Farm Marriage Proposal, TikTok Video Gets 2 Million Views
A South African man's marriage proposal in front of a herd of cows has taken the internet by storm
The heartwarming video of the farm proposal was posted on TikTok and clocked a staggering two million views
The comments section is filled with swooning admirers praising the unique and perfect proposal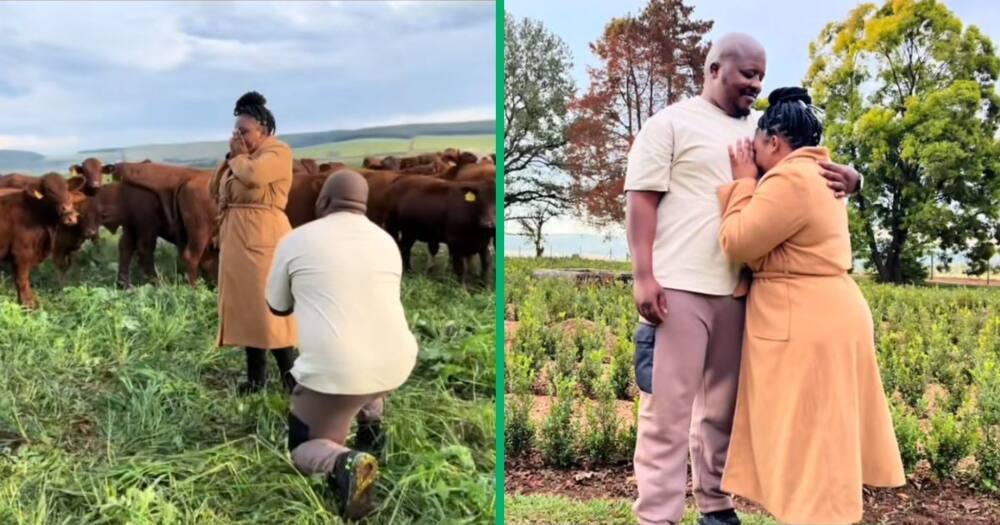 One man recently captured the attention of TikTokkers with a uniquely charming engagement in front of a herd of cows.
The farm setting turned into a stage for love as the man popped the question, leaving both the lady and viewers in awe.
Proposal video goes viral
The TikTok video posted by @thelifeofthemchunus now boasts an impressive two million views. It shows the man dropping on one knee.
The lady, caught off-guard by the unexpected audience of cows, is left utterly speechless as the man asks her to be his wife.
Netizens impressed by lobola cows
The cows, which many Mzansi people are guessing are for her lobola, provide a picturesque backdrop to the romantic moment.
Watch the video below:
Mzansi raves about farm proposal
Mzansi couldn't get enough of the unique farm proposal and the comments section quickly became a virtual love fest.
Many viewers expressed their admiration with some stating it was the most perfect proposal they had never seen before.
@lorrainetsotetsi1 said:
"Yoh, some people know how to propose, shame❤️"
@musasibs23 posted:
"This man proposed and paid for lobola at the same time? He needs to be studied at Harvard."
@anita.gumede wrote:
"The way the proof of payment is looking at her."
@Kat2_O stated:
"The bar is in Heaven at this point. Love to see it❤️"
@lamngwenya_lebz commented:
"What a perfect way to propose."
@iluv.rea2 mentioned:
"I hope my future husband is watching this and taking notes."
@me_you798 added:
"Imagine being proposed next to dikgomo tsa gao tsa magadi. Some women are lucky. Congratulations."
@TraceMog stated:
"Ladies in the comments have changed the tune. Usually, they say marriage is not an achievement and they don't need a man."
TikTok video of CPT Winelands proposal rends
In a similar article, Briefly News reported that in a truly breathtaking engagement proposal, a woman recently captivated the hearts of onlookers in Cape Town's picturesque Winelands. With an epic display of romance, her partner pulled out all the stops to create a moment that would be etched in their memories forever.
The couple embarked on a helicopter ride over the scenic Winelands, taking their love to new heights.
Source: Briefly News