Mother Shares Before and After Pictures of Son's 1st Day at School: He Had So Much Fun He Lost His Socks
One mother never expected to collect her son from his first day of school with half his uniform missing
Twitter user @Yeyethu_Baballo shared before and after pics to show people what she was dealing with
People had a good laugh and let the mother know that he clearly had the best first day of school
The first day of school is different for every child. One boy had such a great time that he ended up losing half of his uniform and his mother had to share the evidence on social media.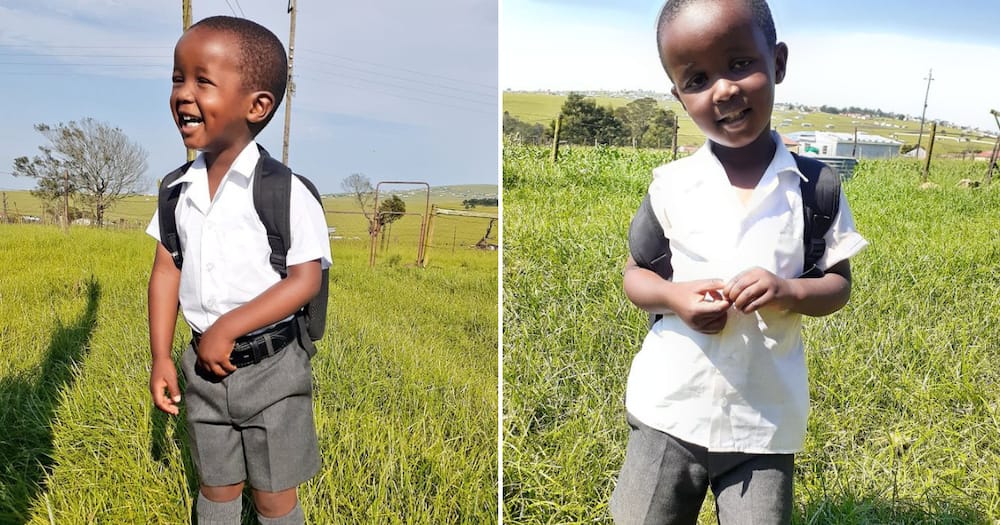 Children are just the greatest blessings. Not only do they fill our hearts with love, but yoh do they keep us entertained.
Twitter user @Yeyethu_Baballo dropped her baby boy off on his first day of school looking snazzy. When she went to collect him, babes had no shoes, socks, or belt and a bunch of other items were missing, including his energy, lol.
Mom took to the Twitter streets with before and after pictures to let fellow parents know what she was faced with. Shame, the boy had the best day, and what more could a parent ask for?
"Socks are missing, belt is missing, bhotile ye drink is missing. But looks like he had fun"
Mzansi people can't believe it's the same child
People had a good laugh at what the school did to this boy. The two pictures don't even look like the same kid and they had people busting.
Take a look at some of the comments:
@Lisher_Rayze said:
"I honestly thought these were two different people. I had to look several times to be convinced. "
@Siziphi54103018 said:
"@DrMusaMthombeni come and see the before and after that you wanted to see the other day. Yeyethu welcome to stage three of parenting mommy."
@Khoisan_B said:
"They sent you a different kid."
@AmberTwala said:
"Sisi, please man, he had fun. Such a handsome boy."
@sunair_dlamini said:
"Are you sure this is the same child? Man had a great day. Keep these pics for him."
Selfless man takes responsibility for late aunt's child, sheds tear as she starts new school: "My 1st child"
In related news, Briefly News reported that it takes a great deal of love to care for a child that is now your own. One man took in his late aunt's daughter and now sees her as his own child.
Children should never have to face any form of suffering, however, life is not so kind. This man made a little girl's pain a little easier by letting her know she is not alone and is loved.
Twitter user @SfisoWish shared a picture of his daughter on her first day at her new school. In the post, he explained that this child is his late aunt's daughter, but he took her in and every fibre in his body loves her as his own child.
Source: Briefly News