Mzansi Domestic Worker and TikTok Star Thembi Is Feeling the Heat of Januworry and Malcolm's Having None of It
Thembi, like many other people, blew all her money in December and is now struggling in January
Malcolm told Thembi that it is her fault she did not save and that he is not tapping into her savings
The people of Mzansi love the skills Malcolm is teaching Thembi and the rest of his followers
Mzansi domestic worker and TikTok star Thembi and her awesome employer Malcolm taught SA peeps some valuable festive season spending lessons. Thembi overspent and is facing the wrath of Januworry.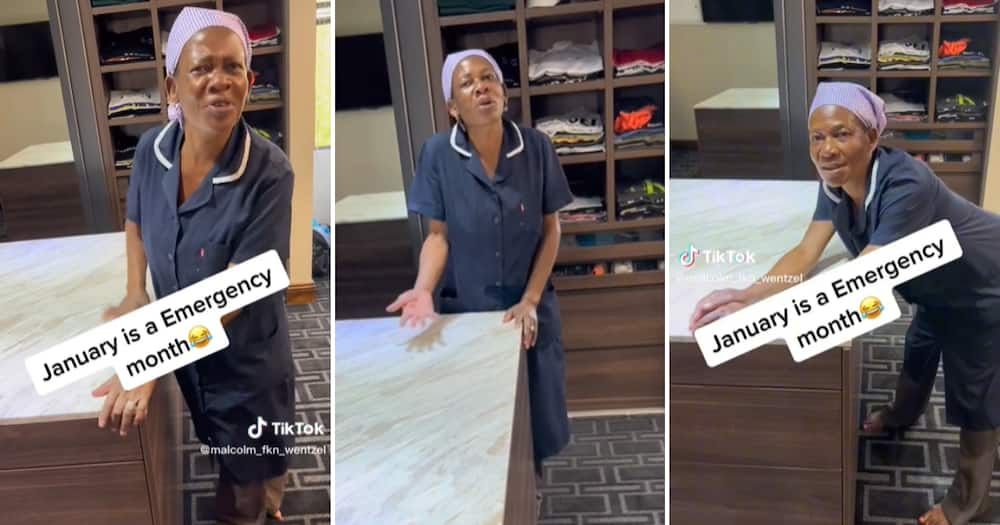 Even though many people have faced the struggle of January after a lekker December, they never learn their lesson.
Malcolm shared a clip to his TikTok page showing him having a conversation with Thembi in which she asked for some of her savings to get through January.
Dishing some sound advice, Malcolm told Thembi no as that her savings money is for emergencies, not to cover up when she failed to save. Lol, this is probably the first time we have seen the boss man give Thembi some tough love.
The people of Mzansi thank Malcolm for teaching Thembi money skills
Not everyone was taught how to save and manage their money. Seeing Malcolm care enough for Thembi to teach her left many people grateful.
Take a look:
@mahlodi mahlase said:
"Wise I have learned something."
@LIS Bakery said:
"Yes Thembi. January is an emergency it has 40 days I love you Thembi, Malcom and Kiki. You guys are the best."
@Monde️️ said:
"I highly appreciated what you doing to your worker's keep up the great work."
@JAXIDRIVE said:
"Wish everyone in this country could be like you guys, love you guys so much ❤️♥️ "
@Cameron#13 said:
"You guys are like family and it's something really beautiful."
Mzansi screams over man who spent R24k in Januworry at Louis Vuitton in Sandton: living on a thread, literally
In related news, Briefly News reported that sometimes people's priorities are all out of whack. One man dropped a large sum of money at the Louis Vuitton store in Sandton despite knowing he'd have no money to eat till payday.
They say beauty is pain and that fashion is a lifestyle. This couldn't ring more true for the man who is now fasting thanks to his love for nice things.
Twitter user @Vandal707 admitted to spending R24k at Louis Vuitton in Sandton even though he knew he didn't have the money to just splash. Accepting that he'll be "eating cabbage for the foreseeable future," our guy owned his boujee purchase.
Source: Briefly News