Minister Aaron Motsoaledi Exposes Inability to Count Illegal Migrants: "StatsSA cooked those stats!"
Home Affairs Minister Motsoaledi has admitted that the department has no system to track illegal foreigners flooding the country
Motsoaledi's revelation had South Africans commending his honesty while lambasting the government for not taking this issue seriously
Frustrated netizens blame government, questioning the credibility of StatsSA's numbers and highlighting the challenges in counting illegal immigrants
Leveraging her experience in SA governmental reporting at Isolezwe, Phumelele Nxumalo contributes valuable insights to current affairs discussions at Briefly News.
PRETORIA - South Africans were left baffled by Home Affairs Minister Aaron Motsoaledi's announcement that his department does not know exactly how many illegal foreigners are in South Africa.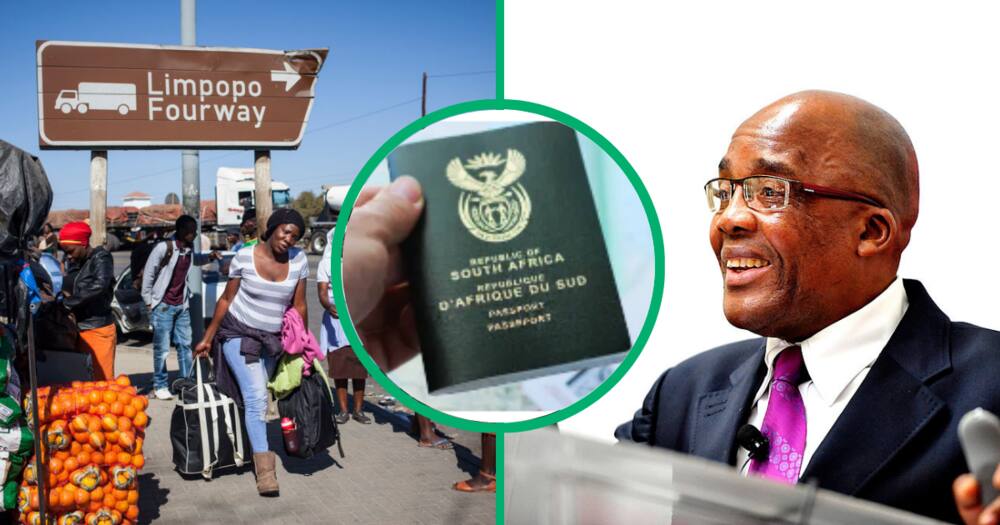 Motsoaledi shed light on this while giving an update on citizenship, immigration and refugee protection in Pretoria on Sunday, 12 November.
No mechanism in place to keep track
Motsoaledi said there is no mechanism in place to keep track of how many illegal foreigners flood South Africa. According to reports by eNCA, the Department of Home Affairs deports around 20K illegal foreigners each year. He said:
"The Department of Home Affairs has no idea as to how many illegal migrants are in South Africa and we are asked this question time and again, and we have responded many times that we do not know because there's no mechanism of knowing.
"I've checked this many times with StatsSA after the recent study has been released. They don't investigate or assess people's nationality when they do stats."
Minister Motsoaledi revealed that many foreign nationals come to South Africa and stay illegally, and no one could account for all the undocumented migrants.
Mzansi blames government
South Africans were left defeated by this revelation, leading them to poke holes in the recent StatsSA report on the number of people in the country. Commenting on a post by @Miz_Ruraltarain on X, netizens lambasted the figures, some claiming they never saw anyone going door-to-door to count as was previously done.
Below are some of the comments:
@logicaldebate had this observation to share:
"An ANC Minister admitting that an ANC administered government department hasn't got a clue what it's doing, but they're totally convinced they can make a success of NHI!"
@gestapo_za commented:
"Clearly StatsSA in the recent report was all flawed. Evidence is there, it was all speculative analysis and we all know why."
@Serimah6 had this to highlight:
"The SA Minister of Home Affairs cannot know the number of illegal immigrants in the country because they were not registered at the entry points. Remember some crossed the crocodile-infested Limpopo River at night and snuck into SA. Many of them are not formally employed."
@Zee_Seed9 commented:
"I am not surprised. I knew and I said it many times on this platform that I never saw even a single person going door to door counting people anywhere."
@Thasoles1 remarked:
"True and honest man Motsoaledi is. I was surprised by the stats since I don't remember being called or employees knocking on my door to count me."
@Bafana_Bucs1 commented:
"We are on autopilot, but the situation is reversible with the right people in charge."
@jazzygush
"Some of us are still waiting to be counted by stats SA... half population of SA is illegal foreigners, any normal person can see that."
@zithabeziningi said:
"Motsoaledi is refusing to fall on the sword of corruption, he's incorruptible."
@katlego_kotu lambasted:
"StatsSA cooked those numbers, they didn't even visit some homes, they are feeding us lies!"
Over 1 million Zimbabweans in SA
In a previous report by Briefly News, South Africans were left reeling after StatsSA released reports that over one million Zimbabweans are in the country. StatsSA revealed that Zimbabweans account for over 45% of the foreign nationals in the country.
The data also pointed out that most of the Zimbabweans living in South Africa and from other countries are between the ages of 20 and 44. The data further revealed that the top four countries where most of the foreign nationals originate from are Zimbabwe (45%), Mozambique (18.7%), Lesotho (10.2%) and Malawi.
PAY ATTENTION: Сheck out news that is picked exactly for YOU ➡️ click on "Recommended for you" and enjoy!
Source: Briefly News