Leopard Attacks Minibus After Jumping Over Fence, TikTok With 42.7M Views Has People Terrified
A TikTok video went viral as it shows the vicious nature of leopards as one targetted a moving vehicle
The viral clip shows the vicious animal jumping over a fence to attack a taxi passing by
The video was terrifying for many online users who commented in horror as they watched the leopard come out of nowhere
A leopard went viral after it tried to attack a moving vehicle. The wild animal showed off its agility as it leapt over a fence.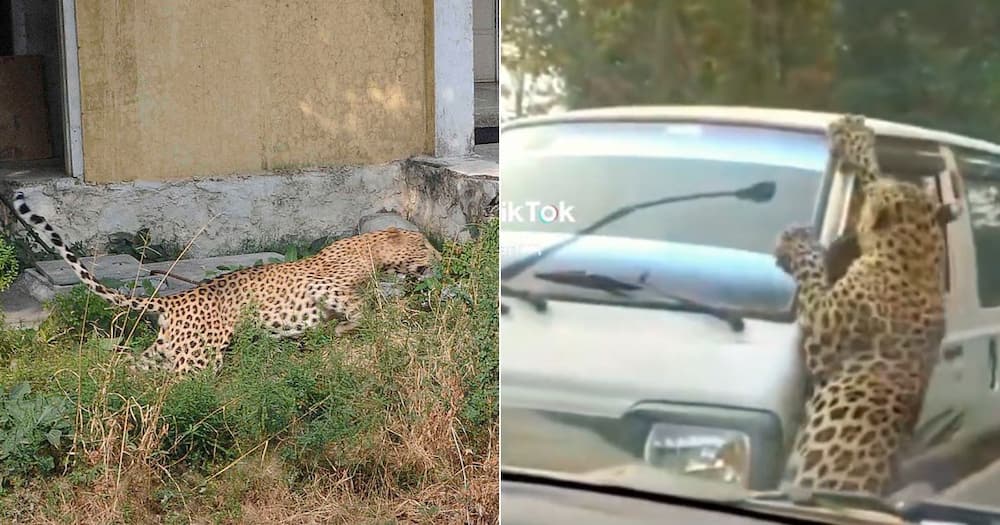 Online users reacted to seeing the video and many were terrified. Other peeps imagined everything that could have gone wrong if the car window was open.
TikTok of leopard jumping on taxi goes viral
A leopard jumped over a high fence to attack a moving taxi. The TikTok video got millions of views as it showed people what effective hunters big cats are.
TikTok users react to vicious leopard
Wild animals often go viral for run-ins with people. The people who saw the video were terrified. Online users were in awe of how skillfully the leopard jumped to attack.
ordinarilyjokes commented:
"That looked personal."
Mwallah commented:
"That jump over the fence."
Crypto Chimp commneted:
"It went straight to the neck."
sean. commented:
"Where is this? I need to know where not to go."
user2520284171674 commented:
"It is very good to keep all windows closed. I am going fix my air conditioning."
quayiofficial commented:
"That jump alone terrifies me."
Ziegler Monster commented:
"Bro! Thank goodness the window was up!! Imagine jamming out on a nice day and bam! Leopard!"
"Real gangsters": Leopard attacks man but 5 dogs rescue him, peeps amazed
Briefly News previously reported that a clip went viral showing how brave dogs can be. A pack of five saved a man in the city from being mauled by a leopard.
The video amazed online users. Netizens commented on how the stray dogs showed their loyalty to people.
A man was nearly devoured by a leopard but was saved just in the nick of time in a video that went viral. Five dogs came running as the leopard tried to eat a man who was getting into a truck. The leopard bolted when it noticed the heroic hounds.
Source: Briefly News