People in Vietnam Gather Around Beautiful Black Lady, Watch Her Strangely in Viral Video: "They Are Innocent"
A Sierra Leonean lady in Vietnam has shown how she became a celebrity after making a public appearance
The TikTok creator, Alana Rainer, posted a short video on the platform showing how people gathered to admire her black skin
The Vietnamese gathered around like she was a celebrity, and one of them was touching her long black hair in admiration
A lady from Sierra Leone was in Vietnam, and she turned into a celebrity because of her black skin.
The beautiful TikTok creator, Alana Rainer, made a public appearance, and many Vietnamese came to admire her.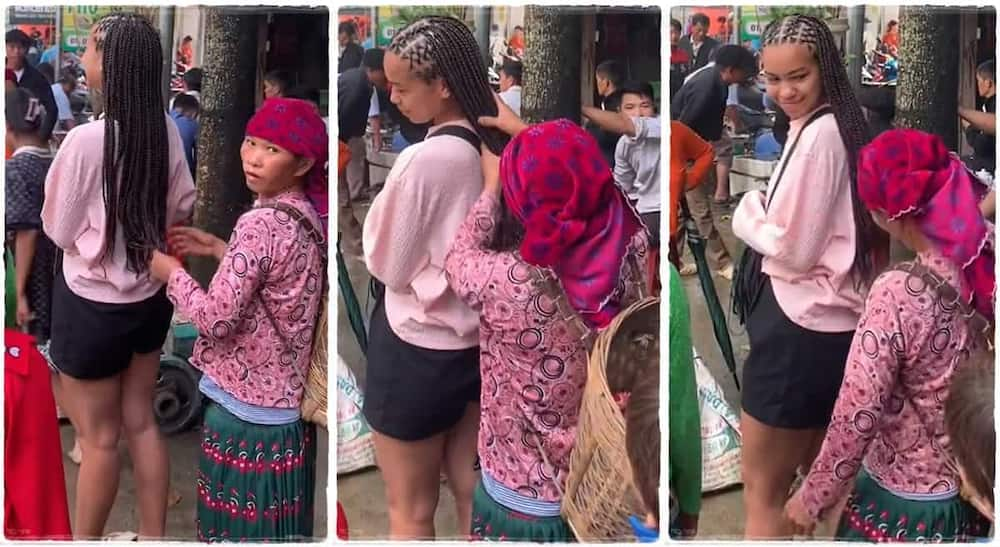 Alana stood while her admirers milled around her and watched her like a television set.
It was like those who were watching her had never seen someone with black skin because their curiosity was very evident.
Vietnamese fascinated by black skin
In the TikTok clip, one of Alana's admirers got very close to her and started touching her long braided hair.
Throughout the moment she was with the people, Alana kept smiling beautifully, as she allowed them to watch and admire anyhow they wanted.
She wrote while posting the video:
"Being black in Vietnam be like....Honestly I personally found it so funny how amazed they were."
Watch Alana's video below:
Reactions from TikTok users as Vietnamese watch Black lady
@John wachira said:
"Not me trying to figure out who is black."
@bbeela1 said:
"She touched the hair so gently and respectfully."
@Keira commented:
"Normally it would be a no. But she's touching her hair so attentively."
@JebenaBuna reacted:
"They are innocent and they truly are amazed about your looks…… you are beautiful."
@Mimi Thobile said:
"They touched her thigh to see if the cappuccino skin is transferable."
@Phoenixs Designs commented:
"I can see clearly that they are fascinated and appreciate you."
@Sifiso | Travel said:
"I think it's great. Travel is to expose ourselves and others to different cultures."
@ExploreWithMilca said:
"They're fascinated, so cute lol."
South African lady relocates to South Korea
Briefly News reported on one woman who shared a video of how she managed to relocate to South Korea without a hitch after securing a job.
The professional teacher documented her long journey until she arrived at her new living space in the Asian country.
Others who seek to work overseas found it interesting to see what they could expect in the foreign country.
Source: Legit.ng