Worst natural disasters in South Africa
Natural disasters in South Africa happen due to natural forces, but some are caused by human activity. The frequent quakes in the country are associated with the mining activities that go on. The issue of global warming has also led to climate change, which leads to prolonged droughts and fatal flash floods in the region. Most natural catastrophes happen without warning. Is the country doing enough to shield itself from the effects of natural disasters?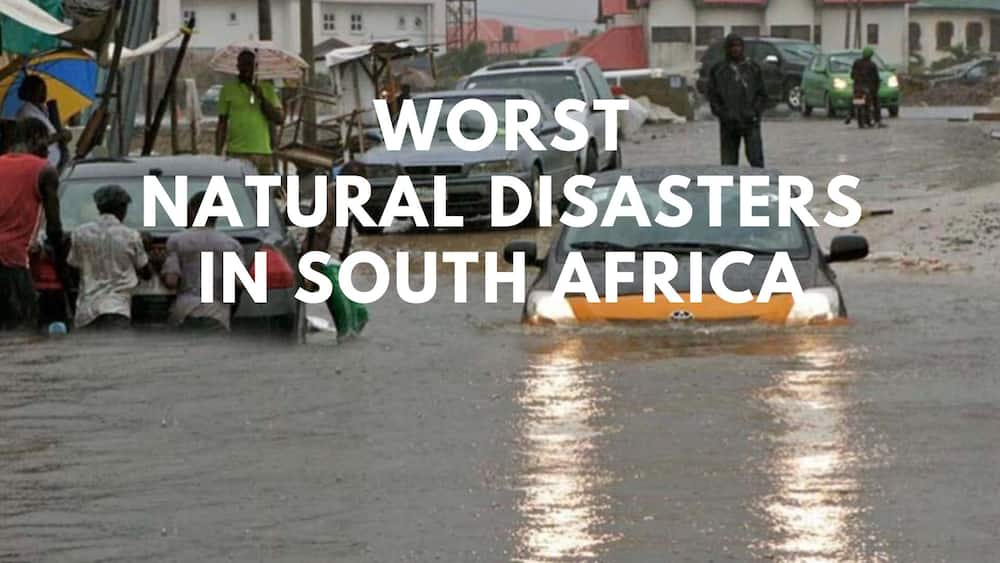 Several natural disasters have hit Mzansi. Some of them resulted in considerable damage, such as the 1969 earthquake and the 2016 flashfloods in Johannesburg. Below is a list of notable calamities in the country
What is a natural disaster?
This is a natural occurrence with a magnitude that is capable of causing catastrophic situations. When a natural disaster occurs, normal activities are disrupted abruptly, and the affected people become helpless. All aspects of human living, including biological, social, and physical ones, are affected. The impact of the calamity is felt as soon as it happens.
Natural catastrophes are classified into meteorological, space, and geological disasters. They are made up of floods, hurricanes, wildfires, landslides, earthquakes, volcanic eruptions, tsunamis, drought, and heatwaves.
Disasters in South Africa
Mzansi has experienced several disasters in the past. They include:
Floods
Wildfires
Sinkholes
Drought
Earthquakes
Floods
This is one of the most common natural disasters that happen in Mzansi and other parts of the world. It is an act of water overflowing onto usually dry land. Based on statistics, 1987 has the record for having one of the worst natural disasters in South Africa, which was characterized by the loss of many innocent lives by the hundreds, and thousands of people were also affected. It is also labeled as the biggest natural disaster in South Africa due to the severity and landmass that was changed. Shanty-town dwellers were hit harder as their structures could not withstand the water.
Cape Town floods
The Cape Town flooding that happened in 2019 was one of the worst disasters the region has experienced. The situation was terrible in October, as torrential downpour was the order of the day. Roads and footpaths were flooded, making it hard for motorists to drive. Homes were also flooded. Many trees fell as thousands of structures were destroyed.
The Newlands area experienced rainfall of 195mm instead of a monthly average of 84.8mm, leading to the rise in dam levels. The situation was harder for people living in shanks in Khayelitsha as the flood forced them to find shelter somewhere else. Residents were also forced to scoop water with dishes from the floor of their houses.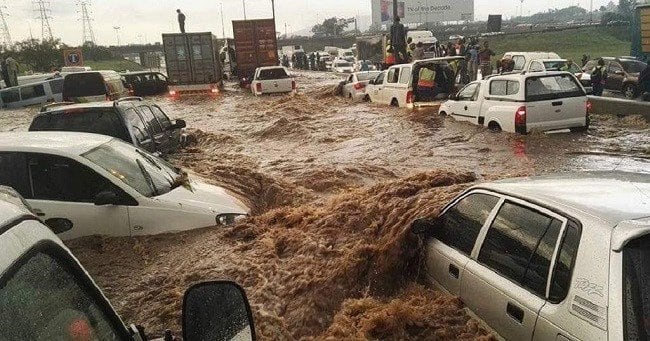 Floods in Johannesburg 2016
The floods happened on 9th November 2016 and are recorded as one of the most destructive natural disasters in history. A large cloud burst from a convective system is said to be the cause of the storm and flash floods. Approximately 90mm of rain fell within an hour, according to the WMO statistics, which affected operations at the OR Tambo international airport. It caused rivers such as the Jukskei River to burst its banks. Vehicles were submerged in water for several hours, resulting in heavy traffic, while others were washed away. There were several casualties, as many homes were filled with water.
Earthquakes
Earth science experts reveal that ongoing mining activities cause most of the earthquakes in the country. Mzansi is known for the mining of coal, platinum, and gold. When mining occurs, there is a slip in the earth's fault lines, leading to the escape of the stored elastic energy, which causes earth tremors.
Earthquake in South Africa 2019
On 31st October 2019, an earth tremor of 4.3 magnitudes was experienced in KwaZulu-Natal. The quake happened soon after an earthquake hit the South Philippines. Experts say that it was a natural occurrence due to a normal fault.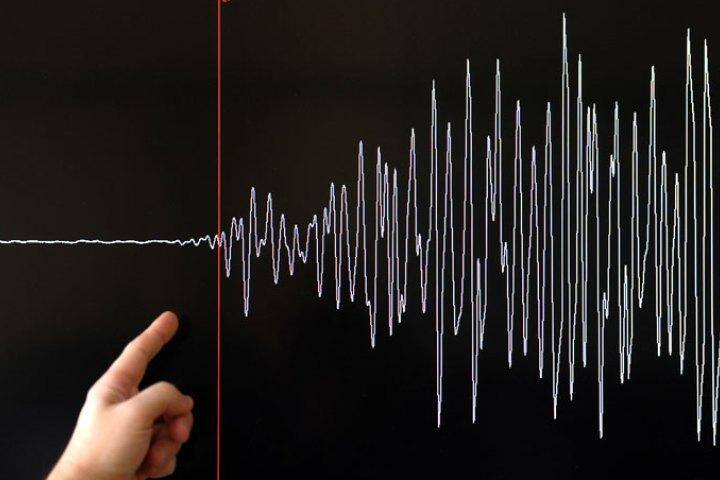 Earthquake in Johannesburg 2017
There was an earthquake of at least 6.3 magnitudes that happened on 3rd April 2017 at the Kalahari Desert located in Botswana. The city of Johannesburg, which is almost 700 miles south of Kalahari, experienced the seismic waves. It is one of the natural disasters in South Africa 2017 to be recorded.
The largest earthquake in South Africa
On 29th September 1969, Mzansi experienced one of the worst earthquakes that had a magnitude of 6.3 on the Ritcher magnitude scale. The quake occurred in the Tulbagh area, Western Cape. There was a lot of damage as buildings were destroyed. There were several fatalities, including children.
READ ALSO: Zimbabwe suffering from severe drought, millions left food insecure
Wildfires
As recent as 2017, one of the most significant open wildfires hit a particular area of South Africa, adopting the monicker Knysna fires. Lasting for over 24 hours and spreading across a considerable distance, the Knysna fires engulfed several homes and businesses over a large area. Many families were also relocated in such a short period. Flora and fauna were also damaged as the fire scorched the earth. Also, sadly, there were reports of fatalities as some people were unable to evacuate their families.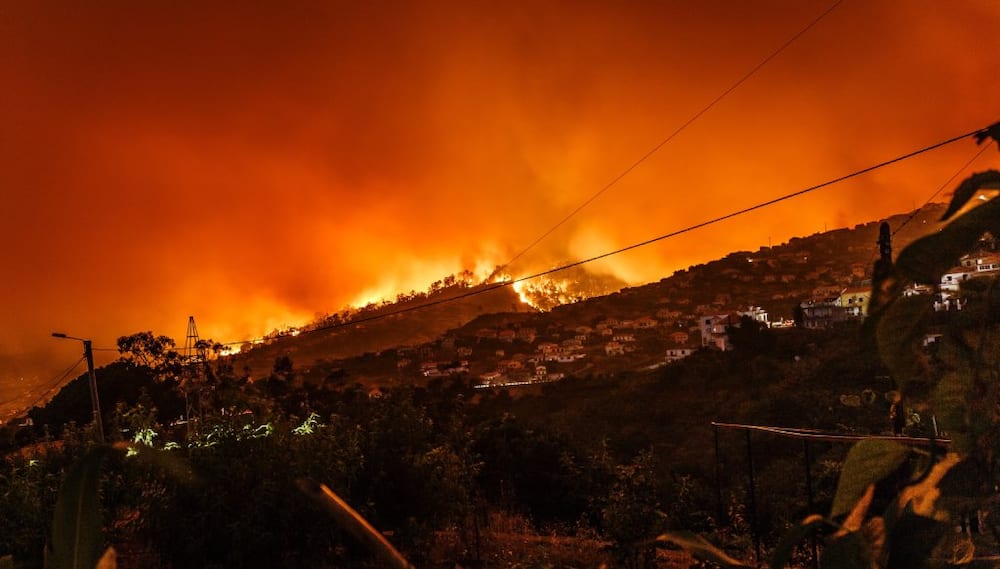 Storms
2017 was a very tragic year for Cape Town residents as a storm led to the loss of many lives and the damage of properties that are worth millions. This led to several individuals losing their homes and structures, such as schools being destroyed in the wake of the storm. Flying debris was also of grave concern, and many injuries as a result of this were reported, but no fatalities were reported.
Shantytowns were the worst affected areas by the storm as reported by BBC; they are mainly informal settlements made out of iron sheets or some other material like weak wood. Such structures are not built to withstand harsh weather. In the wake of the storm, most of the residents of these informal settlements had their roofs blown off, and in the worst-case scenario, some had their whole house uprooted again.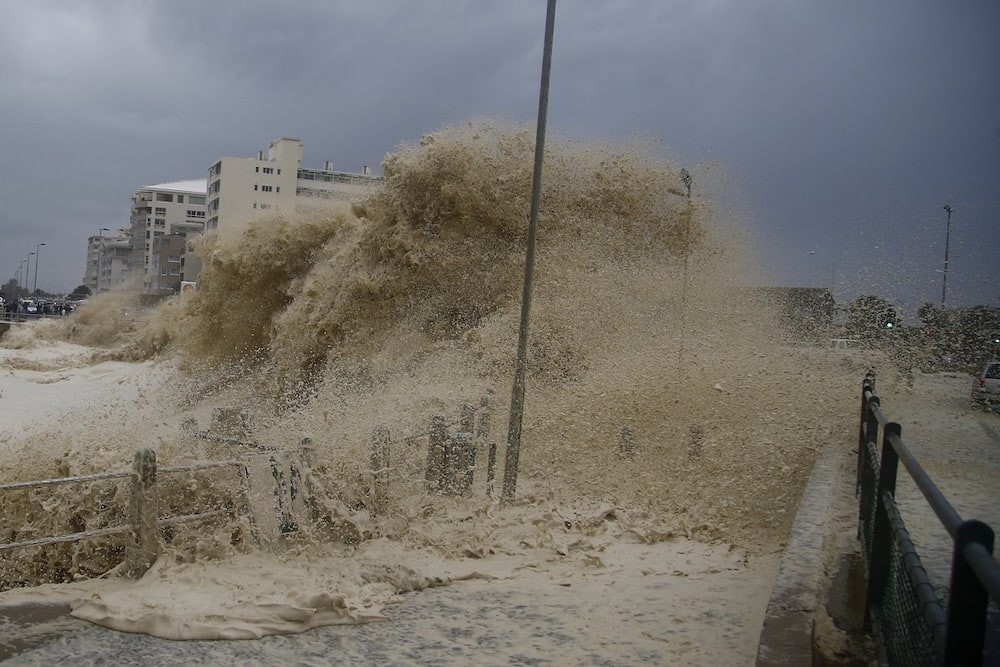 READ ALSO: Joburg flooding: Impatient motorist forced to abandon luxury whip
Sinkholes
Sinkholes are quite common in parts of the Gauteng province; this can be attributed to the abundance of dolomite rock, according to Geoscience. Mostly circular in motion with varying depths and widths, they mostly happen without a single warning, which makes them quite dangerous. There have been cases of people that have lost their lives after falling into sinkholes, mainly when driving around a familiar environment but not knowing about the occurrence of a sinkhole. This is the reason why sinkholes make it to the list of natural disasters in South Africa.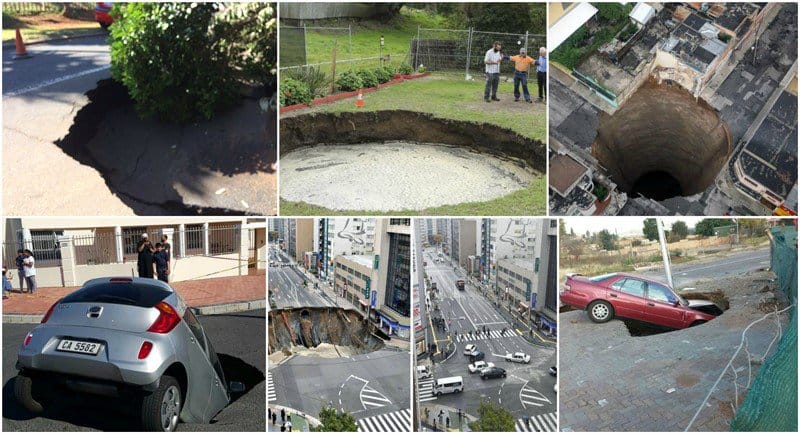 As mentioned above, sinkholes rarely have a warning, but then again, one of the ways that people in Gauteng have been able to see signs of impending sinkholes is by the appearance of cracks along the walls of their houses, these are the most prominent ways to tell. The cracks appear due to the formation of a sinkhole that splits the wall of the house. Once seen, it is highly recommended that the occupants of the house in question evacuate as soon as possible. You should not ignore the signs.
READ ALSO: Floods in Mpumalanga caught on camera: Floating cars & flooded streets
Drought
This can be defined as a period where there is little to no rain. In spring 2018, the country experienced one of the most extended droughts. The government declared it a national disaster with several cutbacks taking place in an effort to cut back the consumption of water until the rains come back. Some regions had high temperatures with little rainfall since 2015. Drought affects the wildlife industry, the country's biggest revenue earner, due to the death of wildlife.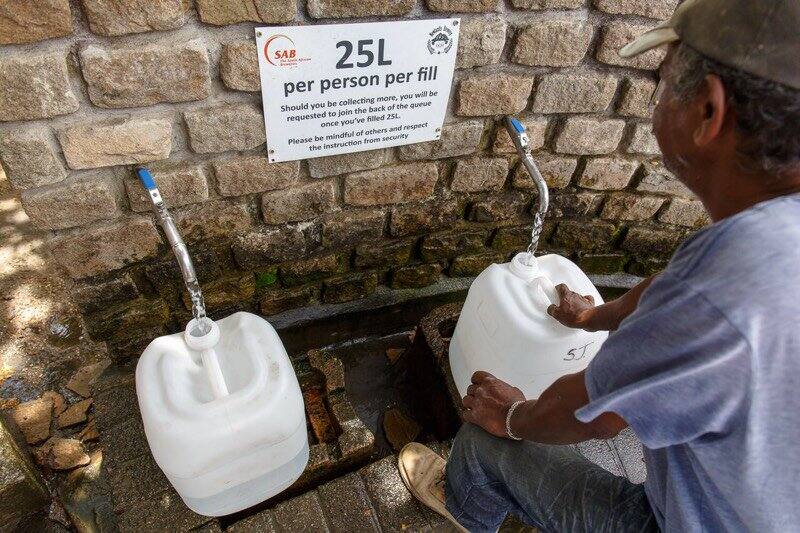 What is the cause of recent natural disasters in South Africa?
There are several contributing factors. Some of the causes of natural disasters in South Africa include:
Human operations such as mining that can trigger earth tremors due to the displacement of fault lines.
Global warming due to climate change leads to heat waves because of the accumulation of atmospheric gases in the ozone.
Extreme weather patterns that can lead to storms or floods.
The Mzansi government can establish the reason behind the frequent happening of natural disasters by funding extensive research on weather patterns. Human activities should also be monitored closely. This will ensure proper disaster management, hence saving lives and property.
READ ALSO: 5 Videos of nature causing chaos and damage in Mzansi in 2019
Natural disasters in South Africa happen almost every year, and the common ones are earthquakes, floods, and drought. The government should, therefore, implement measures to help citizens survive such disasters since most of them occur without warning. The real cause of the disasters should also be sought so that experts can tell us if they can be avoided.
READ ALSO:
History of earthquakes and tornadoes in South Africa
Residents rebuilding homes after Mamelodi flooding destroys shacks
Floods wreak havoc in Gauteng: Photos and videos go viral online
Video reveals 700 shacks tragically swept away by Mamelodi flood
Source: Briefly News