South Africa Warns Volodymyr Zelenskyy About Cyril Ramaphosa: "Double agent"
Ukraine's President Volodymyr Zelenksyy met with African media house and updated them about his meeting with African leaders
Zelenskyy's strategy has 10 points, and these involve exchanging prisoners and ensuring nuclear plants' safety
He also believes that he managed to educate Ramaphosa more on what the nation wants, and Mzansi debated Ramaphosa's stance
Tebogo Mokwena, Briefly News's current affairs journalist, offered coverage of current affairs and societal issues during his seven years at Daily Sun and Vutivi Business News.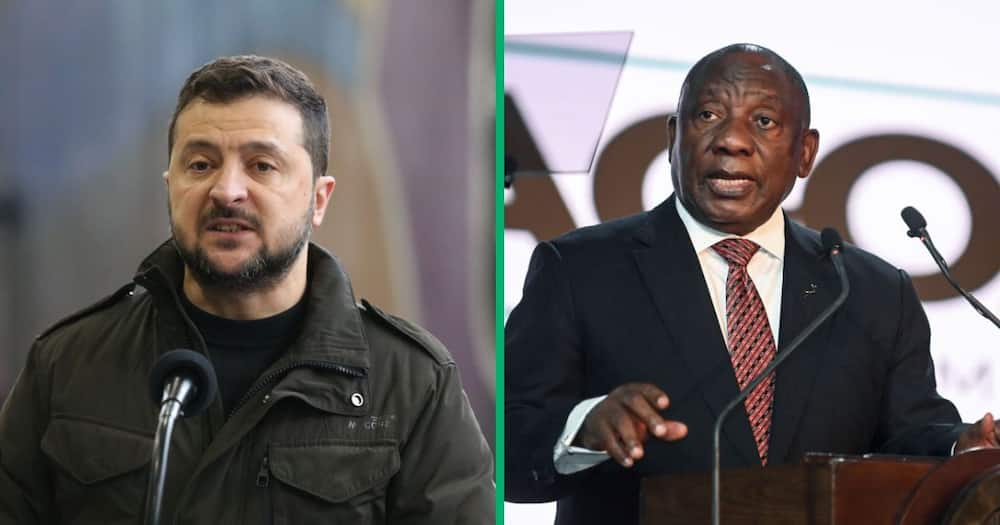 The president of Ukraine, Volodymyr Zelenskyy, said that after meeting with African leaders, including Cyril Ramaphosa, in June, they better understand his idea of peace for the region. He pointed out that the recent gathering of African heads of state changed Ramaphosa's views. Zelenskyy's plan has 10 points, and more than 130 nations support his plan.
Ukraine meets African leaders
Ukraine has been at war with Russia since 2022 when Russia invaded Ukraine via Belarus. Russian President Vladimir Putin declared war and announced a full-scale invasion of the region.
PAY ATTENTION: Watch the hottest celebrity stories on our YouTube channel 'Briefly TV'. Subscribe now!
According to News24, Zelenskyy updated African media houses after meeting with the African leaders in June, who were on a peace mission, to strengthen and renew diplomatic relations with the continent. Zelenskyy proposes a 10-point plan, which includes exchanging prisoners with Russia, the safety of nuclear plants and guaranteeing the integrity of certain territories.
Zelenskyy pointed out that Russia need only agree to withdraw its troops from the contested regions, and the other nine points can be up for discussion. Ramaphosa himself said that it's essential that the initial focus be placed on the safety of nuclear power and exchanging prisoners. This would ensure that meetings can be open on the remaining nine points.
According to the Ukrainian Presidency, Zelenskyy also assured African nations that Ukraine will continue ensuring food security for African states. He revealed that an alternative grain corridor has been created, and through this corridor, 4 million tons of agricultural products have been transported. He also added that there will be an initiative to build grain hubs where agricultural products will be transported across Africa.
SA turns on Ramaphosa
Netizens on X slammed Ramaphosa for changing his mind and shared their views on Zelenskyy himself.
Thabang said:
"He lied to you."
Tebzer King pointed out:
"It doesn't amaze me. He's unreliable."
Lesego added:
"Ramaphosa is a double agent."
Desire Tablai wrote:
"That was only when he was speaking to Zelenksyy at that time. If he speaks to Putin tomorrow, he will sing a different hymn."
Bongs took a swipe at Zelensky.
"I supported President Zelensky until I heard him side with Israel wanting to annexe Palestine, which is what Tussia wants to do with Ukraine. Is it because of US influence?"
Thabo Mbeki defends SA's neutral stance
In a similar article, Briefly News reported that former president Thabo Mbeki defended Mzansi's stance in the Russia-Ukraine war.
South Africa adopted a neutral stance in the war, and Mbeki said that African leaders need to consider both sides of the war in their peace talks. He pressed for a fuller understanding of the issues Russia is highlighting and what Ukraine is saying to carve a progressive path towards peace talks.
Source: Briefly News