Doug Ford family, education, career, achievements, net worth
From the homogenous town, Etobicoke in Canada hails Doug Ford; a printer turned politician. He is an activist and an actor, the premier of Ontario and the PC Party leader. He is also a successful businessman and the elder brother of Toronto's former mayor, who was caught smoking crack cocaine. Join us as we investigate the rich and radical life of Mr Ford.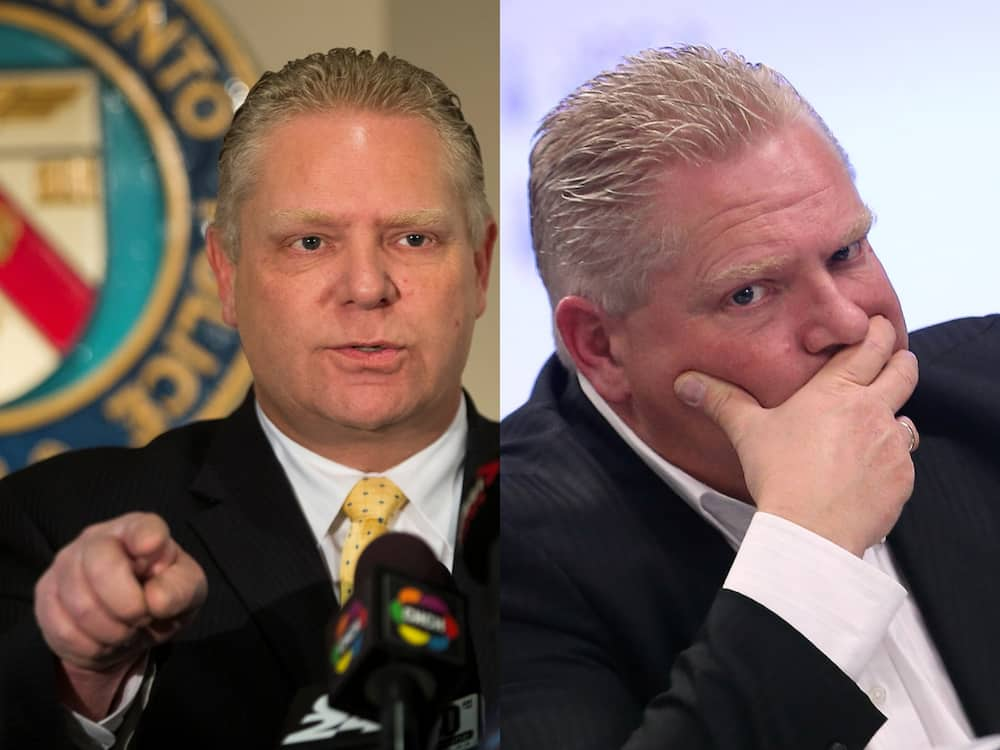 Born into riches has its ups and downs. The Ford family at at the peak of its best performance when the internet was discovered. The good times and many of the bad were recorded by the press, and the Ford family became highly publicised and criticised. In this article, we explore everything there is to know about the eldest son in the family.
Doug Ford bio summary
It is worth noting that his involvement in politics started early in his life. It is apparent that the apple did not fall far from the tree in this family. Below is a synopsis of his biography. Read on further to find out much more.
Full name: Douglas Robert Ford Jr.
Doug Ford age: born 20 November 1964
Nationality: Canadian
Parents: Mother Ruth Diane Campbell, and father, Doug Ford Sr.
Occupation: businessman, politician
Doug Ford email: doug.fordco@pc.ola.org
Doug Ford Twitter: @fnation
Fun fact: He is a fiscal conservative: he supports tax cuts at all government levels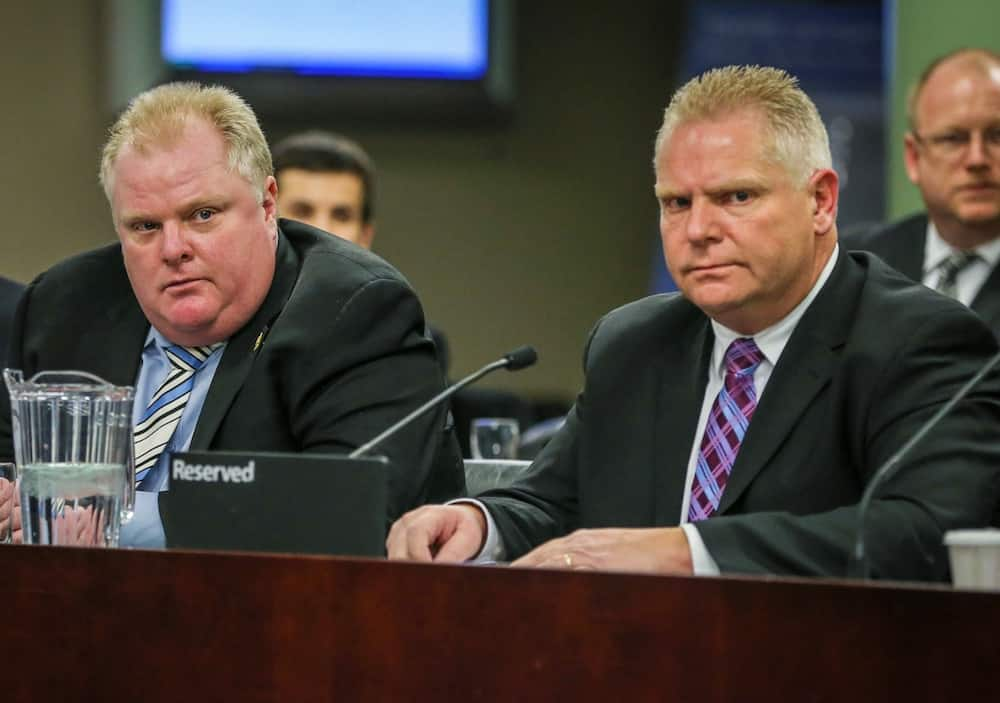 Doug Ford family and early life
He was the second of his parents' four children, born in 1964 in Etobicoke, Ontario, Canada. His mother, Ruth Diane Ford (née Campbell), and his father, Doug Ford Sr., tied the knot in 1956. In 2006, and after fifty years of marriage, his parents parted ways.
Doug Ford spouse, Karla Middlebrook, shares four children with him. In 2015, his eldest daughter Krista (born 14 September 1991) became engaged to Dave Haynes, a police officer and bodybuilder. Krista designs competition suits for athletes.
Rob Ford, his eldest brother, led a controversial life, was diagnosed with cancer, and passed away in 2016, and the same year their parents divorced. Their mother, Ruth Diane Campbell, was known as the family's matriarch and died on 5 January 2020, in Etobicoke. Ontario.
Doug Ford education
He studied for five years at Scarlett Heights Collegiate Institute, graduating in 1982. He then spent some time at Humber College before withdrawing to actively managing Deco Labels and Tags. His father co-founded the printing company in 1962. The company eventually reached global success.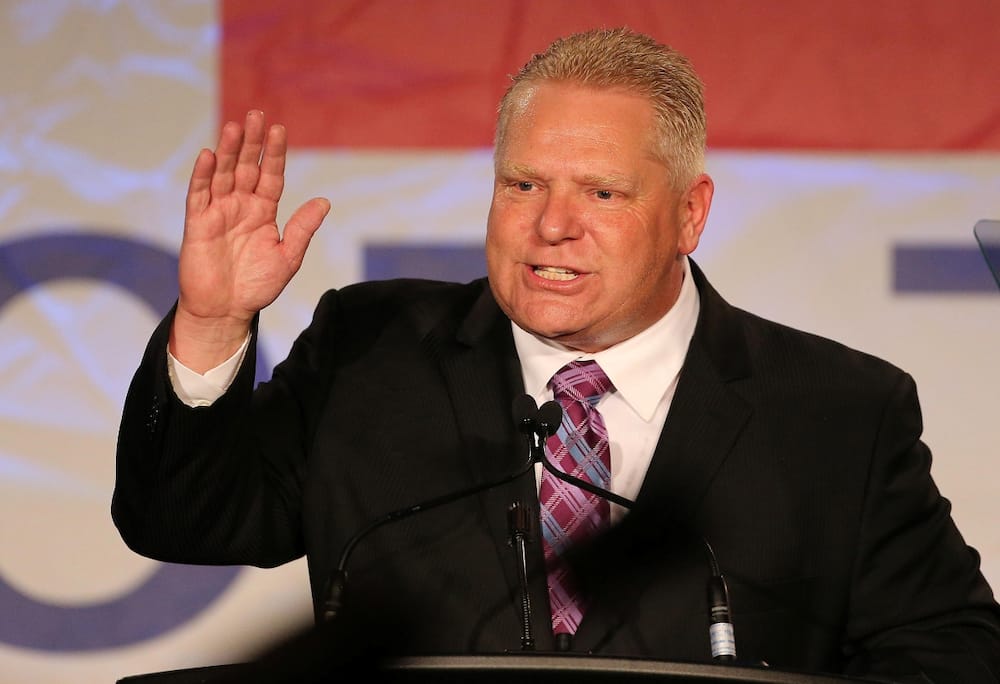 Doug Ford career
The successful printing company that his father owned, along with Ted Herriott, landed massive contracts with Canadian political parties. Deco Labels is primarily known for its association with Ontario politicians, including Members of the Provincial Parliament.
In the early 1990s, just after dropping out of college, he joined his father's printing business. He was named president of the company in 2002 and was in charge of the company's expansion into worldwide recognition. He steadily built a respectable Canadian businessman reputation.
His father entered politics in 1994, and former Deco employees have claimed that the business was properly managed under his leadership. However, since his political interest piqued in 2010, the organisation declined. 
The first time Doug Ford got into politics was in 1994 when D. Holyday asked him to print 'for mayor' stickers. He aided his father's mayoral campaigns as a candidate for the provincial parliament. For a couple of years, he ran his late brother's council campaigns and Rob's winning mayoral campaign in 2010.
Special achievements
Doug was elected to the Toronto City Council in Ward 2 on October 25, 2010. He took over as mayor of Toronto from his late brother, Rob, who served from 2010 to 2014. Rob Ford passed away in 2016 after a cancer battle at 46 years of age.
Doug Jr. was elected party leader of the PC Party in 2018 and led the party to a major victory in the Ontario general election. The PC Party won 76 of the 124 seats in the Legislative Assembly of Ontario on 7 June 2018. He was the leader for less than 100 days when his party won the election.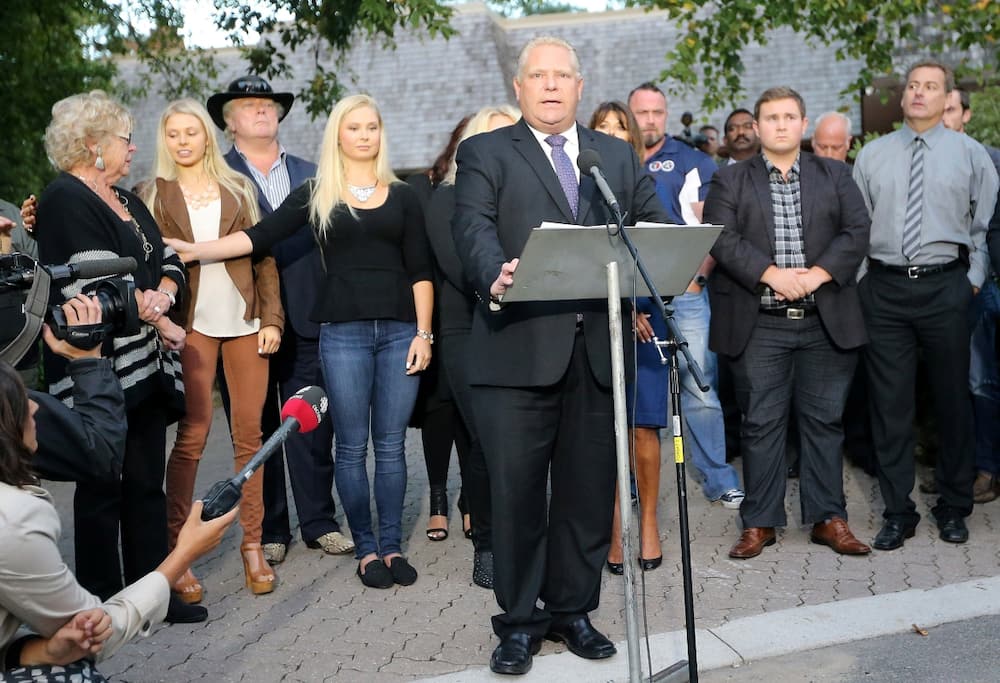 On June 29, 2018, Doug was sworn in as Premier of Ontario, with a ceremony held on the Queen's Park lawn. Since Mitch Hepburn took office as premier in 1934, he is the first newly elected MPP to receive this honour.
Doug Ford net worth
Deco Labels is a Canadian label company. They specialize in printed labels for plastic-wrapped products. They are primarily known for their associations with Ontario politicians, including Members of the Provincial Parliament. The company has annual sales of approximately $100 million per year.
In addition to his earnings from Deco, his net worth has accumulated to over $50 million, according to Conservative Beaver. There were rumours that Deco Labels were profiting from COVID-19 branding.
Doug Ford TV shows and movies
Being rich and famous opens many doors. In addition to his successful business career as well as politics, it is important to note that he has also performed as an actor in several productions. His noteworthy appearances were in Toronah in 2015 and The Sunday Scrum With John Northcott.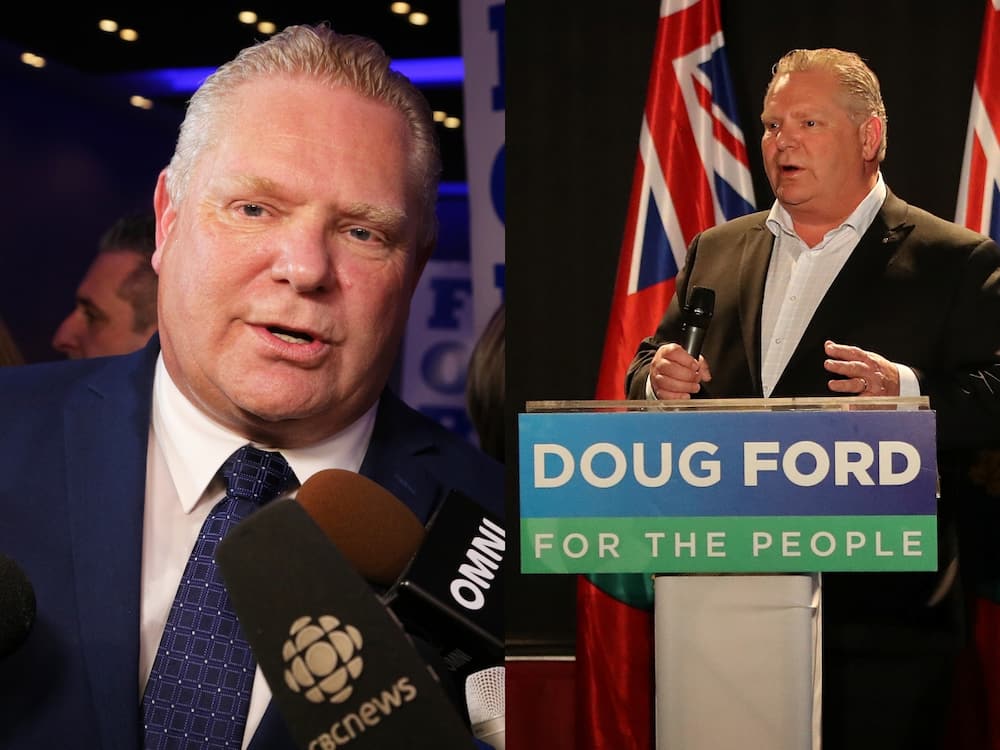 Doug Ford announcements as the Toronto city councillor and leader of the Ontario PC Party show that he vows to eliminate provincial taxes, and he supports the removal of vehicle registration fees. He is working towards abolishing land transfer tax and keeping property tax below inflation rates.
READ ALSO: Remarkable story of the billionaire who's donating all his wealth to die broke
Briefly.co.za shares the remarkable story of a billionaire determined to die broke.
Charles Feeney is a man who gave away his riches anonymously for more than 25 years, requiring recipients not to reveal the sources of their donations. Read the article to find out why!
Source: Briefly News