Kristen Tuff Scott age, son, illness, gender, singing, net worth
Kristen Tuff Scott is not a new name on the screens. She is an American television personality and social media influencer. On her social media pages, Tuff has amassed quite a considerable following. She coined the name toughest cowgirl in town from the reality show Redneck Island. Read more about her below and how she rose into prominence.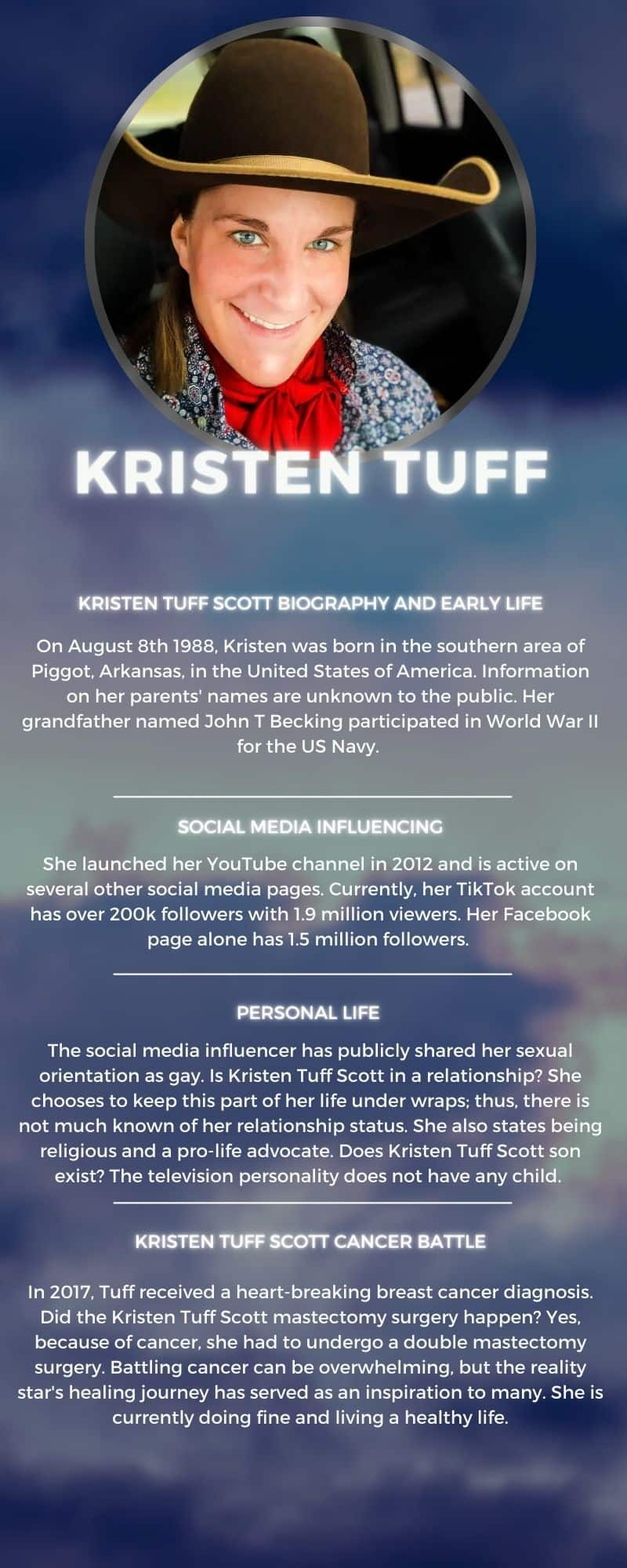 Kristen Tuff Scott rose to stardom after posting a funny video. The unexpected fame and prominence pushed her to go further in entertainment. She has, however, had her fair share of challenges, including a cancer diagnosis.
Profile
Name: Kristen Tuff Scott
Birthdate: August 8th 1988
Kristen Tuff Scott age: 32 years (as of April 2021)
Birthplace: Piggot, Arkansas, United States of America
Nationality: American
Religion: Christian
Height: 5"9
Occupation: Social media influencer, horse breaker, reality television star
Political affiliation: Republican
Kristen Tuff Scott biography and early life
On August 8th 1988, Kristen was born in the southern area of Piggot, Arkansas, in the United States of America. Information on her parents' names are unknown to the public. Her grandfather named John T Becking participated in World War II for the US Navy.
The social media influencer is well-learned. She got a scholarship to Arkansas State University on account of her musical talents. She graduated from the university in 2014 with a double major bachelors in biology and chemistry. Her initial plans were to go to medical school afterwards, but that was not the case.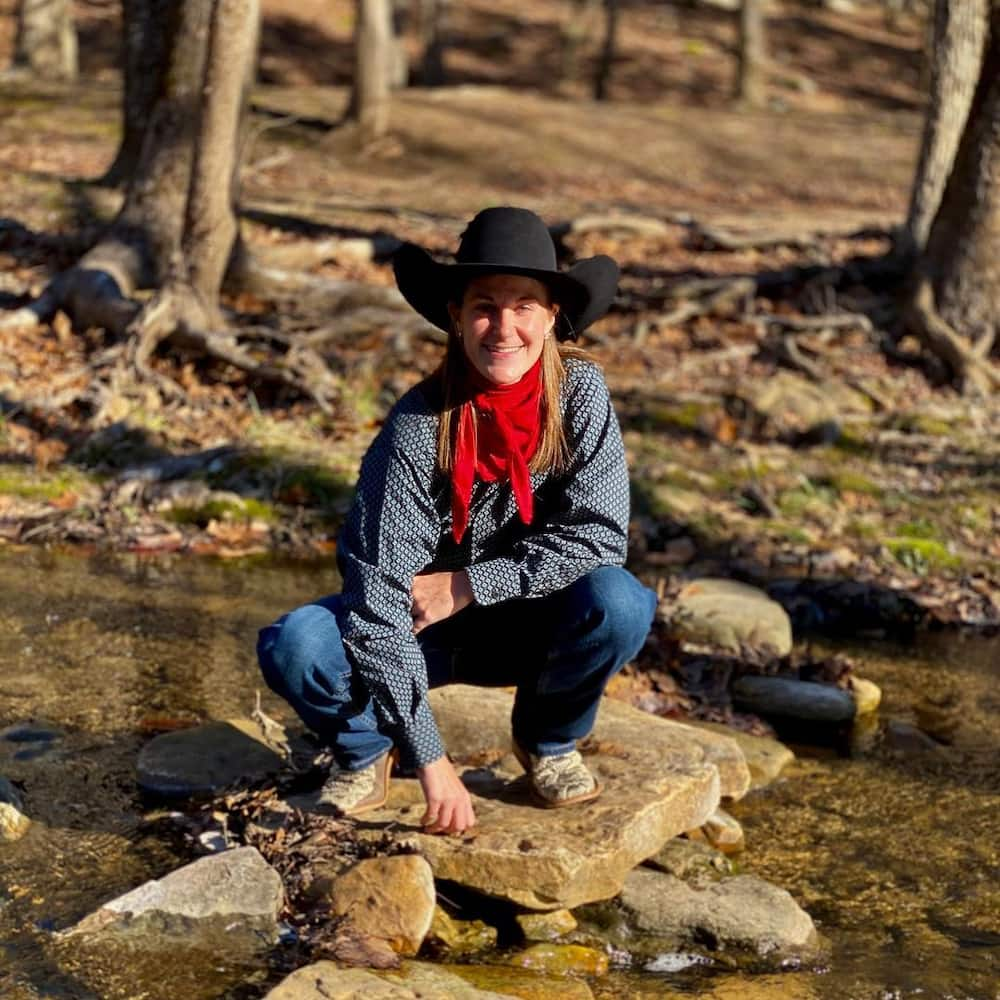 Career
After abandoning her earlier plan of going to med school, Scott decided to move to Missouri. It is in Missouri where she began her horse-breaking gig. Tuff posts funny videos, music cover clips, and product review clips on her social media pages. She has also participated in a reality television series.
Social media influencing
Tuff's sudden prominence within social media began after she posted a humour-filled video that went viral. She then decided to post more hilarious videos before expanding to post daily videos on her life routine.
She launched her YouTube channel in 2012 and is active on several other social media pages. Currently, her TikTok account has over 200k followers with 1.9 million viewers. Her Facebook page alone has 1.5 million followers. Are there videos of Kristen Tuff Scott singing? Yes. She posts videos of herself singing, her life routine and other hobbies. Her YouTube channel most watched videos are:
Pokemon
Yoga Pants
Funny Wisdom teeth removal
Crop dusted a cop
The social media influencer also gives product reviews and feedback. She cites that giving the reviews provides her honest thoughts.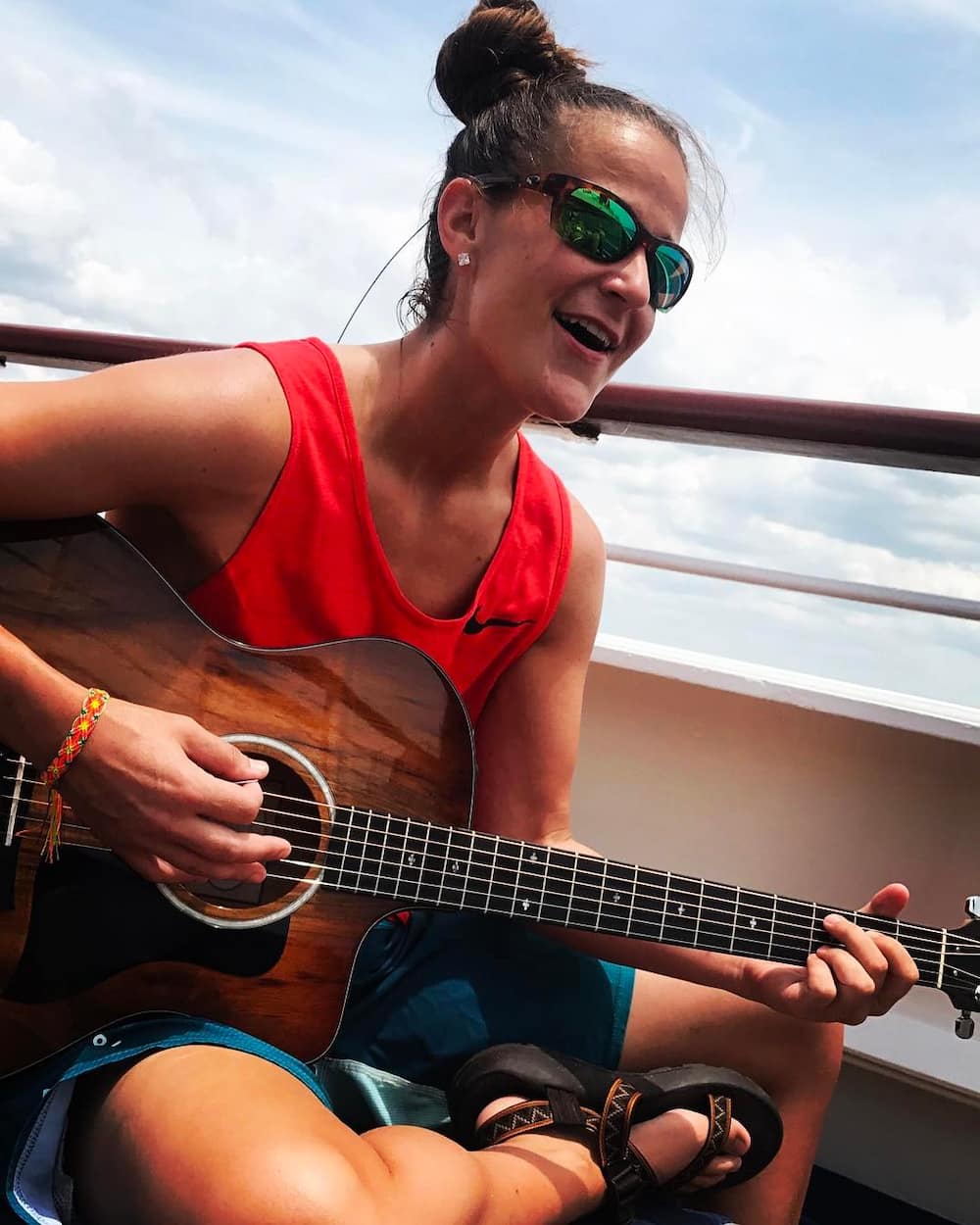 Reality television
Tuff participated in the fifth season of CMT's reality television show Redneck Island. Her appearance on the show depicted her as the toughest cowgirl in town, coming from a long line of hard-working farmers. Her theme on the show was her love for animals and music. As a reward for participation in the show, all contestants receive $100,000.
Personal life
The social media influencer has publicly shared her sexual orientation as gay. Is Kristen Tuff Scott in a relationship? She chooses to keep this part of her life under wraps; thus, there is not much known of her relationship status. She also states being religious and a pro-life advocate. Does Kristen Tuff Scott son exist? The television personality does not have any child.
Kristen Tuff Scott cancer battle
In 2017, Tuff received a heart-breaking breast cancer diagnosis. Did the Kristen Tuff Scott mastectomy surgery happen? Yes, because of cancer, she had to undergo a double mastectomy surgery. Battling cancer can be overwhelming, but the reality star's healing journey has served as an inspiration to many. She is currently doing fine and living a healthy life.
Even though she underwent the mastectomy to save her life, she still received some retroaction. Some people assumed that she had undergone a sex change, with some even asking, is Kristen Tuff Scott a girl? The whole scenario arose after she posted a shirtless photo. She, however, responded through a video on Facebook explaining the entire scenario confirming that she is a girl.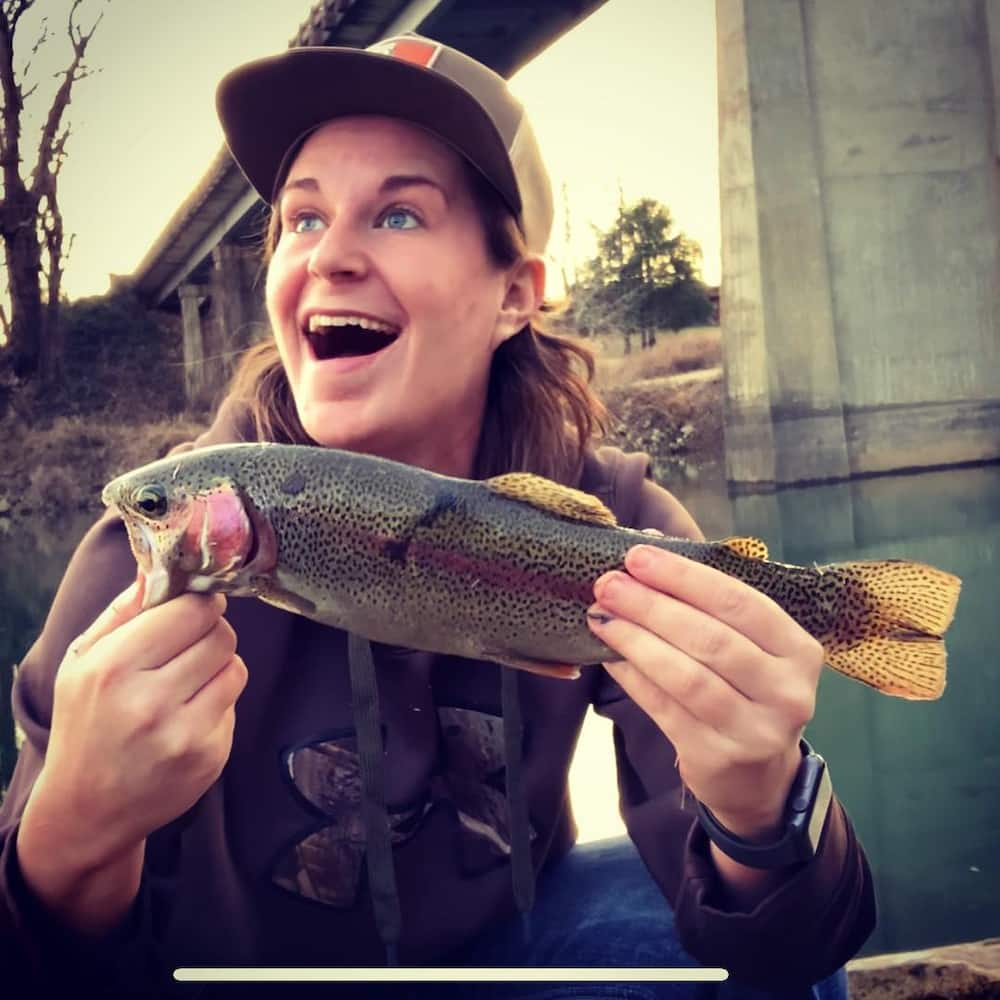 Kristen Tuff Scott net worth
Being in the public eye can bring you quite some value. Kristen, through her vast followings on social media, has managed to earn through her content creation. As of December 2020, she is of a valued net worth of about $700,000. Quite a fortune!
Latest news
On April 10th 2021, the television personality participated in a night of laughs and music event. The event took place in Huntsville, Alabama, United States of America. The gig featured some of her selected stories and original songs with DJ Slim McGraw on the decks.
The media personality also has an online website where she sells clothing accessories printed with her trademark logo. Some of the apparel includes tank tops, hooded sweatshirts, t-shirts, and caps.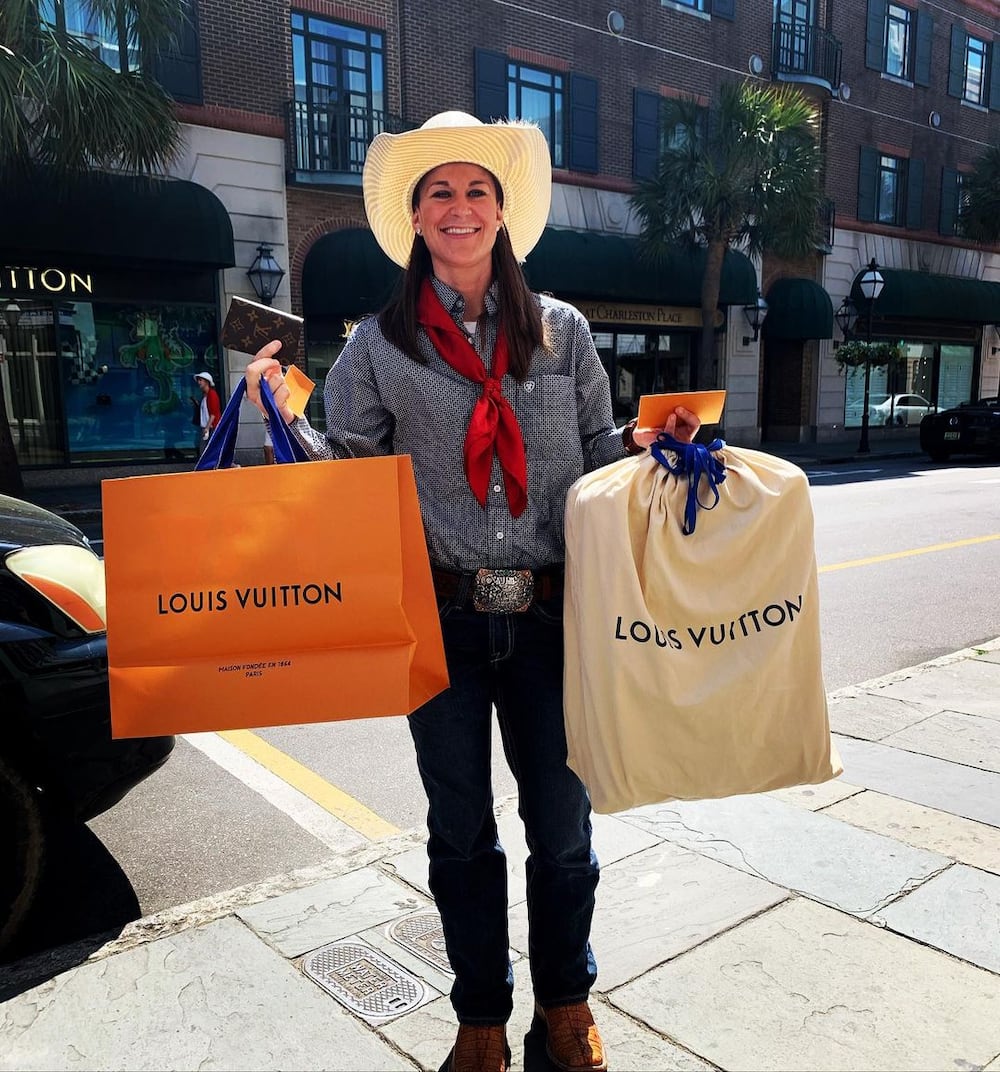 Contacts
The reality television star has quite a massive following on social media. You can find her social media pages on various platforms such as:
That is all to know about Kristen Tuff Scott, the social media influencer with a courageous spirit.
READ ALSO: Louis CK's ex-wife Alix Bailey bio and facts: art, net worth, photos
Briefly.co.za recently published a biography on Alix Bailey. She is a uniquely talented artist, especially on paintings and portraits. Her unique work has been showcased in various galleries. Apart from painting, she has also taken part in acting. She was also married to Louis C.K. Read on to find out more about this talented artist.
Source: Briefly.co.za