Nick Evans Explains How a Big Black Mamba Scared a Local Family: "A Crazy Sight"
- South African snake rescuer, Nick Evans recently shared another exciting story about how he rescued a frightened family from an equally frightened big black mamba
- According to the post, the mamba had entered the family kitchen after presumably being scared by something outside which resulted in big chaos in the Durban household
- Luckily for them Evans soon around and chased the snake all the way to the family bedroom where it attempted to take refuge underneath the bed
PAY ATTENTION: Click "See First" under the "Following" tab to see Briefly.co.za News on your News Feed!
South African snake rescuer Nick Evans has thrilled more reptile lovers after heading online to share a post about how he managed to save another Durban family from a large black mamba that had entered their house via the kitchen.
"Yesterday afternoon, in Reservoir Hills (Durban), a family were in the kitchen going about their day, when they suddenly heard a noise at the front door. They looked up, and saw a massive Black Mamba entering the house. I'd imagine this is a worst nightmare for many people," he wrote.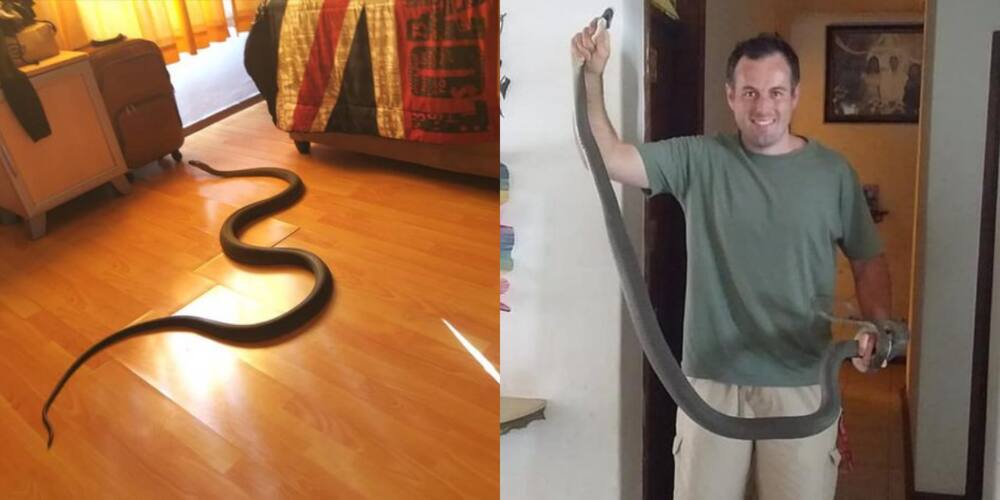 He then went on to explain how after contemplating hitting the snake with a chair, the dad decided that the best thing to do was call Nick who arrived shortly to find that the snake had slithered further into the scared family's home.
PAY ATTENTION: Never miss breaking news – join Briefly News' Telegram channel
"The mamba went into a bedroom, and the family shut the door behind it. Upon arrival, as I approached the bedroom door, I could hear the snake moving on the floor. It sounded big.
"I opened the door, and sprawled out across the wooden floor, was this massive Black Mamba! It was such a weird, crazy sight, I just had to take a Pic. Of course, the mamba saw me, freaked out, and dashed under the bed."
Evans then ends the post by describing how he managed to seize the snake which he describes as "impressive" and "super healthy". Meanwhile locals had this to say:
Rene Engelbrecht said:
"We waiting to hear you talk on East Coast about this beast."
Allen Rich Xanikhwe said:
"I see you don't want to bad mouth the snake...but anyway we thank God no one got hurt"
Briefly News previously reported that Nick Evans recently headed online to share another post about one of his amazing snake catches. According to the post he had gotten a call from a frightened family who spotted the snake in a doorway in their home.
"Last night, a family in Westville North, got quite a fright when they saw this Mozambique Spitting Cobra at their doorway! Instinctively, the one resident grabbed the door and shut it, while the snake moved to the side, slithering behind a fridge. They phoned me, and kept eyes on it. It was trapped in a room.
"I pulled it out, while the family watched in disbelief through the glass door. They got a safe, close-up view. The cobra was nearly a meter long. Once I put it in the bucket, it started to regurgitate," he wrote.
Enjoyed reading our story? Download BRIEFLY's news app on Google Play now and stay up-to-date with major South African news!
Source: Briefly News