Trevor Noah mother photos, name and story
Accomplished South African comedian Trevor Noah has risen to the highest levels of the comedy industry beating the toughest odds of apartheid and poverty. His journey is known to many now after the release of his book; Born A Crime, which was released in late November 2016. It is a fun and thrilling emotional journey of his childhood in South Africa. The most prominent subject throughout the book and in Trevor Noah's life has been his mother, Patricia Nombuyiselo Noah. Trevor Noah mother is the steady rock behind his tough character, and he credits her at the end of the book, which is a dedication to her for making him a man. The book is also about a lot of other parts of his life in which Trevor Noah mom had a huge influence in the direction that his life ended up taking. In this article, we will look at her story and the challenges she has had to overcome over the years.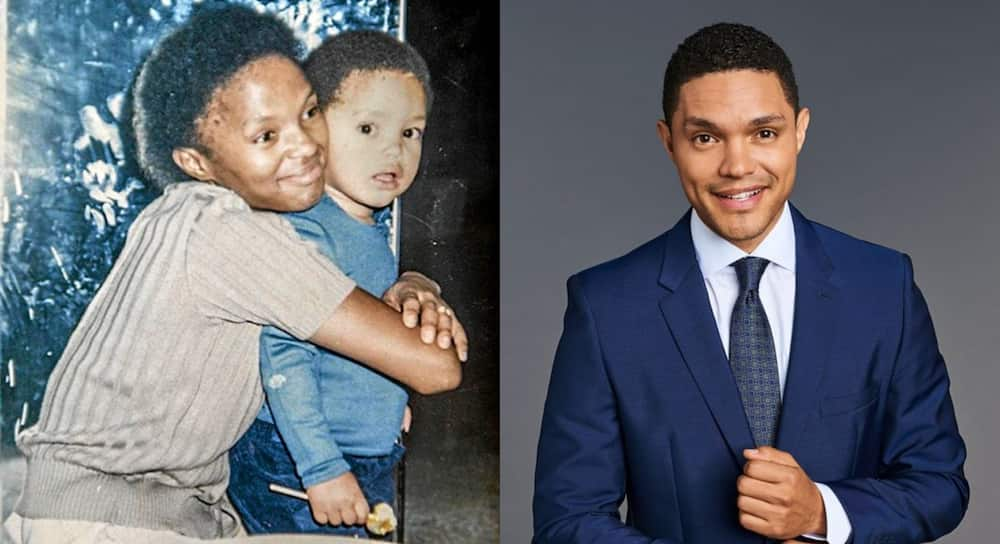 Trevor Noah mother and father
Trevor Noah mother Patricia had made a number of tough decisions before she ended up in the city. Living in Soweto, young women did not have a list of options when it came to choosing what to do, as apartheid left them two choices; becoming a maid or working at a factory. Patricia Noah, Trevor Noah's mother, found a third option in the sad situation. She took a secretarial course and typing classes. A move that paid off soon after when black people had the chance to be employed in low-level white-collar jobs to pacify the international retribution for apartheid. After that, she got a job as a secretary at ICI. She worked there for a while but left for Johannesburg soon after because she was unhappy at home.
While in Johannesburg, Patricia had to blend in and dress like a maid to avoid any questions. She lived among prostitutes but was never one of them. It is through a prostitute friend of hers that she met a German from whom she could lease a flat for a fee. Trevor Noah mother, Patricia Noah, and his father Robert Lloyd lived across the hall from each other in a flat in the neighborhood of Hillbrow in downtown Johannesburg. Robert Lloyd was a Swiss/German expatriate, one of the many that had come to South Africa when apartheid took hold. During this time, it was illegal for races to intertwine in any way. So, in a way, the couple was a crime itself. She found security with him at a time when black women and white men could not be together by law. Living the fast life in the underground party scene of Johannesburg where all races mixed with little care of the law, Patricia was safe with Robert.
It is with this comfort and safety and her daring character to get whatever she wants that she asked Robert for a child. Yes, you read that right. In a time where a colored child was the evidence of a crime, she asked for one. Robert refused at first but eventually gave in. Her conditions were that she would not demand anything from him to raise the child except for being in the child's life if he wishes so. Trevor Noah parents never lived together; their romance started during the tough apartheid era at an apartment block where Patricia was living illegally, and the color of his skin was potentially problematic for her with law enforcement as well.
It was a tough way to live, having a child you cannot walk around with in public. The child could not also be with his father. Trevor Noah mother Patricia was always independent; she rented herself a flat in Joubert Park after his birth. This is where he and his father met in public. Sometimes, Trevor's mom had to have her colored friend called Queen to pretend to be her son's mom so she could go to the park with them and pretend to be Queen's maid. You can see Queen in the foreground of Trevor Noah mother pictures with her in the background. Fast forward a few years later, Trevor's family changes.
Trevor Noah family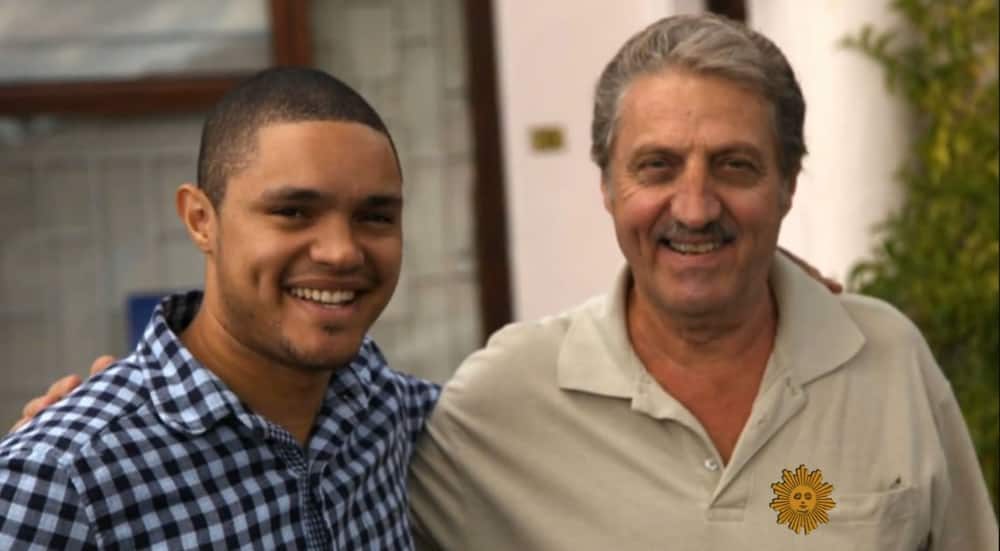 Trevor Noah's mother was an avid churchgoer. She never missed a service and would sometimes spend her day in church; she made him go to church just as much. Growing up in Eden Park, her optimism and good-natured humor helped him live through the stress of teenage years. This is despite the challenges she had to endure all along during that time. When Trevor was about eight years old, his mother met Abel Ngisaveni who was a mechanic at Mighty Mechanics, a garage down the corner from where his father Robert lived in Yeoville.
READ ALSO: Cassper Nyovest new car 2018
Patricia's Volkswagen constantly needed repair, and this meant that she ended up spending a considerable amount of time at the workshop where Abel worked. It is during these visits that Abel and Patricia's romance grew and he then became a friend to the young Trevor Noah. Eventually, his mother and Abel decided to get married. Trevor, despite being young, was instinctively against the decision. The marriage happened anyway; it was a civil marriage, just signing a few papers and that was it.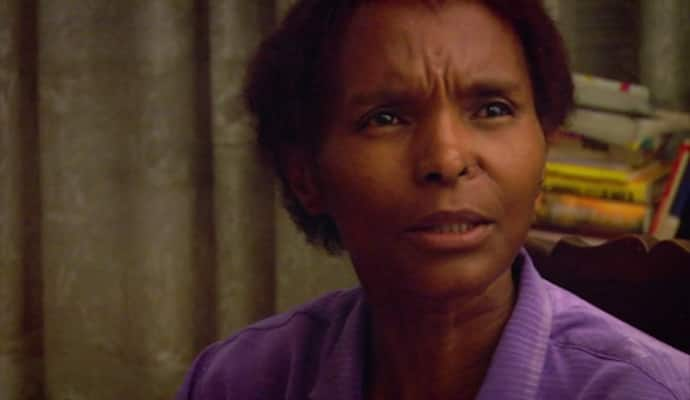 When Trevor was nine years old, his step-brother, Andrew was born. Trevor's life was unaffected for the most part with the arrival of Andrew. After a visit to Abel's parent's home, however, there was a shift in the family dynamics. The relationship between Patricia and Abel became strained as they were on two opposite sides of a shifting cultural view. She was a free spirit whereas his tradition taught him to reign in his wife. Eventually, this relationship soured even more. He grew violent and hit her after a drinking spree one night. The police would hear none of it and blew it off casually. Patricia moved away to Trevor's grandmother place to live there. Abel convinced her to come back to live with him with the help of her mother who had been abused by her husband as well. This relationship soured, even more, the violence became too much to bear and spilled over to Trevor after their family business, Mighty Mechanics collapsed.
Trevor moved out, and so did Patricia, but not in the way you would imagine. She built a shack outside their house in Highlands North, a jab at Abel's public persona he wished to keep unblemished. She and Abel had a second son, Isaac when she was 44 years old even after having her tubes tied. Hence the name Isaac. Eventually, she got fed up with living with Abel because of his drinking problem and physical abuse and ended up leaving him. She bought yet another house in Highlands North where she met someone else and moved on. Abel could not see his children any more. At the time, Trevor Noah shows were gaining popularity, and he was becoming increasingly famous.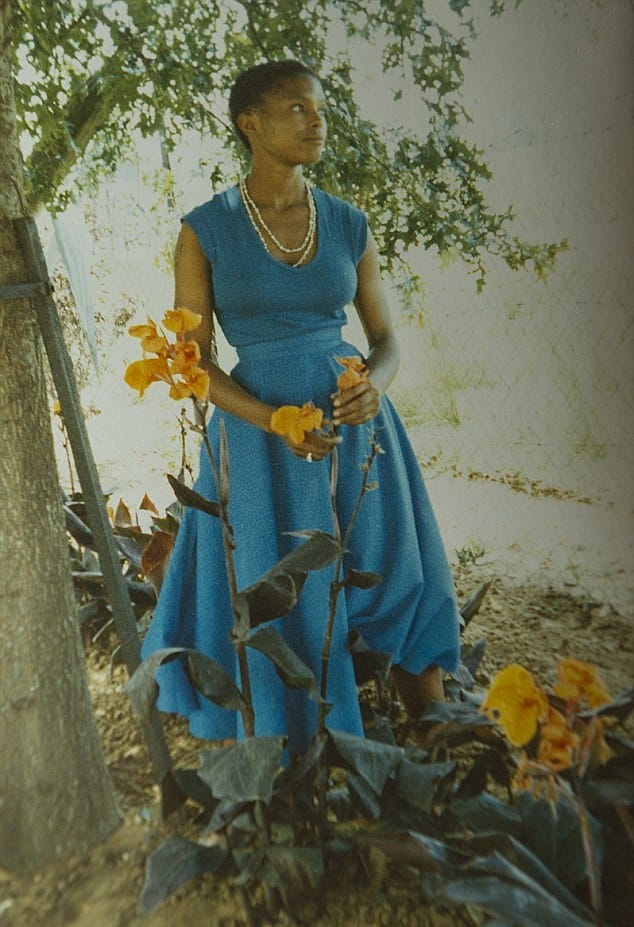 One day, when Patricia, Andrew, Isaac, and their new extended family were on their way back home from church, they found an alcohol-fueled Abel waiting with a gun. Trevor Noah's step-father shot Patricia and as the rest of the group fled, he stood over her and pulled the trigger four times, but no bullet was fired. They simply fell out intact with the casing. She picked herself up and grabbed Andrew and got in the car. He shot her through the back of the head before she could drive off. Andrew instinctively took her to the hospital. She was lucky the bullet did not harm any major organ except for her left nostril. She was back at work seven days later. Abel was arrested and given three years probation for attempted murder. Trevor Noah mother was close to fifty years old at the time of the shooting.
Trevor Noah's book "Born a crime" gives detailed information about his life. In an interview with Oprah Winfrey, Trevor Noah confirms that his book was a love letter to his mother, Patrica. One thing stands out though; that Trevor Noah mother went through a lot but not once did she succumb to her low points. This should be the ideal slogan for anyone who dares to dream.
READ ALSO:
Best Cassper Nyovest new house pictures
Who is Cassper Nyovest girlfriend currently?
Trevor Noah salary - How much does he earn?
Bonang Matheba biography
Bonang Matheba dresses 2018
Source: Briefly News