Traditional South African Potjiekos recipes
Are you planning to visit South Africa any time soon? If yes, make sure you try a Potjiekos recipe. Potjie kos is a traditional South African dish that is usually prepared outside in a small round three-legged iron cast pot. Firewood and charcoal are used as the source of heat. Twisted grass or dried cow dung can also be used if fuel is scarce. Scroll down below to know more about preparing the perfect Potjieko recipe.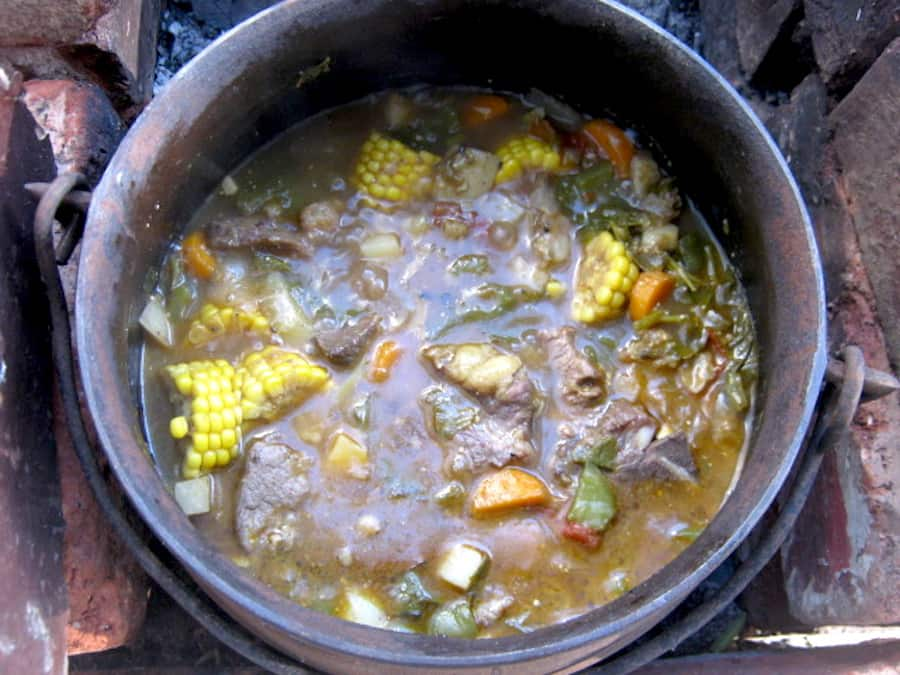 If you have just landed in South Africa, then welcome to the Potjiekos world!
Comparatively, most Potjiekos recipes usually take longer to cook. However, the end result is remarkable! The food is tasty, full of flavor, and packed with useful nutrients. Your online research will definitely lead you to numerous recipes in this category, and this is where your journey starts.
Biltong Potjie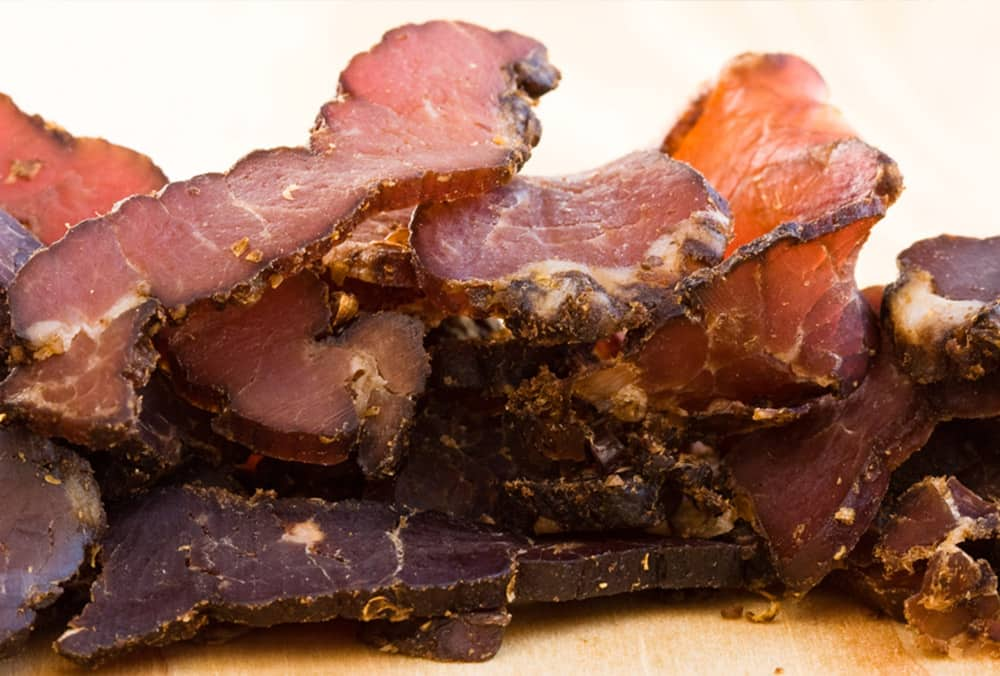 Servings: 6
Ingredients
1 chopped onion
500 grams of cut Biltong
Fresh mixed herbs – a handful
250g of margarine (Can use butter)
1 Tbsp of garlic – crushed
250 ml of cream
1 pkt of mushrooms – diced
250 grams of cheese – grated
2 pkts of instant white sauce or mushroom soup cream
(Avoid spaghetti)
Method
Melt the butter.
Fry your mushroom, garlic, and onions.
Reduce the heat by taking out some coals if necessary.
Add the biltong.
Add pasta.
Mix your instant sauce with adequate water. Ensure everything is covered.
Add the herbs and close the lid.
Check regularly to ensure the water is enough.
Once the pasta is well cooked, lift the pot off the coals and add a proper blend of cheese and cream.
Lamb shanks and vegetable pot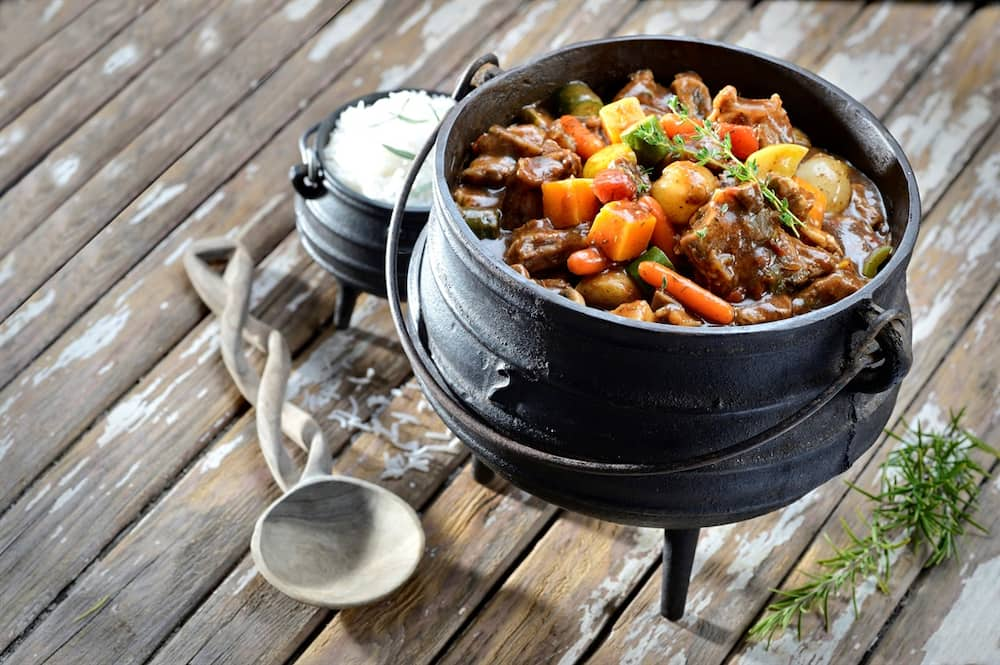 If you have guys coming to visit, it would be wise to prepare this a day earlier so that when the party starts, all you have to do is to warm up the lamb and cook the veggies.
Ingredients
15 grams of salt
500 grams of peeled baby carrots
500 grams of cauliflower
3 whole cloves
4 cubed tomatoes
250 ml white wine – dry
10 grams of dried parsley
12 quartered potatoes
15 grams of aromat
500 grams of button mushroom – the whole
30 grams of butter
500 grams of dried mixed fruit (soaked for 1 hr)
4 bay leaves
90 grams of bisto (in 125ml water)
12 pcs of lamb shank
6 sliced baby marrow
Black pepper – 6 corns
240 ml of water
4 diced medium onion
2.5 grams of black pepper – ground
Method
Heat the pot to melt the butter.
Brown several pieces of lamb at a time and remove.
Let the onions brown until they are soft.
Put back the meat, and then add the water, whole cloves, bay leaves and salt.
Cover the lid and let the pot simmer for a while.
Mix the pepper, parsley, aromat and the remaining salt.
Sprinkle the mix in between the layered vegetables.
Put the dried fruit on top and let the pot simmer for a little longer.
Sprinkle some aromat over the pot.
Cover with the lid and let it simmer for half an hour.
To cap it all, add bisto solution and the wine thirty minutes before serving.
Beef Potjie recipe South Africa
Beef brisket with braai (BBQ) sauce Potjie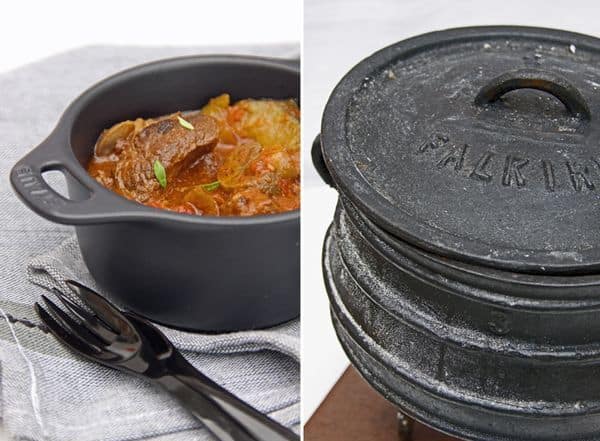 Servings: 6
Prep Time: 10 minutes
Total Time: 3 hours
Ingredients
1 ½ kilogram beef brisket/stewing steak, cubed thickly
15 ml of cooking oil
200 grams of button mushrooms
3-4 thickly chopped courgettes
Sauce
2 sliced celery stalks
2 chopped large onions
30 ml chutney
2 crushed cloves of garlic
5 grams of salt
15 ml of healthy cooking oil
15 grams of brown sugar
1x410g can of tinned tomatoes (chopped)
15 ml of Worcestershire sauce
125 grams of beef stock
Two bay leaves
125 ml malt vinegar
1 tsp of freshly ground ginger
1 gram of grated nutmeg
5 grams paprika, smoked
Two whole cloves
Method
Start by preparing the braai sauce.
Heat the oil over a medium heat. Sauté the onions and garlic in the oil until the onions are slightly browned and translucent.
Add the remaining sauce ingredients and cover with the lid.
Allow simmering for 30-45 minutes to combine all the flavors so that the sauce thickens.
Heat 15 ml of cooking oil in another pot until it is very hot.
Add the meat in batches while stirring to brown the meat on all sides.
Create a layer with the courgette slices on top of the meat and another layer with the mushrooms on top of the courgette slices.
Cautiously, pour the sauce over everything. Try not to dismantle the layers.
Tightly cover the pot with a lid and simmer gradually until the meat is tender.
Season and serve with creamy mashed potatoes.
Beef and vegetable Potjie
Servings: 4-6
Prep Time: 10 minutes
Total Time: 2 hours
Ingredients
1 kilogram of stewing beef, cubed
30 ml of healthy cooking oil
Four peeled and sliced medium potatoes
Black pepper
Six sliced baby marrows, sliced
2 peeled and sliced medium sweet potatoes
30 grams of parsley (dried)
250 grams of chopped cabbage
Four peeled and sliced carrots
A tomato, peeled and sliced
125 grams of dried apricots, soaked in water
Two sliced medium sized onions
Sauce
500 ml water (boiled)
One cube of beef stock
1 teaspoon of dried rosemary
125 ml of Soya sauce
125 ml of sweet Sherry/Port)
125ml of sweet Sherry/Port
1 gram of thyme (dried)
5 grams of black pepper
Method
Add oil to the pot and heat.
Add the meat and baby marrows, and then cook until they almost turn brown.
Add the onions and brown them together.
Mix the ingredients of the sauce together and then add them to the pot. Stir well, cover with a lid and allow simmering.
Layer the dried fruits followed by the veggies and then sprinkle some black pepper over the tomatoes.
Cover with the lid again and let it simmer until the vegetables are cooked.
Season and serve.
Paella pot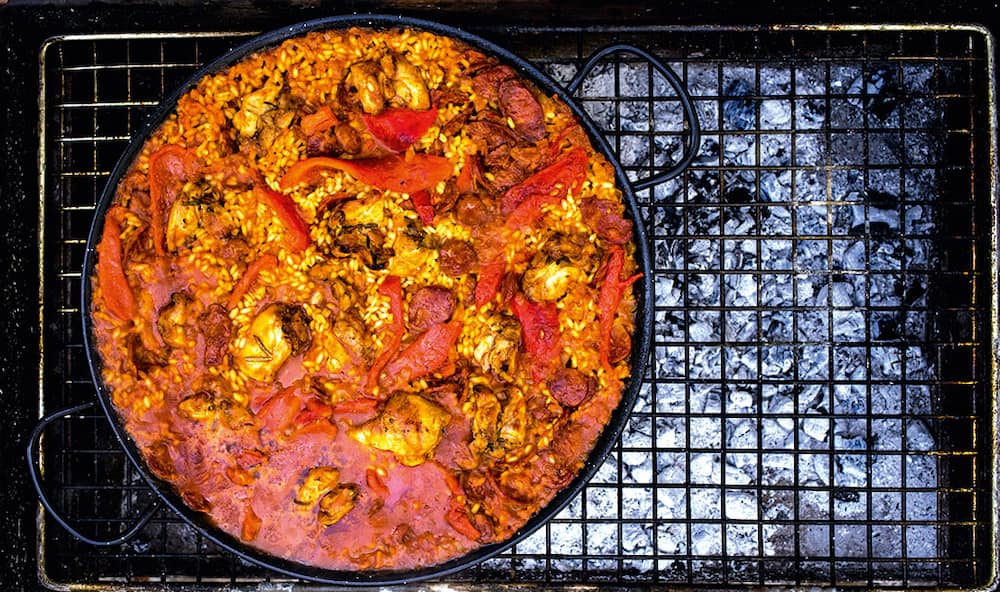 This is one of the best Potjie recipe. It takes a while to prepare but the end result is worth the effort.
Ingredients
400 grams of prawns – frozen
60 ml of cooking oil
Juice extract from 1 lemon
5 grams of Saffron
1 chopped large onion
500 grams of cubed pork
5 halved chicken thighs
4 bay leaves
500 grams of uncooked rice
250 grams of green peas – frozen
Salt & pepper to taste
1 litre of boiling water
Chicken stock cubes – 2 pcs
1 kg of kingklip fillets (shredded)
3 sweet peppers (red and shredded)
Method
Heat the oil in the pot.
Slightly brown the chicken, pork, onion, and pepper.
Cover and let it simmer slowly for sometime.
Mix the boiling water with the chicken stock cubes, bay leaves, and saffron and then put the mix aside.
Put the prawns and fish on top of the meat.
On top of this, place the peas and rice.
Season with pepper and salt to taste.
Add the saffron water mix in bits as the rice boils dry.
Gently simmer the Potjie until the peas and rice are cooked. Ensure the liquid is almost boiled away.
Paella should be loose. Also, make sure the rice is not soggy.
To keep the rice from burning, simmer slowly.
Before serving, add the lemon juice and stir well.
Boland Lamb Potjie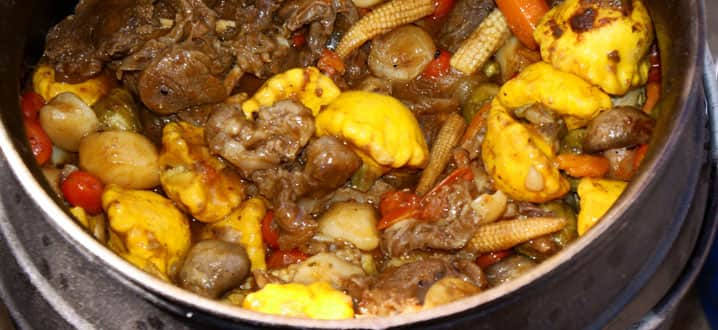 Cooking time: 1.5 hour
Ingredients
Cooking oil of your choice
8 pieces of lamb knuckles
8 pieces of lamb neck slice
8 pork knuckles
Meat stock
Salt to taste
3 large cubed potatoes
8 small onions
8 carrots, each cut into 3
20 halved young green beans
250 g button mushrooms
6 baby marrows cut into 3 pieces each
2 large finely chopped onions
6 large skinned and diced ripe tomatoes
3 cloves of thinly sliced garlic
3 drops of Tabasco or chili sauce
2 tbsp soy sauce
3 tbsp Worcestershire sauce
1 stalk of celery
Ground black pepper to taste
Chopped parsley
Method
Heat the oil in a Potjie and add the neck slices.
Then, brown the them on all sides.
Once browned, remove the neck slices and place them the center of the Potjie that is flat-bottomed.
Repeat the process with the pork knuckles and lamb.
Place the lamb around the neck and then the knuckles around the lamb.
Take the small onions and place them on top.
Add salt to taste.
Add the meat stock and ensure it almost covers the meat.
Arrange the vegetables in this order: carrots, potatoes, followed by the green beans.
Cover the pot and let it simmer.
Test to see whether the potatoes are soft.
If so, add the baby marrow and mushrooms on top.
Simmer for another 15 minutes.
In a small Potjie, braise the onions and tomatoes.
Add the remaining ingredients except for the parsley.
Simmer for another 10 minutes.
Spoon the vegetables over the flat-bottomed Potjie and allow simmering.
Sprinkle the parsley over the dish and serve.
Are Potjiekos recipes worth trying?
So far, it is evident that traditional South African Potjiekos recipes are not only delicious but are also very healthy dishes. The flavors are well infused during the long cooking time and as you eat, ingredients burst in your mouth as you enjoy the meal.
Ideally, Potjiekos recipes can be prepared when you want to enjoy with your family or when expecting important guests. You can cook outside as you enjoy the fresh air and chat with your family and friends. Potjie recipes are worth trying out. Pick one and enjoy a great delicacy from the South African cuisine.
READ ALSO:
Banting chicken recipes
10 easy mince recipes South Africa
Banting green list recipes
Banting breakfast recipes
Source: Briefly News