Themba Ntuli's wife, wedding, illness, family and cars
True love does exist. Regardless of your physique or abilities, there is always that one person who will sincerely love you. Those who dispute this philosophy should consult with Themba Ntuli or maybe learn from his story. His recent wedding to his beautiful wife is enough proof. Read on and get inspired.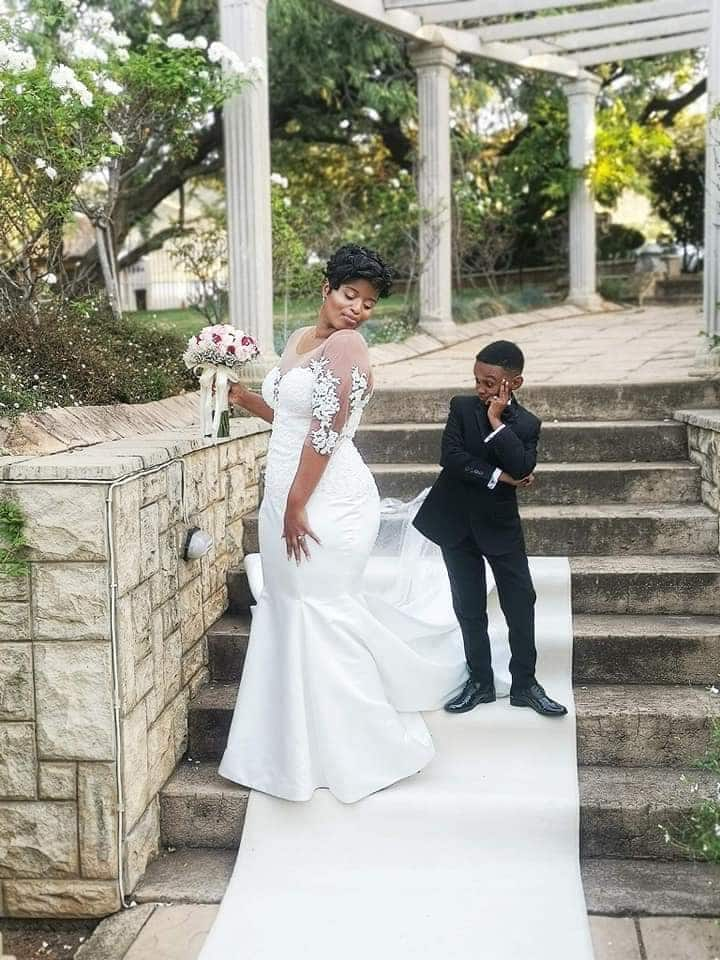 Despite his physical statue, Themba Ntuli looks like he is winning in all aspects of life and turning out to be an icon to reckon. Being confident and God-fearing has come a long way for him. He has learned to overcome the negative effects that come with his unique body structure. To add on it all, he has established his brand in the entertainment industry. Onto his personal life, he has also made significant steps by finding someone who loves him unconditionally and officially sealing their union.
Who is Themba Ntuli?
You might have known him through the screens but have no idea who Themba Ntuli is. For that reason, getting brief information about Themba Ntuli family and biography might go a long way. Themba Emmanuel Ntuli is his official name. He is popularly known to many as Themba Ntuli, although some people refer to him as MrMbus. Themba was born on August 9th, 1990. He is the firstborn son of Mr. P.G. Ntuli and Mrs. D.N. Ntuli. Themba Ntuli has two brothers; Zathemba and Msizi.
Themba Ntuli career
As a young boy, Themba started his career as a filmmaker at a tender age. In 2011, he worked with the Bomb Shelter Production. He served as a script supervisor for two months. In the same year, he got the opportunity to be the director of Hoek-Line, his first movie. The movie was released in February 2012. Directing this movie meant so much to him. He dedicated it to his late dad who had passed on in 2011.
One year later, after the release of Hoek-Line, Themba advanced in his career. This time around, he served as editor and cinematographer in a company by the name of Vusmo Media. He got the chance to edit the show. Being a hardworking young man, Themba made more significant steps in his career in 2014. Apart from being an editor, cinematographer, and director, he played a part in producing a film entitled Njengo'Thando. Njengo'Thando was one of Themba's great works. The short movie scooped three awards during the Mpumalanga Short Film Festival that year.
READ ALSO: Themba Ntuli's wedding to the love of his life inspires Mzansi
Apart from being behind the scenes of these movies that were a great success, Themba also moulded his acting career at a young age. His acting career dates back in primary school, something that helped him build confidence in himself. As early as Grade 11, he was already on the screens acting in Rhythm City. Here is an amazing new picture with his wife during the wedding.
Realizing his dream at his young age was one of the best things that have ever happened to him. It opened doors for more significant achievements. One of the most recent and successful movies that Themba has featured in is 'Frank & Fearless,' which was released in November 2018. Apart from acting, he also got the chance to feature in a couple of adverts. Some of the most excellent brands that he worked with include Vodacom, Sunlight, and SABC2.
Themba Ntuli illness
Themba Ntuli height has been a topic of discussion. Most people have gone an extra mile to insinuate that Themba Ntuli illness is the reason behind his height. However, these speculations are not anywhere close to reality. Themba says that he is short, 120cm tall to be precise. He goes further to insist that he is not suffering from any illnesses. Instead, he is confident about his height.
In one of the interviews that he did last year, Themba was asked to comment about his height. In confidence, his response was, "There is nothing wrong with me. I am completely healthy, just a little shorter than most people." He goes further to say that his younger siblings are taller than he is. Hilariously, Themba says that ever since he was young, his age mates would tease him because he was shorter than most of them. That, however, did not stop him from going for his goals. According to him, Themba Ntuli height has been an advantage because he has had the chance to play the role of a kid in most of the great shows that he has featured in. To add on it, he has been able to earn enough money to pay for his varsity fees and that he is financially stable. He is not ashamed of being 120cm tall at 28 years.
Is Themba Ntuli married?
Most of the times that Themba's name would appear on social media was when he had gone for an interview, or anything related to his acting career. The most recent one was Themba Ntuli car guard role on Rhythm City. However, he has topped most of the social media sites for the past week for a different reason, Themba Ntuli wedding. Themba shocked most people when he married the love of his life; Hope Masilo, a move that left most people in disbelief.
Themba Ntuli's wife took social media by surprise by how elegant and vibrant she looked on her wedding day. She is proof that true love sincerely does exist. The two looked gorgeous in their wedding attires and seemed to enjoy the day. Most of Themba's friends took it to social media to send their warm and touching congratulatory messages. One of Themba's friends, Ofense Mwase, a local cinematographer, posted a powerful message to the newly wedded couple. Themba Ntuli is a true example of success, and we all feel happy for him in his new life with his lovely wife.
READ ALSO:
Themba Ntuli gets showered with congratulations after tying the knot
Happy wife, happy life: Will your bae be happy if you give her money?
Woman gets engaged on NYD: 'I'm getting married to my best friend'
Woman buys herself a promise ring: 'A promise to always love myself'
Source: Briefly News