Released in 2018 as a part of Sun-El's Africa to the world album, Sonini is one of his best works so far. In the song, Sun El features the amazing Simmy and beautiful Lelo Kamau. But what exactly is the meaning of Sonini? And what are the actual lyrics?
READ ALSO: Best Amanda Black songs 2018-2019
Sonini meaning
Sonini is one of the songs on Sun-El's EP Africa to the world whose video was released immediately after the album. Sonini's video can be found on the YouTube page EL World TV where it was published on 23rd April 2018. As at May 1st, 2019, Sonini had over 7.5 million views with over 26k thumbs up.
Sun-El Sonini is short audio though the video runs for 4.18 minutes. In the uptempo traditional setting song, Sun of El features Simmy and Lelo Kamau. The song continues the theme that is clear from the album- Africa to The World from the unique seductive sound and lovely vocals.
The Sonini meaning is quite clear from the detailed video that was shot in a home setting. In the video, the man has to leave home for work, and the woman now has to do things like wait up to share dinner with her man. The first part is sung by Simmy with Lelo Kamau joining in later on, and the two women pray together. The video has a happy ending when the couple is reunited after he comes from work. It is a love story.
READ ALSO: 10 best Benjamin Dube songs 2018-2019
Sonini Lyrics
The song is fairly short, and therefore easy to master with a repetitive catchy chorus and two verses. It would be nice if you could actually sing along as the catchy tune plays on your device. As such, here are Sonini lyrics;
[Intro - Simmy]
Sonini
Sonini
Sonini
[Verse 1 : Lelo Kamau]
Uma ngishiy'wa Nguwe,
Ay angikwaz ukuzibambela,
Angikwaz' ukuzibambela.
Ngidinga Wen' eduze kwam,
Eeeeeeh Qamatha! Sonini!
[Chorus]
Themba lam' Nguwe.
Eeeeeh Qamatha! Sonini!
Themba lam' Nguwe.
Eeeeeh Qamatha! Sonini!
[Verse 2]
'Zungangishiyi,
Ngoba konk' engiyikho!
Konk' enginakho!
Konke kuvela Kuwe.
Oh ngiyabonga!
Eeeeeh Qamatha! Sonini!
[Chorus]
Themba lam' Nguwe.
Eeeeeh Qamatha! Sonini!
Themba lam' Nguwe.
Eeeeeh Qamatha! Sonini!
Social media comments and reactions
This is what fans had to say on twitter about this hot track:

Zamany affirmed that indeed Sonini is still a hit many months after its official release.

Sicelo, like many others have failed to master courage that will get them over Sonini.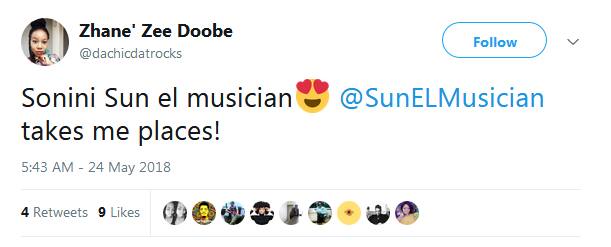 Sun El Musician Sonini
Born Sanele Sithole in the KwaZulu Natal Midlands, Sun-El Musician is a music producer and DJ who is based in Johannesburg. Speaking to News24, Sun-El maintains that he aims to bring the greatest and most universal dance music back to the dance floor, nightlife and airwaves.
Sun of El has a very distinctive sound that is easy to appreciate and recognize. In his first album, Africa to the World, Sun-El released songs such as Sonini and Akanamali which are still hits one year after their release in 2018.
However, the musician has also produced singles both before and after the album that Sonini is part of. For instance, in 2015, Sun-El released Wasted that was among his very first pieces. In 2019, the musician has released Pray, Lengane and Live in Fear. If Africa to The World is anything to go by, Sun-El is not done wowing the world with his music.
Sun-El Musician songs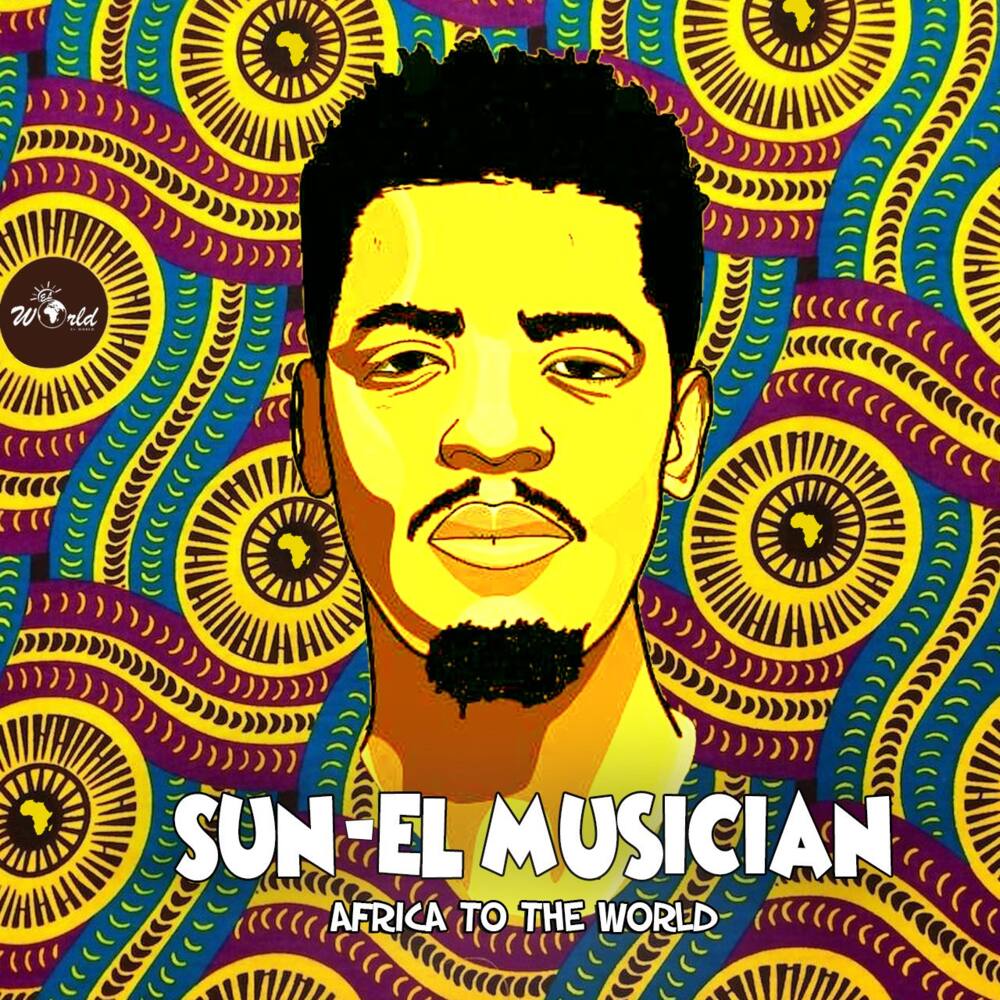 Other songs from the Sonini album Africa to the World are listed below. Sun-El features Simmy in another song in the album- Ntaba Ezikude. The whole EP was well received though some songs fared better than others. Sonini, Akanamali and Ntaba Ekuzide were among the most popular songs.
READ ALSO: 10 best Davido songs ranked
Akanamali lyrics meaning in particular, are still a subject of debate especially with the video that was later produced. Akanamali speaks of a girl who chose to be with her man even though he had no money and they still found happiness. In the video, there are two other girls who have to make similar choices only to discover they chose wrong.
The whole list of songs from the Sun-El Sonini album includes;
With You
Akanamali (feat. Samthing Soweto)
Sengimoja
Life We Live
No Stopping Us
Goodbye
Umalukatane
Sonini (feat. Lelo Kamau and Simmy)
Ntaba Ezikude (feat. Simmy)
Random
The Wave
Bamthathile
Simmy songs
Apart from Sonini, in which Simmy collaborated with Sun-El Musician, Simmy also has a couple of songs from her two albums which were both released in 2018. Tugela Fairy contains more songs than Cool Story Bro though the latter was actually produced as her EP.
Simmy Songs- Tugela Fairy
Tugela Fairy is a pop album that contains 11 songs and was produced under the Columbia Records label. It contains Ubala, a song in which she featured Sun-El Musician. Their collaborations seem to produce authentic African vibes.
Kwa-Zulu
Incwadi Encane (feat S-Tone)
Umahlela
Vele Kungcono
Ngiyesaba
Lashona Ilanga
Ubala (feat Sun-El Musician)
Hamba Juba
Nawe
Ngonile
Njalo (Ufikile)
Ngiyavuma
Simmy songs - cool story bro
Simmy also has a second album which was produced in 2018 titled Cool Story Bro. She worked with Srabi Machine on all the tracks in the album and featured Friday Night and Kid Cruise on Cool Story Bro. The album identifies as Hip-Hop/Rap. Cool Story Bro contains the following four Simmy songs.
Cool Story Bro (feat. Friday Night and Kid Cruise)
Long Road
Zim Zima
Bon Jovi
That's Ok
READ ALSO: Trending Musa songs 2019
Sonini mp3 download
Sun El musician songs are good. Sonini is a catchy tune that you won't want to stop listening to once you hear it for the first time. It does not matter if you do not understand the language, the catchy tune and repetitive words will have you humming along in no time. In such a case, it is prudent you download the tune in your preferred format. Sites such as Zonkewap download music make it easy to find your favorite songs and download them instantly.
Every once in a while, a beautiful story is sung and in 2018, Sonini was that story. Not only is it a romantic love story, the song features a religious and homely setting but also has a happy ending. Sun El's signature uptempo beat coupled with the beautiful voices of Simmy and Lelo Kamau will have you playing the song on repeat. Enjoy.
READ ALSO: