Download DStv Now for PC, smart TV, tablet, smartphone, and standard TV
As the number one television broadcasting company in Sub Saharan Africa, Multichoice has made it easier for all subscribers to watch DStv online free from anywhere with internet access. This is through its new DStv Now App that enables you to watch, stream, and search for content of choice through an array of devices. Download DStv now for PC, laptop, android, and Ios tablets for free as you access and enjoy your DStv TV Guide entertainment wherever you go!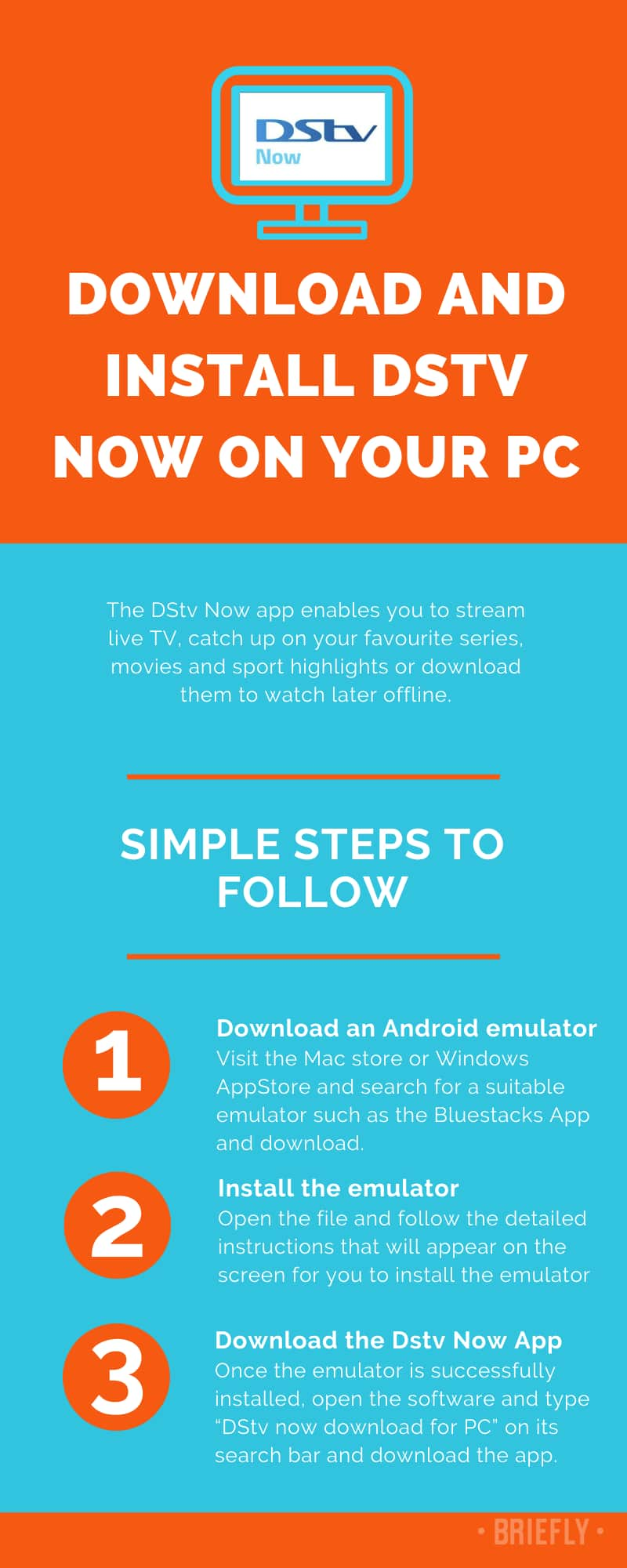 Considered as one of the most significant breakthroughs in-home television entertainment, the new Dstv Now App enables family and friends to access their favourite channels and contents from different devices for free. Gone are the days when conflict would arise due to sharing a single viewing platform.
By having access to the internet, you can Download DStv now for PC and enjoy the free online streaming of all your favourite sports, live news, movies, TV shows, among others. You also get the opportunity to download and watch content while offline. Read below to learn more on how to watch DStv online for free.
How to download DStv Now App for PC
The new DStv Now App for PC free download is accessible to all subscribers who have PC or Mac computers and internet access. However, for the App to function correctly, you will first have to download a desktop emulator app for the effective functioning of the television application. Below is a simple guide on how to access, download, install, and run the DStv now desktop app.
Step 1. Download Android App emulator
The Android App emulator refers to an apk installer file, which enables the PC software to watch DStv online free download on your computer. This is easily accessible by either visiting your Mac store or your Windows AppStore. Search for a suitable emulator such as the "Bluestacks App" and download it on your machine.
Step 2: Install the emulator
Open your computer's download folder and identify the just completed emulator download. Open the file and follow the detailed instructions that will appear on the screen for you to install the emulator on your device successfully.
Step 3: Download the Dstv Now App
Once the emulator is successfully installed, open the software and type "DStv now download for PC" on its search bar. Click on search and select the app's icon. This will automatically lead you to a new Play Store/Apple Store window through your emulator.
Proceed by clicking on the installation button. This will initiate the downloading process. After the finish, select the icon "All Apps" and select the DStv Now App for Windows or Mac and start enjoying the Dstv channels and programs of your choice.
It is important to note that this process applies to different Windows PC versions such as XP, 7, 8, 10, Mac's, and laptops.
Streaming Dstv online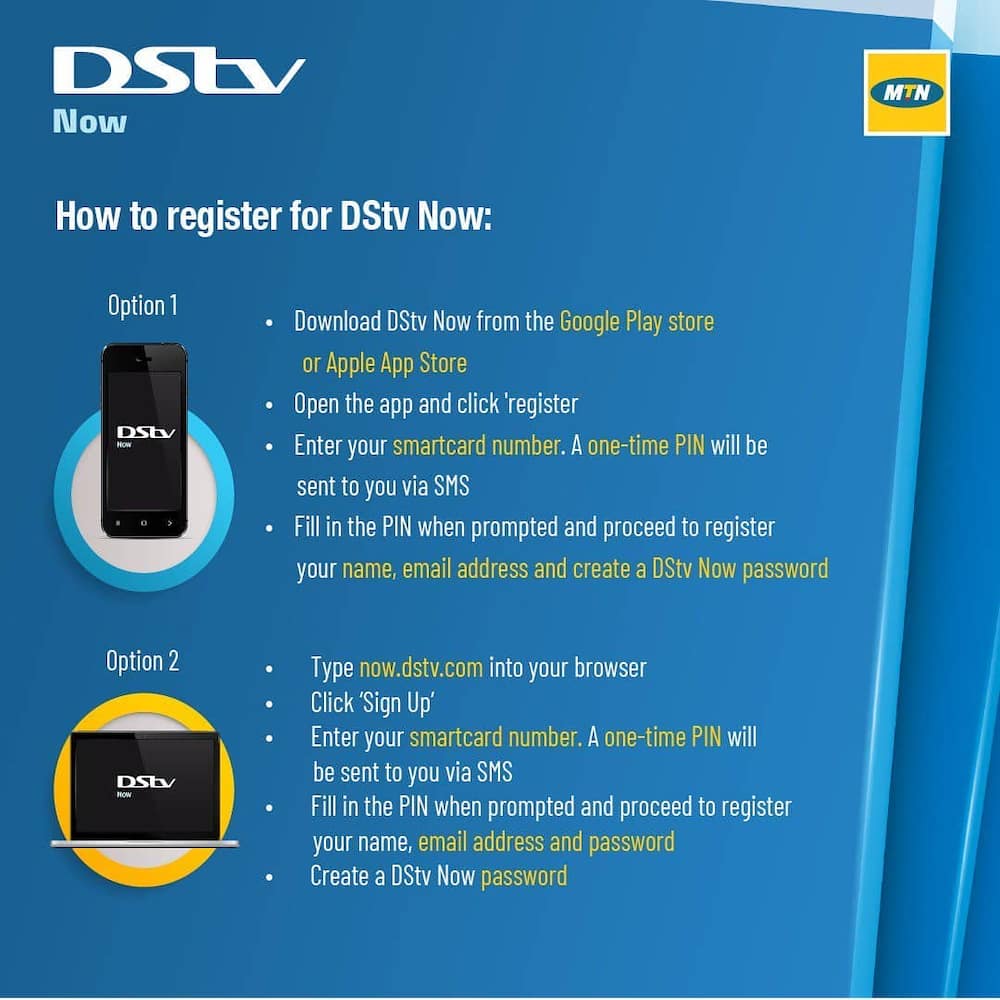 READ ALSO: How to download from Showmax
For those who do not possess a Dstv account or decoder, you can still enjoy the rest in live streaming the different entertainment services. So, after downloading and installing, how does DStv now work on smart devices?
First, you will have to register hence creating an account. This will provide you with the necessary username and password of choice. Achieve this by visiting now.dstv.com website. You will need to provide your email address, the country registered phone number, password, and read and accept all the documented multichoice terms and conditions.
By finishing this, you will have officially created an account. This means that you can now download the app on any PC or smart device of choice and use your account logins for you to enjoy live streaming services. Thanks to DStv premium 5 devices, now you can watch your favourite programs from the comfort of your home.
Smart TV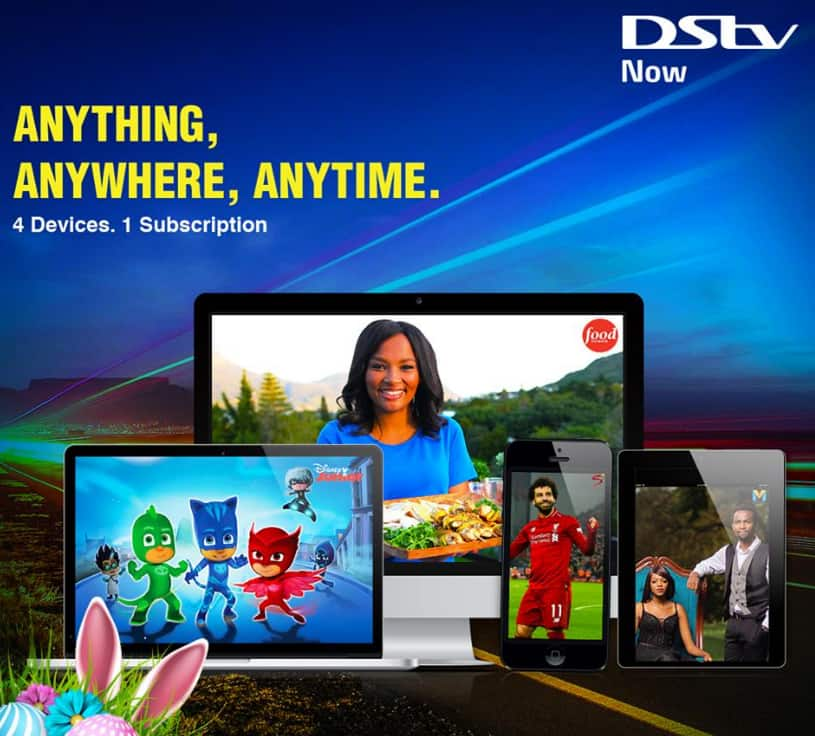 Given to the technological advancement of smart TV's, you can directly connect it to the internet and download the app through televisions installed with an operating system. By doing this, you are capable of streaming live without the need of physically buying an external decoder. It is essential to consider the right smart TV that supports the application. These include:
Samsung
LG
Apple TV
Android media player
You can also make your family experience the best by subscribing to DStv premium five devices option. This enables you and your family members to access five devices that can be used to stream different content. This is effective as the payment of the five devices is based on a single subscription. You can access the premium package by visiting dstv.com login.
READ ALSO: Updated DSTV packages, channels and prices in 2020
Tablet
Simply download the App through either your Android or IOS app. Proceed to log in with your account details for you to start watching. Additionally, you get the advantage of downloading various favourite episodes to the tablet storage and watch while offline.
Smartphone: for those using an IOS smartphone, visit the Apple App Store and download the application. If you are using an Android smartphone, visit the Google Play Store and install it. Use your account details to log in and start enjoying the different programs, among others.
Standard TV: this is through connecting a decoder directly to your standard television through wifi/internet. For a better watching experience, it is advisable to consider the Dstv Explorer decoder that enables you to watch the same content in two of your five devices. This offers you an array of benefits that range from 220 hours of recording content, pausing live TV, among others.
DStv now manage devices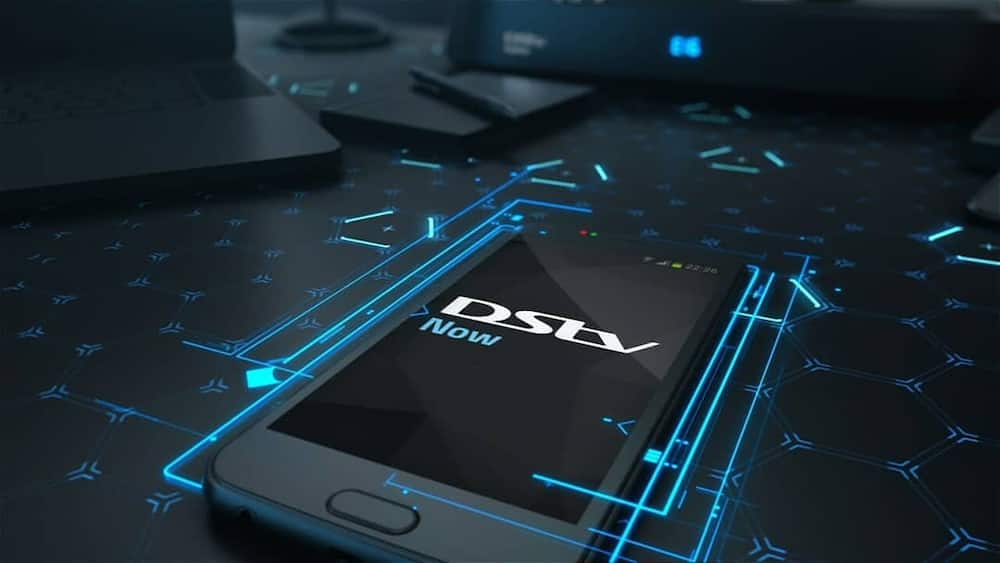 DStv manage devices options are one of the most significant advantages of using the new app. It enables you to monitor and identify if anyone is using your Multichoice login. This may be a friend or family member who might use your logins on different smart devices or PC. To manage this, follow the steps below and remove any device name that seems strange to you:
Open the DStv Now application
Accounts
Account
Manage Devices
Select "Remove Device"
READ ALSO: NEW! Latest DStv channels 2020: packages, broadcast dates
Download DStv now for PC and access the numerous programs and live streaming from either your Mac or windows. Additionally, by creating an account, you get to use your account logins to stream live through connection by internet and Wi-Fi. As a free application that is only based on your monthly subscriptions, you get the chance of improving the entire family viewing through 5 devices such as standard TV, smart TV, tablet, smartphones, and personal computers.
READ ALSO: Where to download Afrikaans movies
Source: Briefly News