If you have ever had a bite of Mozart cake, you probably will look forward to having another one because of the pleasant taste that it carries. And for a reason or the other, getting another authentic one may be far from reality because it is hardly come by. Unfortunately, visiting different pastries may end up having different tastes as the assurance of having the real flavour is not guaranteed. However, instead of searching around, you can make yours in the comfort of your home, at least, following the recipe shared in this article.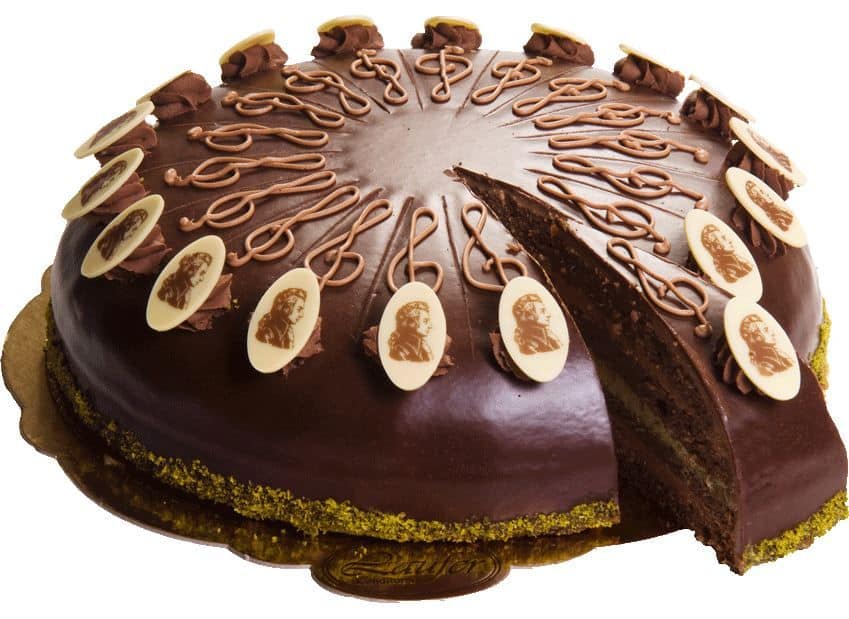 With its origin from Austria, the modelling of Mozart cake is after the Mozartkugeln chocolate marzipan truffles. Even though the cake takes some time to prepare, the result is always worth the effort put into its preparation. Besides, there are different variations depending on individual taste need and based on your choice, you can opt for any of them. For instance, while some people love to use chocolate and ganache, some others use marzipan and pistachios.
You will yet again find some others who prefer nutty meringue layers, whipped cream and hazelnuts as well as Amaretto liqueur and so on. Therefore, below is an easy-to-follow recipe that you can consider when making your Mozart cake.
READ ALSO: Jungle Juice ingredients and benefits for breastfeeding mothers
Mozart cake recipe
Even if you do not like pastries, when you have a bite of Mozart cake, there is a high chance that you will fall in love with it almost immediately, and that is because of its exceptional taste. Moreover, should you have tasted one before and looking for another bite, now you can stop the search by simply following the recipe shared below.
Ingredients for the cake batter
large eggs (4 pieces)
Granulated sugar (1⁄2 cup)
Flour (3⁄4 cup plus a tablespoon flour)
Cornstarch (1⁄2 cup plus another tablespoon cornstarch)
Baking powder (1⁄2 teaspoon)
Ingredients for the chocolate ganache filling
Heavy cream (2 cups)
Quality milk chocolate chips (1 1⁄4 cups)
Quality grated semisweet chocolate bars (4 ounces)
Finely chopped unsalted pistachios (2 tablespoons)
Ingredients for decoration
Marzipan paste or almond paste (1 package)
Finely-chopped unsalted pistachios (1 tablespoon)
Heavy cream (3⁄4 cup)
Vanilla sugar (1 packet)
Powdered sugar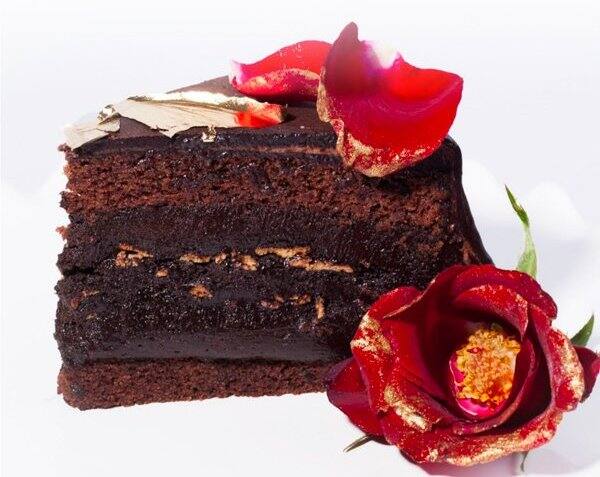 READ ALSO: Braai snoek recipes for an easy and quick meal
Preparation procedure
Continuously beat the egg whites until it becomes stiff but not necessarily dry while you gradually add the granulated sugar.
Then, one at a time, mix in the egg yolks until everything combines.
Sift the flour, cornstarch and baking powder together before you gently fold into your egg mixture. This will help to combine, but be careful not to overmix while deflating the egg whites.
With parchment paper, line a sizeable nonstick springform pan and then, you can fill with the batter.
Allow it to bake in an oven that you have preheated at 350 F, which should be like 30 minutes. While you do this, you will discover that it will rise partway.
Remove from the oven and allow to cool totally.
While the cooling process is on, in a small pan, heat 1/2 cup of the cream over medium-low heat. After that, you can then stir the milk chocolate inside until it has melted and becomes smooth.
Take the pan off the heat and wait until it cools down for about an hour.
Finely grate the bittersweet chocolate with a Microplane grater and then, divide everything into two equal parts.
Keep beating 1 1/2 cups of the cream till you have stiff peaks form.
Moreover, stir half portion of the grated chocolate and chopped nuts gently inside the chocolate mixture which by now must have been cooled.
Fold the whipped cream together gently as well as the melted chocolate mixture.
Carefully slice your cake in three even layers after you have removed from the springform pan with a large serrated knife.
On a large plate, place a layer of the cake and spread one-quarter of your chocolate ganache on it. Once you have achieved that, place another layer of cake on it and spread one-quarter of the chocolate ganache on it also. Repeat the same process for the third layer of cake.
Spread on top and all sides of the cake the remaining chocolate ganache mixture, and allow to chill for about two hours.
Use enough powdered sugar for kneading the marzipan if you notice that it is not sweet. Do this until everything blends well and is as soft as playdough.
Then, in between two sheets of wax paper, place the marzipan before rolling out into a very flat circle which should be up to your springform pan size.
On the marzipan, set a plate that you can use to cut a perfect circle. Once you achieve that, cut the circle that you have made out into sixteen triangles.
Spirally set the marzipan triangles around the top of your chilled cake while you press them down slightly to allow everything stick. But while doing this, make narrow gaps in between the triangles.
Use part of the leftover grated chocolate to coat the sides of the cake. Then, use the vanilla sugar to beat the 3/4 cups of cream that remains until you get stiff peaks form.
Lastly, use swirls of the whipped vanilla cream and chopped nuts to garnish the cake before you serve. More so, use whatever grated chocolate that you have left to sprinkle the top.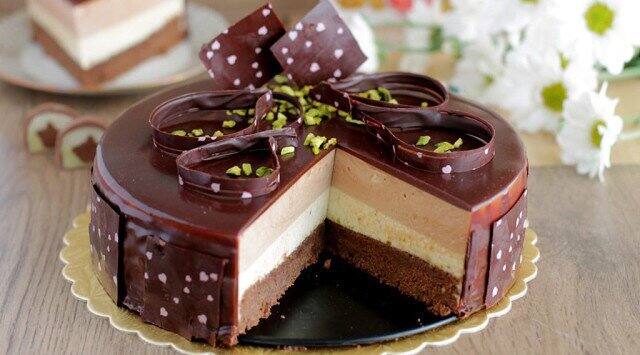 Mozart cake price
In case you still choose to buy your Mozart cake from a Mozart bakery, it is also a good idea. But as touching the price, there is no specific range for it because there are several factors which are usually put into consideration before determining the price. For instance, the size of the whole cake, the number of slices that you want to buy and the type of flavour are a few of the factors that influence the price eventually. Then, if you want to know where they have quality Mozart cake for sale, you can consider Chateaux Gateaux.
READ ALSO: Simple pancake recipe and guide for the perfect bake
Chateau Gateaux cakes are always quality, and you can count on them at all time. Apart from the fact that they have more than twenty years experience, they use exceptional ingredients that guarantee customers products that burst with flavour which have been made from the finest chocolate, fresh cream, fruits and nuts. To enable the preservation of whatever Pâtisseries that you buy from them, they developed the art of sealed-in freshness that helps everyone to freeze his or her Châteaux gateaux for long periods.
And interestingly, whenever you defrost, you are assured of the original handmade state of your product. By implication, every product that you buy from them retains its original flavour and quality after defrosting. One more thing to note is that Chateau Gateaux cake prices are easy to afford. For as low as R49.00, you can get a slice of Mozart.
You can see now that Mozart cake is easy to make once you have the ingredients at your disposal. Although it takes some time to make, you can always rest assured that the time invested in its preparation would be worth it as long as you follow the recipe shared above. Then, with this recipe, you are only a step away from having that original distinctive taste that you have always longed for.
READ ALSO: Xhosa food: Tastiest recipes here 2019