If you are a rugby fan, you must have heard of Makozole Mapimpi, a famous South African rugby union player. Rugby is one of the outdoor games that don't only require skills and strength but also speed. For someone to balance all the three requirements of rugby games, we assume they have a perfect life. However, in Mapimpi's story it is not the case. He had lost his mother, sister, and brother in traumatizing circumstances that did not prevent him from playing as a winger with Kings in super rugby.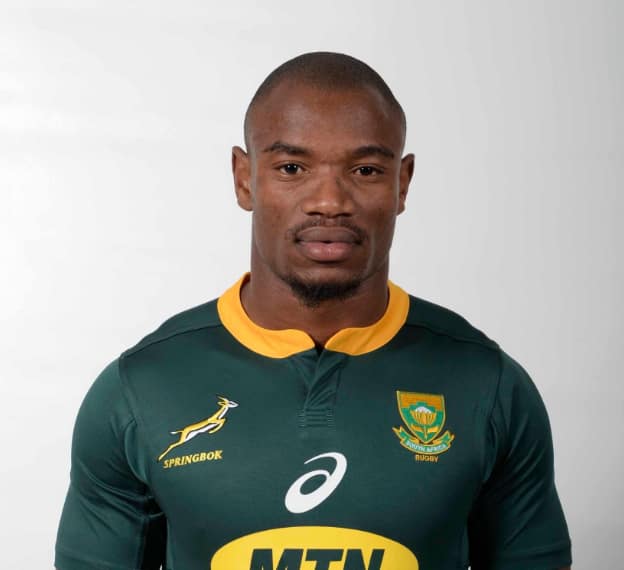 Makazole Mapimpi has recently emerged as the South African rugby star. As a young man, he did not attend one of the traditional rugby schools or feature as a schoolboy representative. Not being famous did not stop him from being a part of 2009 Border Bulldogs under 19 Currie Cup Squad. By 2016, he was the prime candidate for super rugby selection. Since then, Makazole Mapimpi's performances have been outstanding, emerging one of the best rugby players in South Africa.
Makazole Mapimpi profile summary
Full name: Makazole Mapimpi.
Date of birth: 26th July 1990.
Nationality: South Africa.
Star sign: Leo.
Occupation: athlete, Rugby union player.
Major teams: Cheetahs, Emerging Springboks, Free State, Southern Kings.
Current team: Southern Kings.
Position: Wing.
Height: 1.8m.
Weight: 90kg.
Who is Makazole Mapimpi?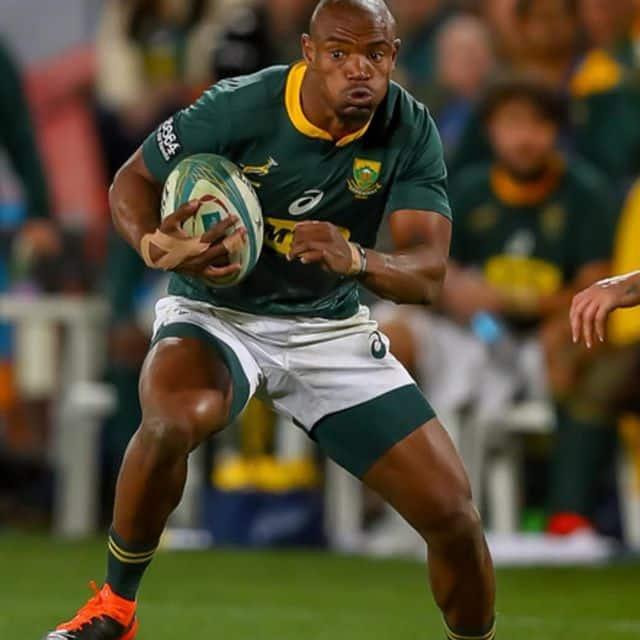 He is a South African rugby player born in July 1990 in Mdantsane. In his teenage years, he did not emerge as a rugby star until his early twenties. He started being an active rugby player in 2009 when he joined the Border U19 and played up to the provincial championship.
Border Bulldogs included the star among other club players. He was involved in South African squad for the competition in the 2014 Vodacom cup. They played against Shark XV but lost the match 24-26. Later in 2015, there was a season against Boland Cavaliers whereby Makazole emerged a star perform after scoring a hat-trick of tries hence taking over the king's duties.
READ ALSO: Pieter Steph Du Toit age, measurements, wife, siblings, parents, education, current team, position, stats, salary and Instagram
In 2017, the Free State Cheetah contracted Makazole until the end of the 2018 season. He finished the super rugby season that year with 11 tries and made 14 appearances and missed only one game. After the contact, he left and joined up the Shark as they prepared for the 2018 Super rugby season. During this period, he scored ten tries in 13 pros 14 games for the Cheetahs. Currently, he is looking forward to the 2019 Rugby championship, and he is preparing for test caps.
Makazole Mapimpi family
Makazole family story is a source of encouragement to youngsters that it doesn't matter the background they come from, but as long as they work hard, they will be ready when the opportunity arises. Mapimpi experience is sorrowful, especially about how he lost his mother, Eunice, in a road accident; Zukiswa, his sister, who was a nurse succumbed to brain illness, and his brother Zolani, who was electrocuted as he stole electricity cables and later passed on after failing to recover from his injuries.
It is splendid that this player views his background positively and says that it made him a better person. While in an interview with a South African website New Frame, Mapimpi noted that if the mother and sister were alive, he wouldn't be a rugby ball player. His family would have insisted, he got an education or job since they could not foresee benefits of rugby. However, he was clear that he did not appreciate losing his family members, but that experience toughed him, and his presence to date is the power of God's plan.
Makazole Mapimpi interview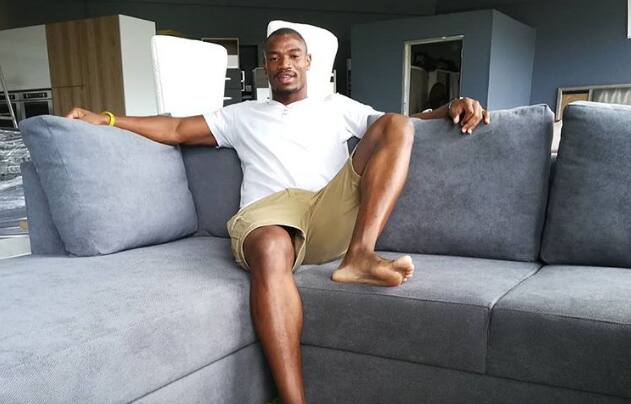 Most people yearn to listen to a detailed Mapimpi's interview and learn more about his challenging background and how it did not slow down his success. Being an international player, it is not easy for Mapimpi to meet up and have a talk with reporters. And as you know, media personalities do not give up if they can not find the person; they look for someone close enough to get any information. They managed to interview one of the South African assistant coach Mzwandile Stick to get a glimpse of the extraordinary story about Makazole.
He explained that Mapimpi was born and brought up in a needy background at a place known as Tsholomnaqa in the Eastern Cape South Africa. As a young man, he would walk up to six miles a day to get an education. He went ahead and explained that the environment Makazole grew up in had unskilled coaches who would expel someone from a rugby pitch for kinking the ball away. This kind of background did not expose Mapimpi to play an aerial game.
Mapimpi's injury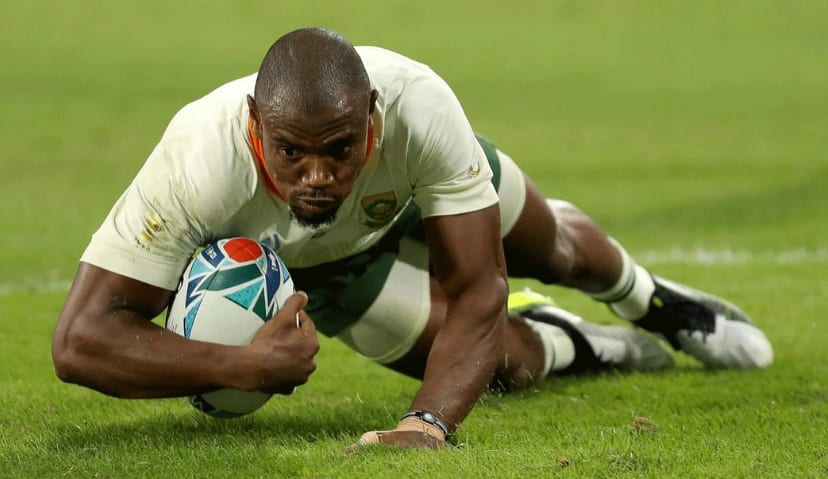 Rugby is a rough game. At times people refer to it as a rough game played by gentlemen. While playing such a game, you are likely to get hurt in the field. Makazole is not an exception. At one point, he got an injury that was so bad that he had to travel back home. He sustained a knee injury while in the Castle Lager Rugby Championship. He was playing a match against Wallabies in Brisbane. The SA squad did not replace him. And he recovered after a while.
Mapimpi and the bomb squad
A video from Springbok's post prompted numerous reactions after Bok replacement, and Mapimpi walked away. Some people thought he was not included because of racial reasons. However, Erasmus explained more about the bomb squad incident that it was an in-joke between Steyn and Simone de Jager.
Mapimpi stas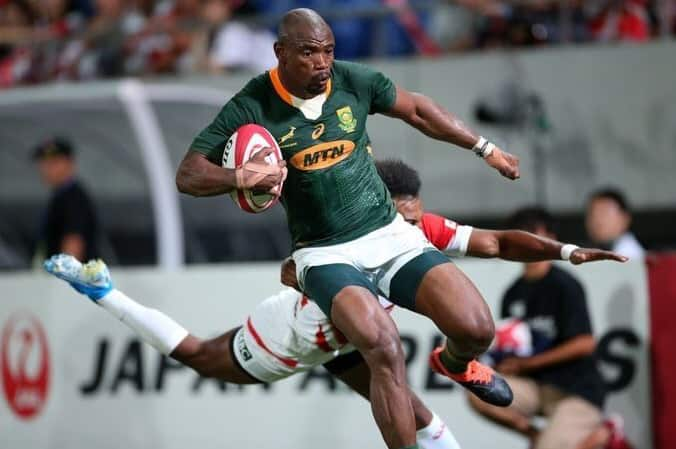 Makazole Mapimpi stats indicate that so far, he has attained 32 points within six tries and under 198 m. He has two kicks one conversion goals and 0 penalty goals. He has tackled 37 defenses and missed 7. He has conceded two penalties received 0 yellow cards as well as 0 green cards.
Makazole Mapimpi Instagram
Makazole is available on Instagram as Makazoli. He does not post regularly since he has only forty-nine posts. Nevertheless, people love him since he has over fourteen thousand followers. You can view numerous pictures as he plays.
Makazole Mapimpi is a remarkable South African player. He used his challenging experience as a source of strength. His story is a source of inspiration and encouragement. He is not just a fantastic player, but also a disciplined one. Mapimpi did not have the best coaches when he was a young kid. However, this did not stop him from emerging as an international rugby player.
READ ALSO: Andries Coetzee age, measurements, injury, current club, stats, salary and Instagram