What is the difference between NPC and NPO that you should know
To date, there is still much confusion regarding the difference between NPC and NPO, even though the two are well-known terms in the 21st century. Charities and Civil Society organizations have a crucial role to play in South Africa; hence, it is imperative to familiarize yourself with different merits as well as their registration requirements.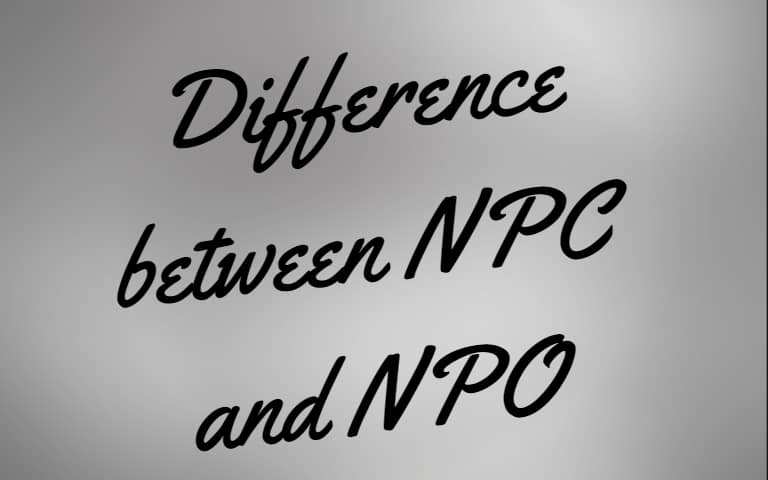 To start, an NPO stands for a non-profit organization and means exactly that. NPOs include NGOs (Non-governmental organizations), FBO's (Faith-based organizations), and CBO's (Community based organizations). On the other hand, an NPC stands for a non-profit company. Do you want to register a charity or civil society? Below we delve into what makes the two Charities and Civil Society Organizations in South Africa different.
READ ALSO: How to register an NGO in South Africa in 2019?
Difference between NPO and NPC
Here are the varying aspects of NPOs and NPCs.
1. Parliamentary Act
The Non-profit organization Act registers NPOs. The Act defines NPO as a trust, company, or other association of individuals created for the benefit of the public. Its profits are not to be enjoyed by the members but reinvested to meet the purpose of the organization.
On the other end, NPC South Africa is defined as a company;
Incorporated for a public benefit or other objects as required by item 1(1) of Schedule 1; and
The income and property of which are not distributable to its incorporators, members, directors, officers, or persons related to any of them except to the extent permitted by item 1(3) of Schedule 1" by the Companies Act.
Members present during the registration of the NPC are considered workers of the company. This means they are treated the same way as shareholders on a company for profit. However, the members would not get a profit share, but the entities will get grants and donor funds from the National Lottery Board on application.
2. Registration process
In the registration, NPOs can choose between various legal entities that include an NPC, trust, or Voluntary Association. A public benefit trust needs to be enumerated with the Master of the Supreme Court, and its trust deed is treated as the founding document.
Most small NPOs prefer to be set up as Voluntary Association. This type of NPO registers with the Department of Social Development. The process of registering a social development NPO is free and takes roughly two months. Once the registration is complete, the entity is obliged to submit its annual reports that include financial documents, changed constitution, office bearers, and physical address within nine months after its first fiscal year. All registered NPOS are accorded a 30-day notice if their reports are due.
Even though all organizations that are non-profit and not part of the government are required to register with the NPO Act, NPCs are excluded. This is because Non-Profit Companies are audited and treated like typical businesses; hence, they do not need the credibility that comes with registering under the non-profit company Act. Nevertheless, All NPCs must be listed with CIPC.
CIPC meaning
CIPC, which stands for Companies and Intellectual Property Commission, refers to an agency within the Department of Trade and Industry in SA. This organization was created by the Companies Act, 2008 (Act No. 71). It serves as a juristic person who works within the public administration, functioning as an institution outside the civil service.
CIPC has various functions like registration of companies, intellectual property rights, and co-operatives, as well as their maintenance, among other roles.
3. PBO registration
Both NPO and NPC are allowed to register with SARS (South African Revenue Services) as a PBO to benefit from special tax exemption. Non-profit companies (NPCs), as well as trusts, can still get PBO status even without needing to register under the NPO Act.
PBO meaning
The difference between NPO and PBO is that the latter stands for a public benefit organization, and it can be a trust, company, an NPC registered under the new Companies Act, or any other association that has been registered with SARS.
All non-profits are encouraged to register as PBOs per section 10 (1) of the Income Tax Act. The Act states that such non-profits can be exempted from regular income tax on condition that it is not distributed directly or indirectly to its members.
How to register an NGO in South Africa
What is the difference between an NPO and an NGO? Although NPOs and NGOs fall under the non-profit category, a distinction between the two can be derived from the nature and scope of operations. An NPO sources its funds from the government but maintains a non-governmental position and does not require any government council. NGOs are also referred to as civil society organizations. On the other hand, an NPO uses its profits to attain the purpose of the organization further. NPOs include trade unions, charitable entities, Art organizations.
To register an NGO in SA, you need the following documentation:
A constitution
Deeds of trust
Memorandum and articles of association
The last step is to download and fill the required application form and attach all the above documents.
READ ALSO: NPO registration step-by-step guide 2019
We hope that by now, you know the differences between NPO and NPC. You can, therefore, make an informed decision on which entity under the non-profits to set up in South Africa.
READ ALSO:
SIRA registration: step-by-step guide 2019
How to check if a company is registered in South Africa 2019
75 small business ideas in South Africa that actually work in 2019
How to start a small business in South Africa without money
How to make money fast in South Africa in 2019?
Source: Briefly News