All you need to know about new DStv's channels - two extra DStv ESPN channels
For the longest time, DStv has given its customers reasons to be glued to their screens. With more than 100 DStv's channels at their disposal, MultiChoice offers a wide range of entertainment options ranging from sports and music to movies. As though that was not enough, it keeps on adding more channels to the stash, how awesome is that? Two more channels have been added to your list. Would you like to know more about them?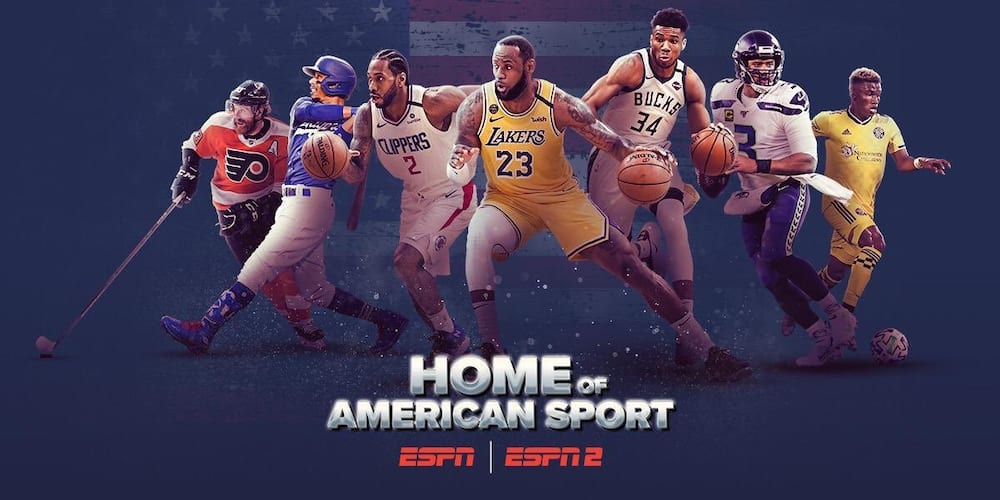 The Walt Disney Company Africa and DStv have announced the return of ESPN, the sports entertainment stable. This is after the two ESPN channels took a break from DStv for seven years. ESPN Classic and ESPN were pulled down from DStv in July 2013, and as they return, ESPN Classic has returned as ESPN2. How about knowing more about what you should expect from the new DStv's channels?
DStv new channels 2020
What are the new channels on DStv? ESP and ESPN2 are the new TV stations that have been added to the list of stations. They are sports channels and broadcast the following sports:
MLS (Major League Soccer)
MLB (Major League Baseball)
NHL (National Hockey League)
NFL (National Football League)
NBA (National Basketball Association)
Live football leagues like the English Football League, the Dutch Eredivisie, and the Scottish Premier League.
Apart from sports, the two channels also broadcast news and documentaries.
What is the difference between ESPN and ESPN2?
ESPN will broadcast a couple of live matches from a couple of African and European football leagues, athletes, and stars. Meanwhile, ESPN2 will broadcast America's sporting leagues like the MLB, NHL, NFL, and NBA.
Where can I find ESPN2?
If you are looking forward to checking out ESPN2 on DStv, it is available on channel 219. For Portuguese markets, it is available on channel 618.
READ ALSO: All Amazon Prime Video South Africa shows list, sports, costs, and log in 2020
What channel is ESPN on DStv?

ESPN on DStv is available on channel 218. On GOtv, it is available on channel 38 and 618 on the Portuguese market. In Ghana, it is available on channel 137 and 337 in Uganda.
Who can watch ESPN2?
For you to access the new ESPN channels on DStv, you ought to have subscribed to specific packages. For instance, ESPN2 is available for users who have subscribed to Compact Plus and Premium packages.
READ ALSO: Ex-minister claims MultiChoice used deal with SABC to influence state
Who can watch ESPN?
ESPN is available for viewers who have subscribed to the following DStv bouquets:
Premium
Compact
Compact Plus
If you are in Mozambique and have subscribed to the Family/Familia package, you can also access this TV station.
FAQs
These are some of the frequently asked questions which answers could come in handy in helping you understand the new TV stations and how to access them.
READ ALSO: 5 of the best Android TV box South Africa 2020
How do I add more channels on DStv?

If you wish to have access to more stations, you will be required to upgrade the package that you are subscribed to. To do so, you will be required to click on the Add or Change button. This button will navigate to the Add or Change page, which will display your current package and the list of packages that you could upgrade to.
Can I choose my own channels on DStv?
Multichoice has not provided its customers with the liberty to choose stations.
What channels are on DStv Access South Africa?
This package provides access to more than 55 TV stations and more than 95 audio stations.
Did DStv open all channels?
DStv did not open all channels. However, on 26th June 2020, there was an incident of some customers gaining mysterious access to the Premium package, although Multichoice reverted the illegal access.
READ ALSO: How to watch DStv online for free from any device 2020
Briefly.co.za reported on 23rd June 2020 that DStv had provided the option of accessing its content online for free. The best part about this feature is that it is also available for mobile phones and laptops.
For a customer to watch DStv online for free on any device, they ought to have an active premium subscription. The device that they are using should be compatible with the DStv app. They should also have access to the internet.
If you are a fan of sports, the new DStv's channels will be your new home because of the wide range of sports that will be at your disposal. If you wish to access them, ensure that you are subscribed to the packages that they are compatible with.
READ ALSO:
Somizi Mhlongo gets sincere apology from DStv account payment hater
What is Hulu South Africa and how can you get the service
MultiChoice buildings catch fire: Citizens share their opinions
Source: Briefly News