- Brad Binder has made history with his win at the 2020 Czech Republic motorcycle Grand Prix
- This was the culmination of years of hard work and enormous financial sacrifices
- Brad Binder has made his country proud and paved the way forward for more South Africans to aim for glory
PAY ATTENTION: Click "See First" under the "Following" tab to see Briefly.co.za News on your News Feed!
Brad Binder has done what no other South African has been able to before. He is the first South African to win a MotoGP.
However, he is not the first African to win such a title, Rhodesians Gary Hocking, Jim Redman and Ray Amm were very successful during the 1950s and 1960s.
Besides being South African, Binder is also a rookie and is the first rookie to win since 2013 when Marc Márquez took the honours.
People have been mulling over why riders from Australia, New Zealand and South Africa excel at sports. As former colonies, they have a different mindset than their European counterparts. They possess a can-do attitude and a burning desire to win.
This coupled with the huge amount of sport they are exposed to creates a super competitive racer, exactly like Brad Binder.
Binder grew up in Potchefstroom near Johannesburg and spent his youth racing dirt bikes across the veld. He started competitive racing in motocross and won his first title in 2005.
READ ALSO: Zodwa Wabantu slams ex-boyfriend Vusi Ngubane, calls him scammer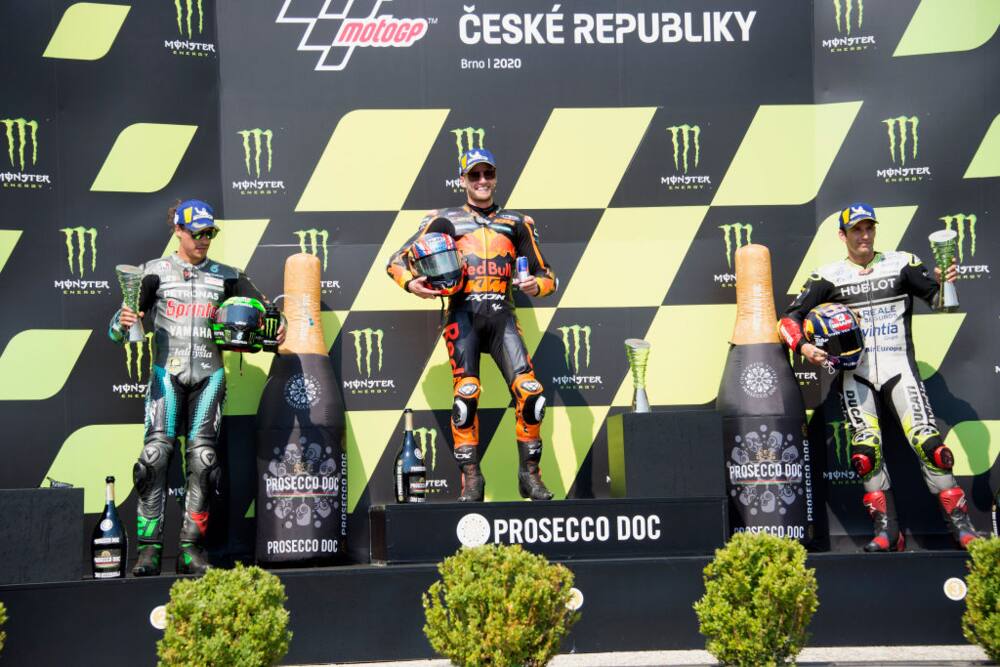 READ ALSO: Boys with Mercs: Boys bring out their toys for show and tell
Within two years he was taking part in the British Grand Prix and earned enough respect to get a shot at the Red Bull Rookies Cup.
For the next couple of years, Binder competed in the KTM-backed talent-finding series but didn't stand out with middling results between 2009 and 2011. He scored just one victory.
However, he built up a relationship with Red Bull which would serve him well in the future.
It was not without sacrifice, being a racer from outside of Europe he had to make a huge financial investment into his career.
Binder's parents spent €300 000 (R6.2 million) on his first Moto3 season in 2012. That placed an enormous amount of pressure on Binder to succeed.
When he did, he remained humble. He revealed his thoughts after Sunday's win:
"This morning I was quite shocked that I was fifth in warm-up!" he grinned. "Honestly, I don't think it's ever going to sink in. The first time I won in Moto3 [at Jerez in 2016] I thought, 'This is insane!'
"I was quite content with that – if that was the end of it then that would've been OK. If we look at where we are today it's unbelievable. With Red Bull and KTM we've won in all three classes – I hope this is the beginning of something great."
Part of his success is owed to his bike, a KTM which had undergone some significant changes in 2019 and 2020.
"When I first rode the [2019] bike at the end of last season I thought, 'Oh my goodness, I've got some work to do, because this thing is so hard to ride'," said Binder. "Then I climbed on the new bike at Sepang in February and it was like another world. It felt so much more natural and easier to ride. The guys made an unbelievable job bringing this new motorbike, it's insane. I need to say a huge thanks."
Earlier, Briefly.co.za reported that Formula 1 is one of the greatest sports in the world but also a very dangerous one. Anyone who has ever been behind the wheel is usually reminded that speed kills, but in Formula 1 is dependent on speed.
Year by year, car manufacturers continue to break barriers through new inventions that make their cars faster and more efficient.
This year, F1 teams have been looking forward to racing since the event is delayed because of the Covid-19 outbreak.
In other news, Formula One (F1) is among the most cherished auto racing sports in the world of motorsport. Like any other internationally sanctioned sport, it brings together competitors from different corners of the world.
In 2020, the championship is set to have 20 able competitors, representing ten teams. So, how do the F1 drivers 2020 squad look like, and who is the best among them?
Enjoyed reading our story? Download BRIEFLY's news app on Google Play now and stay up-to-date with major South African news!