- The Limpopo Department of Health has become entangled in a tender fiasco with many tenders being awarded to politically connected people
- One of the recipients of a R2.2 million tender is the 22-year-old daughter of former Limpopo sports MEC Onicca Mokgobedi Moloi
- Many of the 216 hand-picked companies are not registered on the official database of suppliers
PAY ATTENTION: Click "See First" under the "Following" tab to see Briefly.co.za News on your News Feed!
The Limpopo Department of Health has ended creating quite a mess with its tenders to supply equipment such as hand sanitisers and PPE's (personal protective equipment).
A R185 million contract was awarded to a KwaZulu-Natal to provide PPE but the company is not registered on the official database of suppliers.
Briefly.co.za learned that the company, Pro Secure, is one of 216 hand-selected companies which have been awarded R932 million in tenders.
Many of the tenders have been awarded to individuals who are politically connected, ANC activists and relatives of ANC members according to IOL.
One of them is the 22-year-old daughter of former Limpopo sports MEC Onicca Mokgobedi Moloi, Motlatso Elizabeth Moloi. She was awarded a R2.2 million contract. Moloi is closely associated with provincial Health MEC Dr Phophi Ramathuba.
Moloi distanced herself from the contract:
"Let me put it on record that I am not a close friend of Ms Onicca Moloi whom I refer to as Comrade Onicca Moloi. Ms Onicca Moloi is a former member of the legislature and a former MEC of sports, arts and culture in Limpopo province. I related with her at a professional level as colleagues focusing on work-related matters. I had never made friendships with her."
"I am also learning from your questions that there's a company that is for Ms Moloi's daughter. I was not aware of such as Ms Moloi and myself are comrades in the ANC and discuss politics and not businesses. I do not know much about personal matters of Ms Moloi's nor her dealings," she said.
Ramathuba also denied playing any part in awarding the tender.
"I had no role in the awarding of any contract. The PFMA (where awarding of contracts reside) empowers the HOD and not the MEC. No, I did not instruct the department to appoint any hand-picked company to supply PPEs."
Many of the companies who were awarded tenders are not in the Limpopo PPE supplier database and questions have arisen as to how the department came to know about the companies.
South Africa has been plagued with reports of Covid-19 funds being looted through corrupt tenders and contracts.
Earlier, Briefly.co.za reported that claims that Angie Motshekga's husband, Dr Mathole Motshekga, owns a factory producing sanitiser for schools have been dismissed.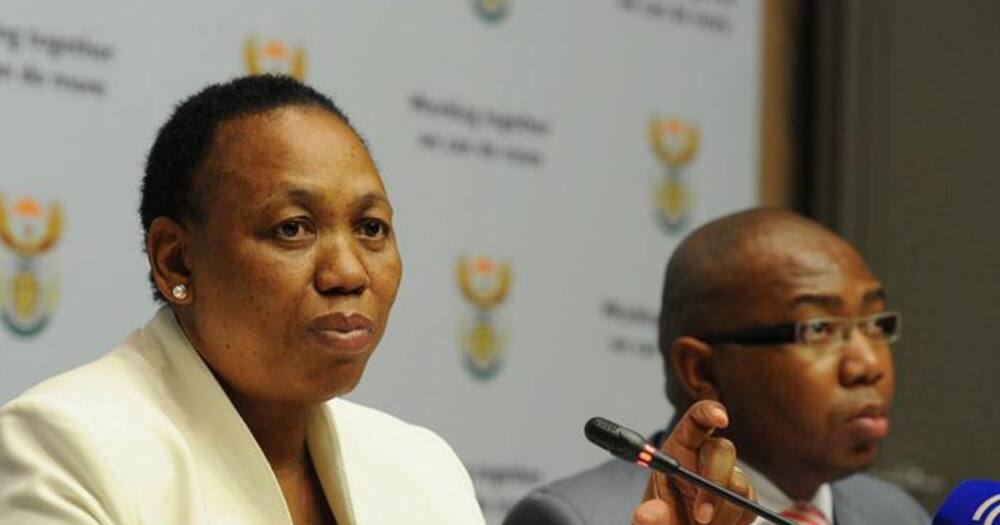 In a statement issued by the Department of Basic Education, the 'false news' was noted and slammed as 'desperate and far-fetched lies':
"The minister would like to deny this and put on record that these are malicious rumours that must be ignored. Dr Mathole Motshekga, Minister Angie Motshekga and all their families are not involved in any procurement processes involving Covid-19 tenders."
In other news, AbaThembu King Buyelekhaya Dalindyebo has lashed out against supporters of the ANC who are blindly loyal to the party with clips of his address going viral on social media.
Speaking during the funeral service of Chief Sandile Mgudlwa over the weekend, Dalindyebo cautioned that ignoring allegations of corruption and criminal activity in the ruling party will see it running SA into the ground.
The ANC, in his opinion, is 'a devil's fart, hellbent on looting the nation said a riled monarch:
"You need to be brave, because the thieves are stealing all the resources meant to shield us during this difficult period. The ANC was so innocent when it was in the hands of Oliver Tambo. What we are seeing today, I don't know what to call it all. I would say it's a devil's fart, but because I am in the presence of pastors I can't say that."
Enjoyed reading our story? Download BRIEFLY's news app on Google Play now and stay up-to-date with major South African news!