- Eldorado Park residents clashed with police on Thursday as they protested the death of a disabled teen
- Video footage shows the cops trying to disperse the crowd but things quickly got out of hand
- Officers even threatened to shoot a journalist should he get in the way of the SAPS
PAY ATTENTION: Click "See First" under the "Following" tab to see Briefly.co.za News on your News Feed!
Eldorado Park looked like a war zone on Thursday as furious residents protested the death of 16-year-old Nathaniel Julius.
Julius was allegedly fatally shot by a police officer and it led to a large protest action in the area. Video footage was shared online showing the extent of the protests.
According to reports, the police station was vandalised and SAPS vehicles were damaged by the angry residents.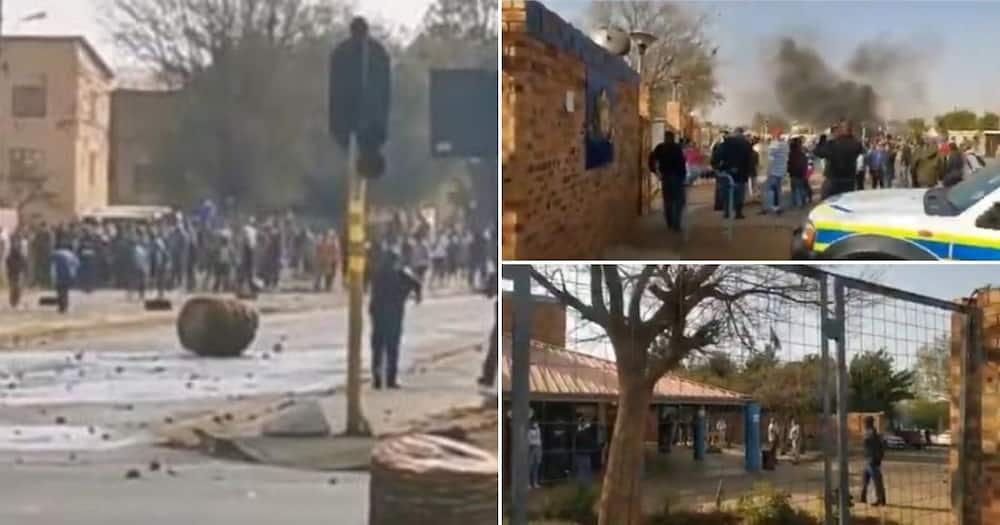 Yusuf Abramjee shared several videos on his Twitter page and he captioned one of the posts:
"Reports say the police station also came under attack. Windows were smashed and vehicles damaged."
Abramjee also shared a video of a police van getting attacked by the protesters.
READ ALSO: Fikile Mbalula says some jobs should be reserved for South Africans
Wisani Makhubele also posted a clip of the protests showing residents clashing with the SAPS:
Tensions were not just high between the residents and the police, but between the cops and journalists as well.
According to eNCA, one of its journalist was threatened by officers on the scene. Reporter Aviwe Mtila said that a SAPS member threatened to shoot should they get int he way of the police.
"We asked him why [they should leave the scene], he just dismissed us. He then said that I would receive shots," said Mtila.
The South African reported SAPS Gauteng spokesperson Brigadier Mathapelo Peters said police officers were hard at work to try and contain the situation in Eldorado Park.
She said:
"This morning we had to deploy our public order police to help in Eldorado Park after violent attacks by residents who are allegedly accusing police of having shot and killed a 16-year-old boy."
Peters confirmed that the cops had fired rubber bullets to disperse the crowd and that several people, including officers, were injured in the process.
"I can confirm that two members of SAPS and one JMPD officer have been injured, with three of our vehicles damaged," she said.
Peters went on to describe the situation as "extremely volatile" despite the SAPS' best efforts to contain it.
Meanwhile, in other news, the Covid-19 temporary employer/employee relief scheme has been suspended, Business for South Africa (B4SA) has revealed.
The organisation reportedly said it has been informed that the Auditor-General is probing system integrity problems at the UIF. B4SA said it is concerned by the developments since payments have already been delayed.
The organisation further said that while it supports the mitigation of fraud risks, it is unhappy about the halting of all payments and the poor communication from the UIF's leadership.
Enjoyed reading our story? Download BRIEFLY's news app on Google Play now and stay up-to-date with major South African news!