Unpacking the debate on Coloured Culture in democratic South Africa
- Nathaniel Julius' death has sparked outrage, especially amongst coloured communities
- Coloured people continually feel marginalised and unseen and this is by no means a new development in South Africa
- The contemporary debate explores the current meaning of 'coloured culture'
PAY ATTENTION: Click "See First" under the "Following" tab to see Briefly.co.za News on your News Feed!
by Karabo Mashaba- Freelance journalist
The recent death of 16-year old Nathaniel Julius in Eldorado Park has sparked outrage around the country, igniting rage and public campaigns against police brutality all in the name of #ColouredLivesMatter.
The radical reaction of the public to Julius' death has exhumed a number of issues that are arguably a legacy of the apartheid regime and which the new democracy has allegedly concealed under the guise of 'rainbow nation'.
Historical Context
Under the governance of the National Party, the term 'coloured' was given to those who were classified as 'non-white', more specifically those of mixed heritage. This seems to have led to a sense of non-belonging for a large population of coloured South Africans.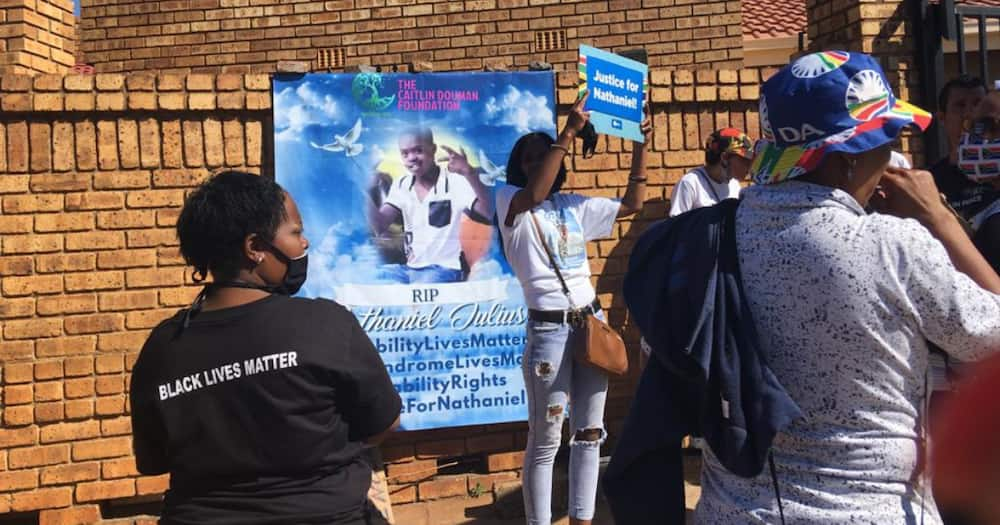 READ ALSO: Nathaniel Julius: Ramaphosa sends prayers to family, SA wants action
According to a 1985 article from The Times print archives:
"To be coloured is to be neither black nor white, more privileged than blacks, but less privileged than whites, living a segregated life drawn from the roots that deny segregation, labelled 'coloured' by the authorities, as if that denoted a homogenous group, yet drawn from disparate roots. The label of 'coloured' is one of convenience, lumping together those who do not fit elsewhere in Apartheid's great racial divisions."
The Legacy of Apartheid in South Africa
The forced removals of mixed-race populations from Cape Town during the 1950s and 1960s were some of the main catalysts of the current struggles faced in these communities.
These new ghettos have translated into arenas of gang violence, unemployment and poverty. A persistent feature of the apartheid era is the ranking of coloureds in between blacks and whites.
Many coloured people in democratic South Africa are quite wary of programmes of affirmative action that tend to favour blacks. As a result, they seem to occupy a place of being stuck as the 'missing middle'.
"When I went for a job interview, the manager didn't even look my way because I am coloured. It was discouraging. I even gave up looking for work for about a year," says Luther Noble, a Westbury local.
According to Minority Rights Group International, poverty in such communities remain at a high of 41,6% in comparison to that of whites at 0,6%.
READ ALSO: Nathaniel Julius: Premier says disabled teen was caught in crossfire
Contemporary Debate
The death of the 16-year old, who also had Down Syndrome, has united the coloured community and has created an opportunity for this ethnic group to publicly address the neglected suffering that they feel has come to define their existence.
Within this call for justice emerged the debate on what 'coloured culture' actually is.
Coloured people in the contemporary South African context seem to have embraced this identity and have even created a culture of their own, drawing from different components of their mixed heritage.
This unique culture has come to be what people in the country associate them by. This ranges from their slang words such as 'awe', to the type of hairstyles and also the manner in which they dress.
READ ALSO: AKA, Boity and other Mzansi celebs want justice for Nathaniel Julius
Despite the shared experiences of being subjugated by White supremacy, some coloureds have chosen to dissociate themselves from the Black Lives Matter movement and instead choose to individualise their own movement under 'Coloured Lives Matter'.
"I'd like to address something – coloured people standing up for coloured issues is NOT ANTI-BLACK. The coloured community is continually marginalized by the rest of South Africa, black and white alike. When we stand up for our voices to be heard, our voices are silenced." These are the words of Twitter user @umkhulucheese
This narrative may be seen as quite controversial as it is evident that the culture of violence inflicted onto marginalised non-white communities is not selective.
Both these ethnic groups are subjected to discrimination and are perceived as 'dangerous' or thought to be gangsters.
According to the Independent Police Investigative Directorate (IPID), over 42 000 complaints have been made about the police between 2012 and 2019.
These include rape, killings and torture. Factors such as Covid-19 and the police force implemented during this time has revealed that South Africa is not only prone to racial inequality, but also a major class divide.
"Security forces were deployed mainly to poor areas like high-density townships. More affluent areas have been shielded from the violence," says Thato Masiangoako, a researcher for the Socio-Economic Rights Institute of South Africa.
Whether you are classified as black or coloured, police brutality is more likely to be enforced in these poor communities. The complicated history of our country continuously forces us to engage with and to interrogate the legacy of this intense past.
However, this is an important part of healing and co-creating a new version of South African consciousness that integrates the multiple perspectives of this collective narrative.
Only through a re-engagement with this history can we dissect the feelings of non-belonging that have emerged within this identity group.
Earlier, Briefly.co.za reported that President Cyril Ramaphosa had broken his silence on the tragic death of disabled teen, Nathaniel Julius.
The head of state took to his official Twitter page to send the family of the 16-year-old boy his condolences. Ramaphosa wrote:
"My thoughts and prayers are with the family and neighbours of #NathanielJulius who has, as a 16-year-old, been deprived of a future and whose tragic death has given rise to anger and unrest in a community that deserves better."
Enjoyed reading our story? Download BRIEFLY's news app on Google Play now and stay up-to-date with major South African news!
Source: Briefly News