Sago poeding resep: met meringue of met kondensmelk. Gebak en ongebakte resepte
Sago poeding is 'n soet poeding wat gekook is in water of melk. Dit word gemaak in baie kulture in wisselende style en word geproduseer in 'n verkskeidenheid van maniere. Lees hier verder vir maklike en kreatiewe Suid-Afrikaanse boerekos. In hierdie artikel leer jy van die sago poeding met meringue asook die gebakte en ongebakte sago poeding wenresepte. Die mikrogolf sago poeding is baie maklik en vinnig. Jy kan altyd die dis versier met kaneel, vlapoeier of room.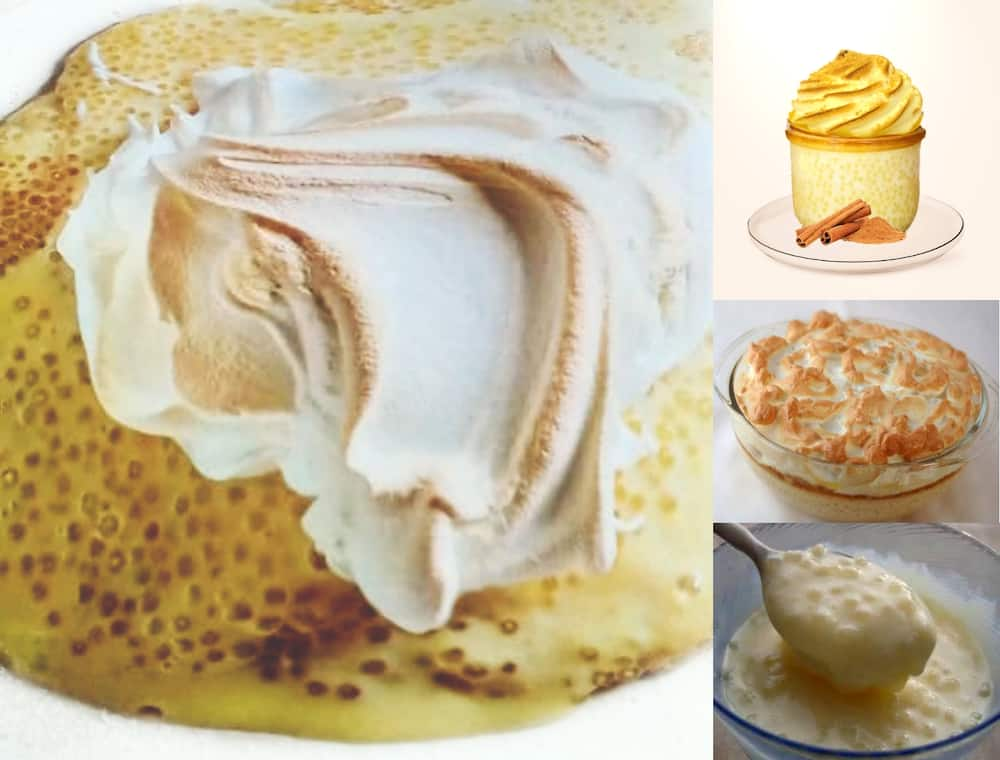 Sago is 'n bekende stysel uitreksel van die sponserige of pittige deel van verskillende tropiese palm stamme. Padda ogies of padda eiers is wat die Afrikaners hulle noem. Sagopoeding is 'n egte tradisionele boerekos en hier is vir julle resepte uit mamma se kookboek van des tyd. In die koshuis het ons, ons vet geëet aan die warm sago poeding met kondensmelk! Die sago poeding met vlapoeier is ook 'n wenner onder die Afrikaanse sago poeding resep liefhebbers. In onder tien maklike stappies kan jy vanaand vir jou mensies 'n opregte boere-nagereg bedien.
Ek verwys julle na hierdie verskriklike oulike Hertzoggies resep hier op Briefly.co.za as julle lus is vir nog smul.
Gebakte sago poeding met meringue
Dit is juis die resep wat uit mamma se outydse resepte boek mooi oorgeskryf is. Hierdie resep is nooit 'n teleurstelling nie. Die outydse sago resep hier onder maak twee porsies maar daar is 'n goeie kans dat jy die warm sago poeding resep wil verdubbel. Strooi 'n bietjie kaneel bo-op en geniet saam met 'n koppie tee of koffie.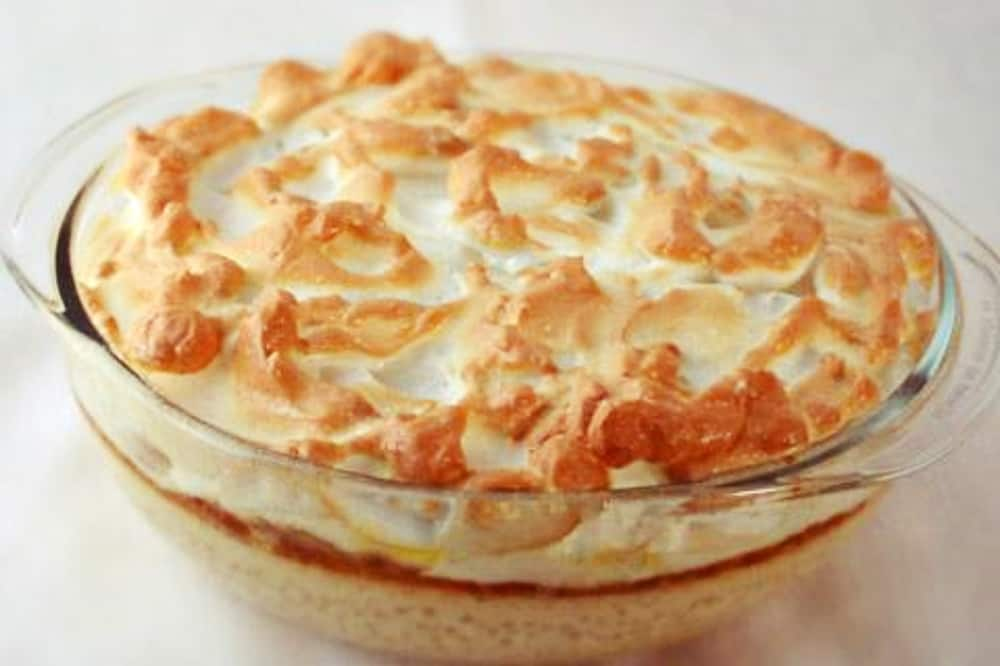 Bestanddele
35gr of 50 ml sago
250ml of 1 koppie melk
40gr of 50 ml suiker
500mg of 0,5ml sout
1ml vanielje-essens
12,5gr of 12,5ml botter
1 eier, geskei
15gr of 12,5ml appelkooskonfyt
20gr of 25ml suiker
Metode
Stap 1: Spoel die sago af. Verhit die melk. Voeg die sago, 40gr suiker en sout by en kook it oor 'n lae temperatuur totdat die sago deurskynend is.
Stap 2: Stel die oond intussen op 180C. Smeer 'n vuurvaste bakskottel.
Stap 3: Haal die kastrol van die stoof af. Roer die vanielje-essens en botter by die sago.
Stap 4: Klits die eiergeel en roer die sagomengsel daarby.
Stap 5: Skep die mengsel in 'n bakskottel. Plaas die bakskottel in 'n oondpan met water. Bak vir 25 tot 30 minute lank.
Stap 6: Haal die bakskottel uit die oond. Stel die oond op 200C.
Stap 7: Stip die poeding met appelkooskonfyt. Klits die eierwit tot die stywe skuim stadium. Klits tot die stywe stadium terwyl die 20gr suiker geluidelik bygevoeg word. Skep die meringue op die poeding sodat dit in puntjies staan.
Stap 8: Bak vir 3 to 5 minute langer en bedien warm.
Stap 9: Geniet!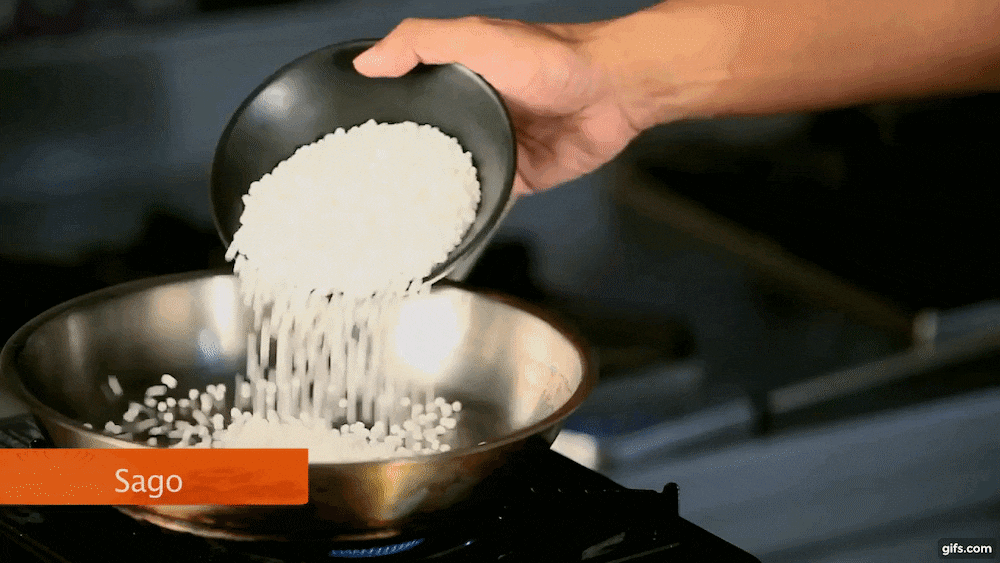 Ongebakte sago poeding
Hierdie moet een van die lekkerste en maklikste sago poeding resepte wees onder die son. Jy meng alles saam in 'n pot so dit word glad nie gebak nie. 'n Sago poeding wat ek sommer self bymekaar gegooi het.
Bestanddele
1 koppie sago
2 koppies water
600 ml melk
1 eetlepel botter
3 eiers, geklits
½ koppie suiker
knippie sout
1 kaneelstokki
2 teelepels vanielje geursel
Kaneelsuiker
Metode
Stap 1: Week die sago in die water vir 2 ure.
Stap 2: Plaas al die bestanddele saam in 'n groot pot en verhit oor lae hitte,
Stap 3: Roer af en toe (sago brand maklik aan onder in die pot, hou hitte van plaat baie laag).
Stap 4: Prut 10 tot 15 minute tot die sago gaar en deurskynend is. Die mengsel sal verdik.
Stap 5: Verwyder kastrol van stoofplaat en haal die kaneelstokkie uit. Roer die vanielje geursel by.
Stap 6: Bedien louwarm saam met dun vla of room, appelkooskonfyt, konfytstukke of gouestroop of strooi net kaneelsuiker oor.
Resep kan maklik verdubbel word.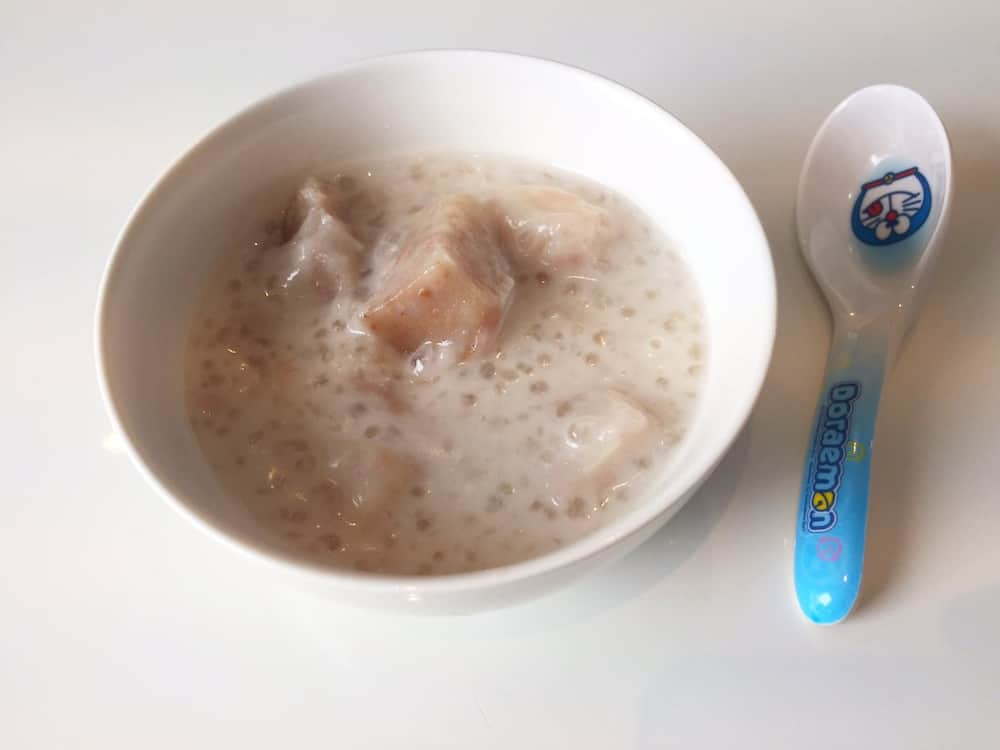 Party mense ken sago poeding as tapioca. Dit is egter nie van dieselfde bron gemaak nie. Sago poeding pêrels word gemaak van tropiese palm stamme en tapioca is gemaak van die cassava plant.
Kyk na hierdie oulike video vir 'n maklike tuisgemaakte tapioca poeding resep.
READ ALSO: Terwyl ek vir die perfekte sago poeding resep gesoek het, het ek af gekom op die verskriklike oulike pannekoek resep Maklike pannekoek resep.
Source: Briefly News