- Rihanna made a fan's entire festive season when she surprised him by being at a petrol station
- The singer went home to Barbados for the holidays and shocked a fan when he bumped into Rihanna
- The fan posted a video of the encounter online and said that it had made his Christmas come early
PAY ATTENTION: Click "See First" under the "Following" tab to see Briefly.co.za News on your News Feed!
Rihanna recently made some holiday wishes come true when she bumped into a fan at a petrol station.
The singer was in her native Barbados, where she is staying for the festive season, when the encounter occurred and completely made a fan's holiday.
The fan posted a video of himself and Rihanna online and others immediately commented on the video and how much they loved RiRi interacting with those who adore her.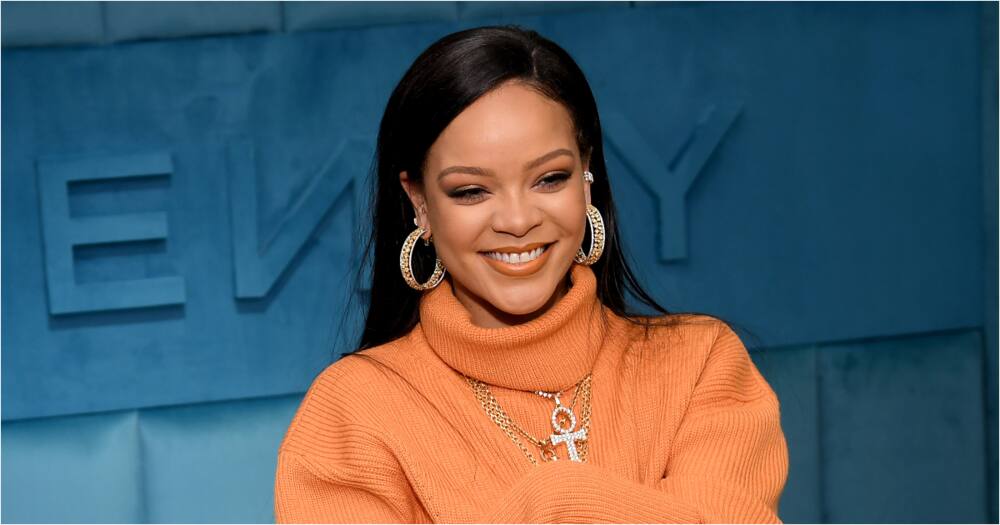 The fan Rihanna ran into can be heard in the video saying:
"One in a million. My Christmas just got made early"
Others commented on the video and expressed how gorgeous RiRi was looking as well as how jealous they were of the fan who managed to bump into her:
@NBC10_Lindsay: "would you pass out if Riri just rolled up to fill your tank or what lol"
@cass_teddy: "She's just too cute"
@jennylehman2: "Awwwwww"
Some online users critiqued the fan as telling Rihanna to shush in the footage. But one Barbadian cleared up the confusion by saying that it was a sentiment of surprise and excitement:
@CurryandCoucou: "He's not telling her to shush. It's a noise of exclamation we make here. It means "like damn!"
In other celebrity-related news, Briefly.co.za recently reported on talk show host Wendy Williams announcing a film about her life and dropping the trailer for the biopic.
Wendy Williams has announced the release of her biopic, titled Wendy Williams: The Movie, and dropped the trailer for the film.
The trailer showed how the movie will tell the story of the controversial talk show host's life, including her beginnings in the entertainment industry and personal drama that happened off-screen.
Williams shared the trailer with her show's in-person audience, who gave the sneak peek a standing ovation, and also posted it to her social media accounts.
Wendy captioned her post of the trailer by announcing the release date for the film to be at the end of January 2021. She also announced that it would be premiering on LifetimeTV and that she had served as an executive producer on the project.
The role of Wendy herself is played by actress Ciera Payton. Payton rose to fame on the television show The Walking Dead and the star has already received compliments from fans about how she managed to capture Williams' essence - just from the movie's trailer.
Fans are waiting in anticipation and took to social media to share their thoughts:
@FishOnYou: "So excited, I can't wait!!!"
@teri4designs: "Wow! Great casting job! Get it Wendy!"
@JustNichol17: "Omg! This looks amazing! I can't wait to watch it!"
@fuccelonmusk: "I'M SO EXCITED!"
@MikeyMessier: "the lady playing you is FIRE congrats , Wendy"
@TJTRNPHILLY: "I applaud you for sharing your story. Looks like a good one!"
@NyokaAkoyn: "I couldn't be prouder!! Love you so much, and I can't WAIT to watch!! Might have to ask for the day off so I can be front and center when it airs!!
Enjoyed reading our story? Download BRIEFLY's news app on Google Play now and stay up-to-date with major South African news!