- Kayise Ngqula took to social media to open up about being able to pull herself out of a dark place
- The star shared with her fans and followers that she was learning to love everything about who she is
- Kayise emphasised the message that life is too short to focus on the negatives and that she was ready for joy in 2021
Pay Attention: Join Briefly News' Telegram channel! Never miss important updates!
Kayise Ngqula recently took to her social media to get candid about pulling herself out of a dark place and learning to love herself and the life she leads.
The celeb used her Instagram account to share with fans and followers that she was learning to love everything about herself. She mentioned that part of her journey was understanding that life was too short to spend it in sadness.
Kayise posted her lengthy caption alongside a set of selfies where she posed in a two-piece swimsuit.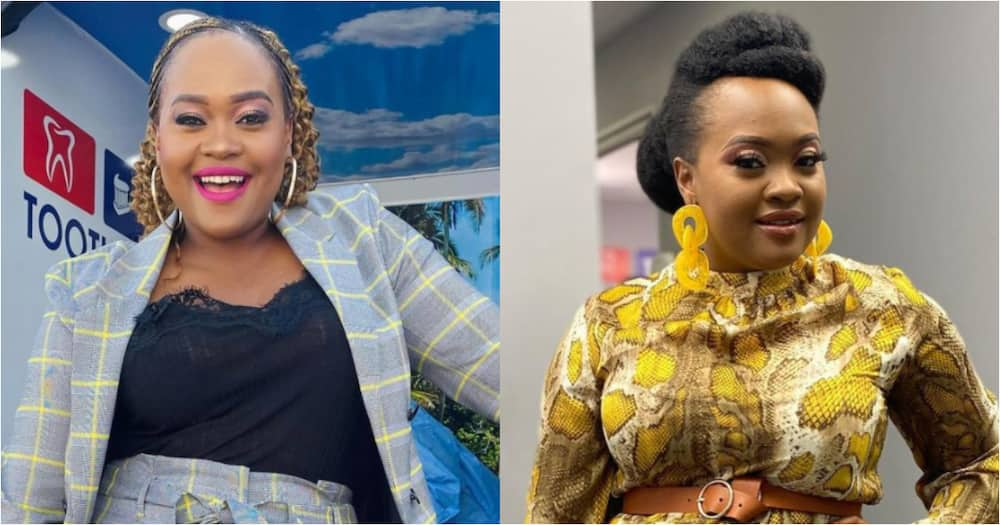 The actress and television host included more sentiments of self-love in her message as she wrote about accepting her "scars" and "extra tummy rolls".
Her caption read:
"I love me some me... scars, extra tummy rolls and all. Life is just too short to live it not liking who and what I am. What I can change I will and only to my hearts fulfillment, nobody else. What I can't... Oh well that's the package I come in, that's how it goes."
She continued by stating that there was enough sorrow in the world and that she was going to make sure the new year was centred around joy:
"With all the devastation and sadness going around, I hope to maintain this stance in 2021 because I for one know how hard it is to pull yourself out of a dark place. Peace, light and joy are my portion.( thank God for self-timer cameras on these solo trips)"
In previous celebrity-related news, Briefly.co.za reported on Zenande Mfenyana saying her hubs is her biggest motivation to focus on her health after having her baby.
Zenande Mfenyana took to social media to declare that she was committed to prioritising her health and fitness in 2021 and that her hubby was her biggest motivator. The celeb gave birth to her first child last year and posted how she now wants to get back into shape. She said that her husband was so fit and committed that it inspired her to get back into the fitness game.
Zenande acknowledged that her body had already done an incredible thing as it had grown a whole human and managed to deliver her a healthy daughter.
Zenande's tweet read:
"My hubs is so fit, he inspires me each morning to work harder at my fitness goals...I've got such a long way to go but at least I'm trying. I grew a human in me in 2020, in 2021 I need to get back into shape"
Fans and followers were happy for the actress' revelation but also reminded her that postpartum bodies all look different.
Online users made sure to remind Zenande not to pressurise herself to fit into the snapback culture, but to rather make sure she was doing things at her own pace:
@KaraboKbmags: "Whatever you do please do not pressurise yourself with the snapped back culture. Take your time. Be kind to yourself and stay healthy. I hate the snapped back culture it puts too much pressures women especially those in the spotlight"
@SlindySosibo: "Yeah staying fit is hard especially if you still have a little human that you breastfeed as you cannot consume certain things but very soon you'll swing back into shape. Start small with minimal exercise for now it's make a difference trust me"
@AngelaMaseko: "You will get back to your shape dear if you put some effort and your mind to it. Pluz you have Hubs as a supporter it makes it easier"
Enjoyed reading our story? Download BRIEFLY's news app on Google Play now and stay up-to-date with major South African news!