Top 30 uplifting funeral songs to play at a funeral
Death is inevitable. Every other day, people lose their loved ones, and there is no way they can be brought back to life. It is therefore crucial that they are given a decent send-off. Music is one way in which family and friends of the departed can grieve. Below are the top 30 uplifting funeral songs one can play at a farewell ceremony.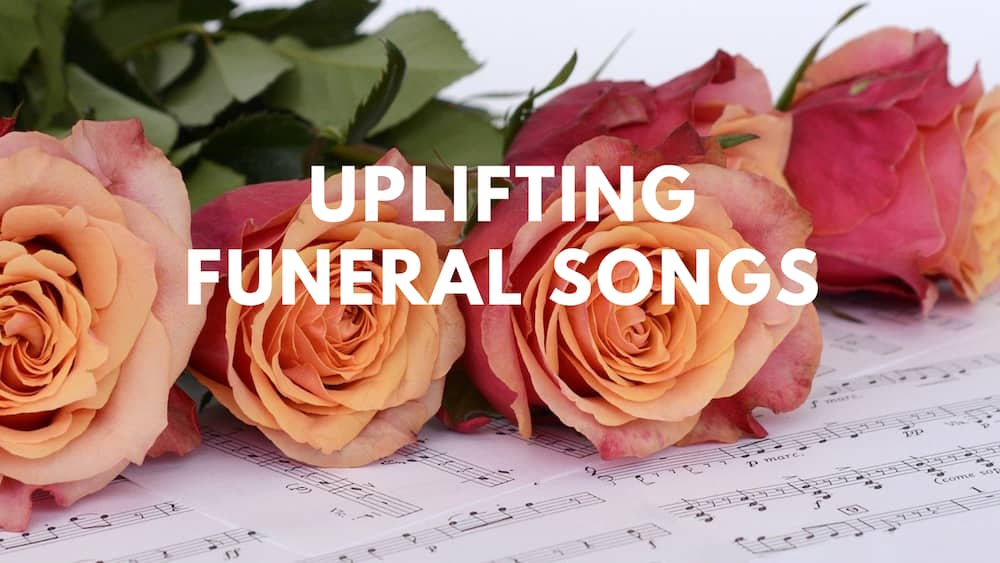 Funeral services have to be accompanied by music, whether religious or secular. Gospel tunes often accompany Christian send-offs. If it is a Catholic funeral, appropriate hymns and psalms are chosen. After the religious ceremony is over, the bereaved family can play secular songs as live performances or pre-recorded materials.
Funeral songs list
The general mood at funerals is sombre, and the type of music chosen should reflect that. You can also make the mourners smile and hope for a better tomorrow without their loved ones by playing upbeat funeral songs.
The type of music chosen should also reflect the kind of relationship you had with the departed. It could be your mum, dad, sibling, child, grandparent, or a dear friend. Here is a carefully curated list of funeral tunes to choose from.
1. Candle in the Wind by Elton John
The track was released in 1973 as a tribute to Marilyn Monroe. The lyrics were later re-written for England's Rose, which Elton John performed at Princess Diana's funeral in 1997.
2. Angels by Robbie Williams
The award-winning pop tune was released in 1997 by Robbie Williams and has been re-recorded multiple times. It talks about an angel that gives affection whenever you are depressed and is always close by. The angel never forsakes whenever she is called.
3. Tears In Heaven by Eric Clapton
Eric Clapton, an English rock and blues guitarist, released the song in 1992. It was a tribute to his four-year-old son, Conor, who had tragically passed away after falling from a high building. It is the perfect funeral song to honor the death of a loved one of any age.
4. See You Again by Wiz Khalifa featuring Charlie Puth
This is a hip-hop and rap track that was released in 2015. It was written as a tribute to actor Paul Walker, who had died in a vehicle accident on 30th November 2013.
5. Three Little Birds by Bob Marley and the Wailers
The reggae track was released in 1977 and still holds great relevance more than 40 years later. It has been covered many times by artists across the world. It is a great uplifting funeral song as it encourages mourners that everything will be alright.
6. Somewhere Over The Rainbow by Israel Kamakawiwo'ole
The tune was originally published in 1937 by Yip at a time when the Jews in Europe were undergoing hostility. It gave them the strength to live through the Holocaust and hope for a better tomorrow. Israel Kamakawiwo'ole, the late Hawaiian artist, later released it in 1990. Other artists that have recorded the song include Ariana Grande (2017), Amanda Holden (2020), and Jazz Standards (2018).
7. Don't Worry, Be Happy by Bobby McFerrin
Bobby wrote the song in 1988. It helps mourners get over the sombre mood of losing a loved one. Dwelling on the positives helps eliminate stress and worries that might lead to depression.
8. Heaven Was Needing a Hero by Jo Dee Messina
Jo Dee Messina, a country musician, released the song in 2010 as a tribute to the first female American soldier who died in the Iraqi War. The song is frequently sung to remember fallen soldiers. It is the best funeral song to remember people that played hero when they were alive.
9. Fix You by Coldplay
The Coldplay band released the track in 2005, and it is still relevant more than ten years later. The theme of the song is about consoling someone you love.
10. Amazing Grace by John Newton
Amazing Grace was written in 1772 by John Newton, an English Anglican clergyman. He had survived death multiple times and was a former slave trader. For more than two centuries later, the tune is still being sung in churches. It is also one of the most popular religious funeral songs.
11. You Raise Me Up by Josh Groban
The song was released by Josh Groban in 2003 and has been re-recorded several times by other artists. It is a great uplifting song to play during the mourning period as it helps connect with a Higher Being who is always there to give you strength. It helps mend broken hearts and souls.
12. Dance With My Father by Luther Vandross
The late Luther Vandross released the song in 2003 as a tribute to his father Luther Vandross Sr, who had died due to diabetes complications when the singer was seven years. It is one of the best funeral songs for dad.
13. Sometimes You Can't Make It on Your Own by U2
The Irish band released the track in 2004. It was a tribute to Bono's father, Bob Hewson, who had died in 2001. The singer expresses how close he was with his father just before his death.
14. A Song for Dad by Keith Urban
Keith Urban released the song in 2002 for his dad Bob Urban, with whom they had a great relationship. The track seemed to gain more significance after the death of his father in 2015. A Song for Dad is an excellent choice for Father's Day and paying tribute at their funeral.
15. Thank You for Being Dad by Jon Barker
John Barker released the track in 2010 as a tribute to his father. The tune has since become a favorite Father's Day tune. It is also an excellent song to play at dad's send-off.
16. Goodbye's the Saddest Word by Celine Dion
Celine Dion released the song in 2002. She wrote it for her mother, who had shown unconditional love since giving birth to her and feels sad that she will one day leave. It is a great tune to add to the playlist of funeral songs for mum.
17. Supermarket Flowers by Ed Sheeran
Ed Sheeran released the track in 2017. The lyrics are about his grandmother, but they were written from his mother's point of view. It is an emotional tune that can be played during mum's send-off.
18. Mama by Il Divo
Il Divo released the song in 2004. The lyrics depict a child's gratitude to a mother. It is befitting that the tune is included in the playlist for funeral songs for mum.
19. A Song for Mama by Boyz II Men
Boyz 2 Men released the song in 1997. It is a dedication to mothers for all the sacrifices they make for the family. It is often played on Mother's Day and as a farewell tune for mum.
20. Ave Maria by Josh Groban
Ave Maria, translated as Hail Mary, is a popular Catholic prayer. It is also a traditional tune that is often included in the playlist for funeral songs catholic as an offertory hymn.
21. Bridge Over Troubled Water by Simon and Garfunkel
The track was composed in 1970 by Paul Simon. It is about offering comfort to someone during times of need. The song has been covered many times by various artists, including Elvis Presley, Aretha Franklin, Peggy Lee, The Supremes, Johnny Cash, and others.
22. When the Roll Is Called Up Yonder by Dolly Parton
The song was written in 1893 by James Milton Black. As of 2020, there are more than 500 versions available. Artists that have recorded the track include Dolly Parton, Johnny Cash, Jim Nabors, Willie Nelson, Loretta Lynn, and others. The hymn is one of the most popular funeral songs gospel.
23. How Great Thou Art by Carrie Underwood
How Great Thou Art is a powerful Christian hymn that was composed by Stuart K Hine, a British Methodist missionary. It was inspired by displaced Russians who had experienced great loss and looked forward to seeing their loved ones in heaven. The English version was published in 1949 and has been covered numerous times by various artists.
24. Go Rest On That Mountain by Vince Gill
Vince Gill wrote the song in 1994 as a tribute to his brother Bob and the untimely death of Keith Whitley, a country music superstar. Other artists like Mary Sarah, Shelby Brown, Bill and Gloria have re-recorded the tune. It remains one of the most played traditional funeral songs 2020.
25. I'll Fly Away by Johnny Cash
The Gospel hymn was originally written by Albert Edward Brumley and published in 1932. There are many renditions, and it remains one of the most recorded religious funeral songs. Since death is inevitable, it gives one peace concerning the afterlife.
26. When The Saints Go Marching In by Mormon Tabernacle Choir
The Saints is one of the most preferred upbeat funeral songs. It is mostly sung as jazz. The original rendition was recorded in 1938 by Louis Armstrong.
27. Fly by Celine Dion
Celine Dion recorded the song in 1996. It was a dedication to her niece, Karen, who had died due to cystic fibrosis complications. It is an excellent choice to place on the playlist of funeral songs for children.
28. Jesus Remember Me by Michelle Sherliza
The song is often sung as a recessional hymn in Catholic funerals. The tune comes from the Bible in Luke 23:42 when the repentant thief who had been crucified asked Jesus to remember him.
29. Jesus Promised Me A Home Over There by Jennifer Hudson
Jennifer Hudson released the track in 2008. The Gospel tune is often included in religious funeral songs playlist.
30. I Can Only Imagine by MercyMe
MercyMe released the song in 1999. The track was written by the band's lead singer, Bart Millard, who imagines what it would be like meeting Jesus for the first time. It has since become a traditional funeral song and is often sung in churches.
What is the most played song at a funeral?
There are a variety of tunes that are often played at a loved one's send-off. Popular traditional songs from across genres include the following.
Time To Say Goodbye by Andrea Bocelli
Angels by Robbie Williams
Amazing Grace by John Newton
You Raise Me Up by Josh Groban
We'll Meet Again by Vera Lynn
What song should never be played at a funeral?
You should refrain from tunes that seem disrespectful to the departed or the mourners. Here are the top 10 tracks to avoid.
Ding Dong! The Witch is Dead from The Wizard of Oz
Another One Bites the Dust by Queen
Ha Ha You're Dead by Green Day
Highway to Hell by AC/DC
She's a Zombie Now by The Meteors
Waiting For The Worms by Pink Floyd
Happy by Pharrell Williams
Since U Been Gone by Kelly Clarkson
Forget You by Cee Lo Green
Burn by Three Days Grace
What music is appropriate at a funeral?
There are thousands of tunes from different genres that can be sung at a burial or cremation. What do you sing at a funeral? The most appropriate songs should respect the deceased and help the mourners appreciate the life they shared when he or she was alive.
Ensure you send-off your loved one in style with the right tune. You can find funeral songs mp3 download from various digital streaming platforms.
READ ALSO: Research reveals South Africa's the 4th most expensive place to die in
Briefly.co.za recently published an article on the cost of funerals in South Africa. The research was conducted by SunLife, a life insurance provider that looked at various factors, including cultural expectations, the overall cost of living, and state contribution towards funeral costs.
Mzansi was ranked as the 4th most expensive place to die in by the insurer. The average burial or cremation cost stands at 13% (about R26,000) of an individual's average salary, which is 3% higher than the global average. Japan took first place, China second and Germany third.
Source: Briefly News