Simphiwe Dana bio: age, husband, songs, albums, awards, Instagram, latest
South Africa is one endless source of music icons, and the new talent, Simphiwe Dana, only serves to prove that fact. A Xhosa by tribe, Dana not only sings but writes songs as well. Her unusual combination of folk music, Rap, Afro-soul, and Jazz sets her apart as the country's new Mirriam Makeba. What is more, this lady does not just sing for talent's sake but also uses her music as a platform to comment on critical social issues.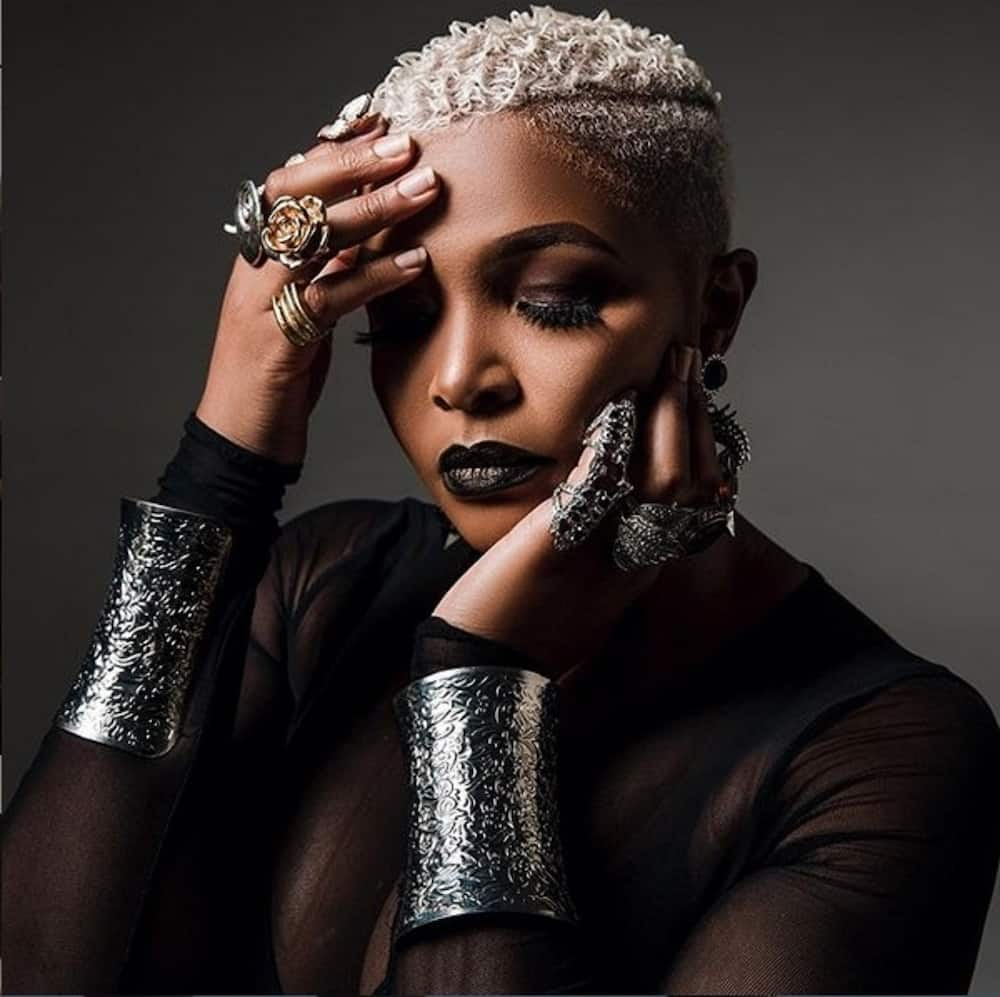 Simphiwe Dana is a South African musician who was born in Transkei at a place called Gcuwa. She was, however, brought up in the Ingquza Hill Local Municipality town of Lusikisiki. Growing under a religious father, Dana was introduced to the church choir at a reasonably early age, leading her to discover her talent in music. As a choir member, she was sufficiently exposed to a variety of genres, including the gospel and choral forms of music.
What is Simphiwe Dana's age?
Simphiwe was born on January 23rd, 1980. That means she turned 40 years early this year.
Schooling
She went to Vera Private School in Mbatha until 1997 and then went on to pursue her passion for graphic design at the Wits Technikon in Johannesburg.
Music career
Unlike many youths, Simphiwe knew precisely what she wanted to do with her life after school. Therefore, around 2002, she showcased her talent by singing in tiny Johannesburg clubs. Soon enough, hard work began to pay off as the public suddenly got hooked to her style and performance.
Dana's first breakthrough came after with the 2004 release of the hit album Zandisile. The album's excellent performance won her cool awards including the 2005 South African Music Award (SAMA). It went on to feature on the worldwide Billboard charts, earning her an AVO Session Basel award.
Her music is artful as it blends contemporary soul with the traditional African elements to give a hint of blues and gospel. Dana's delicate balance in style has ultimately endeared her music to the older and youthful generations alike. The lady's presence has been felt mainly due to her regular live shows and the massive airplay.
READ ALSO: List of famous South African musicians 2020
Simphiwe Dana albums
Here are all her albums.
Simphiwe Dana Zandisile (2004)
This 2004 hit album is loaded with songs like Vela, Zandisile, Induku, Chula Ukunyathela, Troubled Soldier, ingoma, Tribe, Ndize Mama Tata, and Thwel Ubunzima. The song Simphiwe Dana Ndiredi is also featured here.
The one love movement on Bantu Biko street (2006)
This album boasts a collection of hits like Bantu Biko Street, lliwa Lam, Sizophum Elokishini, The one love movement, Zundiqondisise, Uzobuya Nini, and Sebenzile.
Simphiwe Dana Kulture noir (2010)
Kulture noir is one of her best performing albums, and it presents a list of hit songs including Hay'ihambo, Umzali Wam, Ndim'Nawe, Ndim Iqhawe 2, llolo, and Fela's Azania.
Firebrand (2014)
This album features songs like Firebrand, Madiba and Masterpiece, My Light, Nzinga, Kill Joy, Roll Me Down, and Jikel Emaweni.
Grandmasters (2015)
Out of all Simphiwe Dana songs, Malaika is arguably the best cover version she has ever done. It is one of the most influential songs in this album.
Celebrating ten years live at the Bassline (2016)
Here you will listen to songs like Nzinga, My Light, and more.
Ya Badimo 2016 (Featured by Black motion)
Once in a while, artists will come together and do collabos. Black Motion featured Samphiwe on this album to give you songs like Africana, Ya Badimo, Imali, Omo Dudu, Lalela, The Journey, Electronic Maskandi, Bambolwam, So-Where-To, uGayo, Teenage Love Affair, Linde Wena, and Heartless Intentions.
READ ALSO: Famous South African musicians of all time
Bamako (2020)
Bamako was released in 2020 and it offers you great songs like Usikhonzile, Kumnyama, Uzokhala, Mama Was A Kitchen Girl, Masibambaneni, Gwegweleza, Bye Bye Naughty Baby, Ndizamile, You Keep Calling, Mkhonto, Mr. I, and Zabalaza.
Awards
2005: She received the South African Music Award for Newcomer of the Year.
2007: Her album, The one love movement on Bantu Biko street, earned her the South African Music Award for the Album of the Year.
2007: The one love movement on Bantu Biko street won her the South African Music Award for Female Artist of the Year.
In 2018: She scooped the South African Music Award for Best African Artist.
Simphiwe Dana and her husband
There is no record to show that this songbird ever settled down with a husband. Much of what you read about is her past relationships and the controversy that marks her dating life. She, for example, was once thrown into police cells by her ex-fiancée, who had accused her of assaulting him.
Simphiwe Dana latest news
In the most recent saga, she drew the wrath of South African men when she posted a tweet labeling SA men as gold diggers. It was not immediately clear why she went on such rampage but some people that believe a cunning loafer must have crossed on her path. While some men have maintained their cool and tried to rationalize the singer's outburst, others have repeatedly bashed her for making a blanket, insensitive that should have been more personalized.
When contacted by one media outlet, she declined to comment, but her management later spoke out saying that her remarks were as harmless as a toothless bulldog.
"Simphiwe is grateful for the support of her fans. She has strong views and opinions which are not aimed at causing harm. She is looking forward to the release of her album and is most grateful for the support you have all given her over the years" read the statement
Simphiwe Dana Instagram

Social media is a critical marketing tool for any artist and this lady is not an exception. She is has a strong presence on Twitter, Facebook, and others. On one of her Instagram accounts, for example, she commands a following of 92.1K people
You may not appreciate Simphiwe Dana for many other reasons, but her passion and consistency in the music industry have clearly stirred the singing talent in many upcoming artists around the world.
READ ALSO:
Nikki Haley bio: husband, children, net worth, career, could she be Trump's running mate?
Jordan Peele Bio: Movies, wife, net worth, and age
Abraham Williams bio: Who is Tulsi Gabbard's husband?
Source: Briefly News