- President Cyril Ramaphosa sat South Africa down for another family meeting
- This time he had more news than changes, SA would stay at level three but he explained the vaccine rollout programme
- South Africans took to social media to react to the president's address to the nations with many people sceptical of the president
PAY ATTENTION: Join Briefly News' Telegram channel! Never miss important updates!
President Cyril Ramaphosa chaired another family meeting, in which he did not hold back and told South Africa the bad news.
The virus was spreading faster and had already eclipsed the previous highs of the first wave with 190 000 new infections since the New Year.
This was due to the more contagious variant which was discovered in South Africa in November 2020 called 501.v2.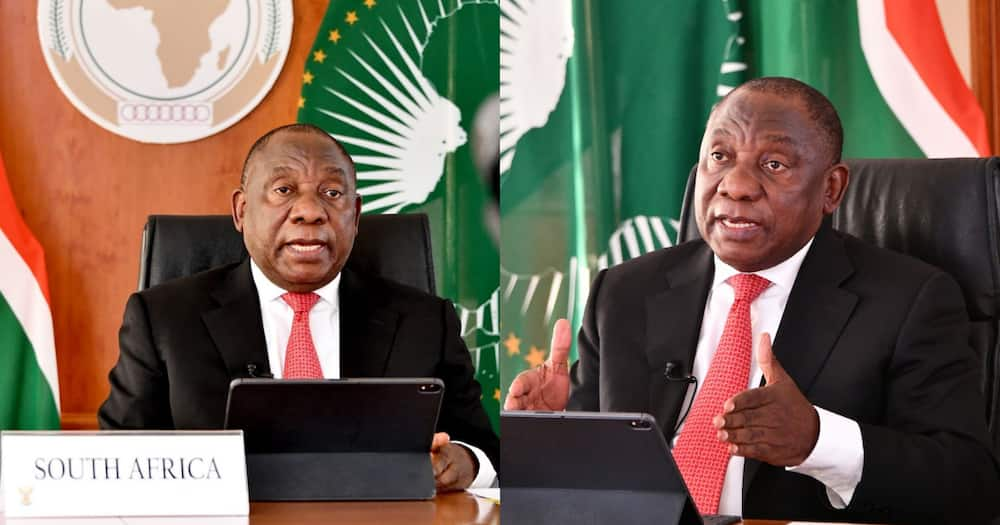 However, he said the virus is not more deadly but is putting more strain on the healthcare system. Ramaphosa said that we can fight the new strain just like the old strain and advised South Africans to avoid the three C's.
"We must therefore avoid what is described as the 3 Cs – closed spaces, crowded places & close contact with others. "
Due the high number of infections, Ramaphosa warned that funerals will not be able to take place as usual, when family members and friends die, it will not be possible to visit their homes to pay respects, the risk of infection is too high.
He said that level 3 measures will remain in place until the country passes the peak of new infections.
Schools will open as planned but religious services may need to change and discussions are in place with religious leaders.
The president revealed that part of the plan to combat Covid-19 was to roll out the vaccine in sufficient numbers in order to achieve herd immunity or population immunity which would slow the spread of the virus.
He said that it was a monumental effort which would involve all spheres of government, all sectors of society and all citizens and residents of South Africa.
This will dwarf the HIV treatment programme in scale in the number of people who would be vaccinated in a short time.
In order to achieve this the government has a two part strategy:
The first part is to acquire enough doses of the vaccine to reach herd immunity.
The government has so far secured 20 million doses of the vaccine but there is fierce competition between countries to get the vaccine and negotiations are in process with various manufacturers.
The second phase would be to identify priority groups which will take place in thee phases.
Phase one is to vaccinate 1.2 million frontline workers, phase two is to prioritise essential workers such as teachers, police and municipal workers as well as people over the age of 60, this will involve around 16 million people.
Phase three will involve vaccinating the remainder of the population, which is around 22.5 million individuals.
The third part of the strategy is to distribute the vaccines to those who have been identified to receive them.
Ramaphosa addressed the fact that there are some people who are sceptical of the vaccine but he reminded them that vaccines have been used to eradicate smallpox and polio and each vaccine that is used in South Africa is approved by the South African Health Products Regulatory Authority.
He also addressed gender-based violence and promised to do more to protect women and promote their involvement in the economy.
The president ended his speech with these words:
"We will find the peace, comfort, relief and good health that we all seek.
We will rebuild our lives and our nation.
May God continue to bless South Africa and protect her people."
South Africans took to social media after Ramaphosa's speech to react to the news:
Earlier, Briefly.co.za reported that South Africa is currently experiencing a second wave of Covid-19 infections and according to experts, it has not reached its peak yet. On 28 December, President Cyril Ramaphosa announced that the country would be going back to Level 3 of lockdown.
In an attempt to act quickly and try to curb the rate of infections, he banned alcohol and closed a number of beaches until 15 January.
According to medical experts, the second wave of Covid-19 infections is only just getting started. Over the last few days, a record number of new infections has been recorded.
Enjoyed reading our story? Download BRIEFLY's news app on Google Play now and stay up-to-date with major South African news!