Penny Lebyane Defends Somizi, Mzansi's Online Users Drag Her
- Penny Lebyane took to social media to defend Somizi's actions in his quarrel with a journalist
- The celeb argued that journalists, in general, were at fault and said Somizi had acknowledged his wrongdoing
- Tweeps were not impressed with Penny's take and dragged her for defending a call to harass and abuse a journalist who was asking questions
PAY ATTENTION: Join Briefly News' Telegram channel! Never miss important updates!
Penny Lebyane took to social media to defend Somizi's actions after he posted a conversation he'd had with a journalist and incited his fans to harass her by posting her phone number.
Penny's take was that the journalist had acted unethically and that Somizi was only at fault for posting her phone number, which Penny also alleged Somizi had acknowledged was wrong.
The celeb posted a thread to her Twitter account that criticised journalists in general but tweeps were not having her defence of Somizi's actions.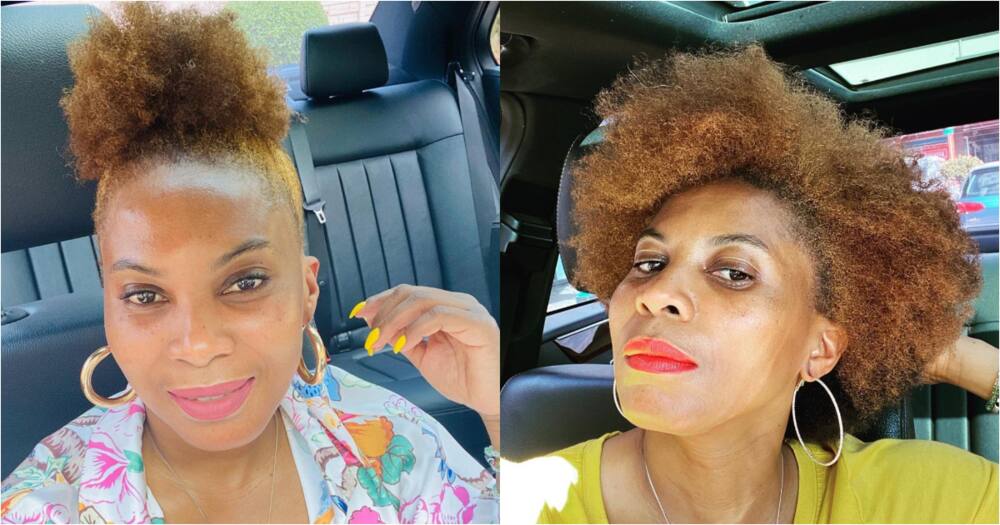 Mzansi's online users began dragging Penny and said that she was only defending Somizi because he was a fellow celebrity and that the journalist had just been doing her job by giving Somizi a chance to respond to the rumours.
The beginning of Penny's 8-part Twitter thread started with:
"Thank you @somizi for acknowledging the ONLY wrong in your initial actions is exposing the number. I doubt u intentionally set out to incite hurt or harm on anyone like that. Your oversight was understandably driven by emotions."
Users immediately responded with their replies:
@lebo_mahloko: "Penny stop it. That journalist was just doing her job. She didn't jump into conclusions and write hearsay but instead she reached out to Somizi to hear his side of the story. Somizi must accept that he's a public figure and people are interested in his personal life."
@Tsholo_Blacki: "When they have projects and want publicity they call journalists, but now that he doesn't like the angle of the story he is having a b*tch fit. He had absolutely no right to do what he did its inexcusable"
@alexsimanga: "The journalist offered the right of reply, which is crucial in Ethical journalism. Somizi's reply was vile. His reply unjustifiable. Bully tendencies, what p*sses me off is that he is unapologetic about this whole thing"
@ntsakosnr0: "So Somizi insults a reporter for simply asking a questions.Why should a journalist go to court to get documentary proof, if Somizi can simply answer the questions. What was wrong when a reporter asked him about the cooking show, did they have to approach the court as well?"
Many were also disappointed that Penny, usually an outspoken activist against gender-based violence, was condoning Somizi posting the journalist's number and calling for his fans to harass her:
@SphamandlaM_: "Actually this thread is shocking coming from someone who has been vocal when comes to GBV. Somizi encouraged for harassment of Women who was simple doing her job but sizothini it's "their" Favorite he can get away with GBV."
@NikitaNinjaMoon: "Wow Penny all the good work you've done speaking up for GBV dismantled in a sh*tty thread where you side with a man who exposed a woman's number to place her in the firing line of harassment? Ya no hey."
Read Penny's entire thread below:
Briefly.co.za reported on the situation when Somizi posted his interaction with the journalist and shared her contact information with his fans to ask them to harass her.
Rumours are flying that Somizi Mhlongo and Mohale Motaung's marriage is on the rocks and people have been speculating this for some time. Somizi shared a message he received from a person claiming to be a journalist for City Press claiming she has it on good authority that Somizi and Mohale are getting a divorce.
She asked Somizi if this was true. She also wanted to know if this was the reason that Mohale was not invited to his birthday a few weeks back.
She had one more question that was visible in the screenshot that Somizi shared, she wanted to know if infidelity was the reason for the couples alleged relationship troubles. Somizi had a short a sharp reply to the message, he dared her to write the story and he promised to sue the journalist and the publication, telling them to get their facts straight.
Somizi captioned the post with the following:
"So @city_press has become a tabloid... ok... two can play the game... to stand a chance to win I don't know what dial the number and let Julia know what it feels like to have your privacy invaded unprovoked."
Somizi posted the journalist's contact information and encouraged his fans to harass her. Somgaga's fans reacted the post on social media, sharing their views on the situation:
khosi_ka_khumalo: "Julia has legal grounds for taking legal action against you. You don't have a right to publicize her private information without her concern. Be careful papa don't let your fans fool you by entertaining them with wrong things."
mcebisi.deyi: "At least she contacted you bro she didn't write a fake story on you....but she hit the nerve clearly."
riccardoelle: "Simply answer the question and let the rumours die down sweety, are you and Mohale in good terms nah?"
Enjoyed reading our story? Download BRIEFLY's news app on Google Play now and stay up-to-date with major South African news!
Source: Briefly News