Becky Anderson age, education, nationality, education, CNN
Becky Anderson is among the highest-profile international anchors on CNN. She currently hosts Connect the World, the network's flagship news programme covering current affairs matters. For the better part of her life, Becky has cemented her name in the media industry. Her biography unveils the shells on how she obtained the coveted title in the competitive industry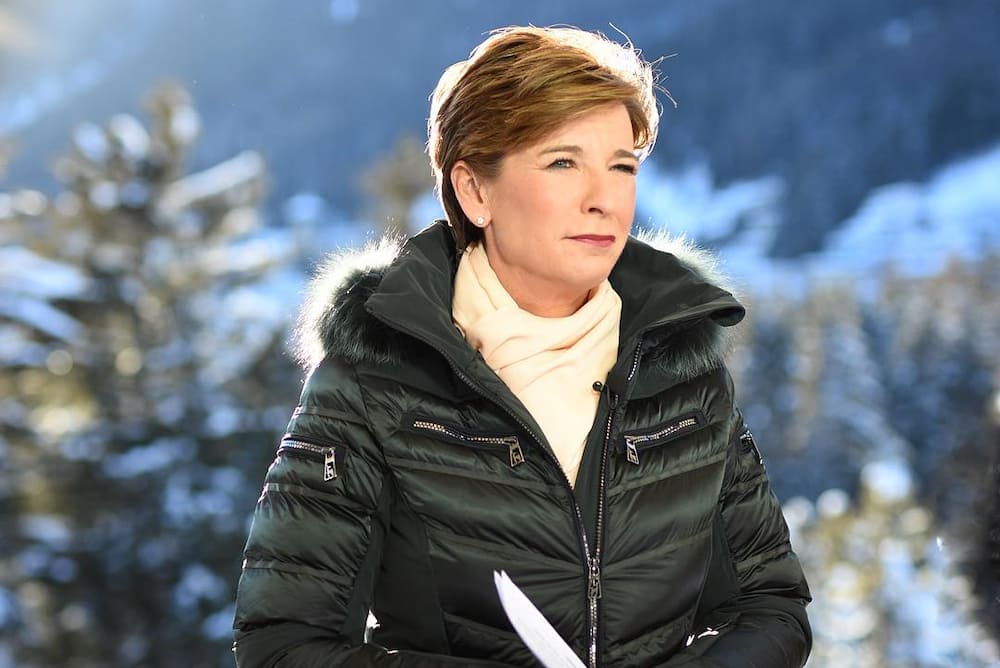 Becky Anderson reports from CNN's bureau in Abu Dhabi, an opportunity that allows her to have a distinctive perspective of the region. Her location has enabled her to cover some of the most controversial topics like the radical Islamic issues in Iraq and the humanitarian crisis in Syria. Her biography highlights her rise to eminence and some of her most significant achievements as a media personality.
Becky Anderson profile
Full name: Rebecca Anderson
Place of birth: England
Date of birth: 15th November 1967
Nationality: British
Education: Arizona State University and the University of Sussex
Occupation: Journalist, news anchor
Employer: CNN
Notable credit: CNN International's Connect the World anchor (2009–present)
Instagram: beckycnn
Becky Anderson Twitter: @BeckyCNN
Becky Anderson biography
Rebecca Anderson commenced her career in media in 1989 and used to work as a print reporter. In the early 1990s, she worked with CNBC Europe and EBN Network. It is during this period that Becky landed an opportunity at CNN. She has more than a decade's worth of experience as a news anchor at CNN. These details will help you paint an image of how it has been for her to surf the waters in media to such a high pedestal.
Becky Anderson age
Rebecca Anderson was born on 15th November 1967 in Manchester, England. As of February 2021, she is fifty-three years old. Her photos make her look younger, and she would easily pass for a thirty-year-old.
Becky Anderson nationality
Where is Becky Anderson from? She was born in Manchester, England; therefore, she is British.
Becky Anderson education
Anderson is a Jack of all trades in journalism, and her wealth of experience has earned her the title she holds. She graduated with a Bachelor's degree in French and Economics from the University of Sussex in the UK in 1992. In 2002, she obtained her Master's degree in Mass Communication from the Walter Cronkite School of Journalism at Arizona State University.
Becky Anderson CNN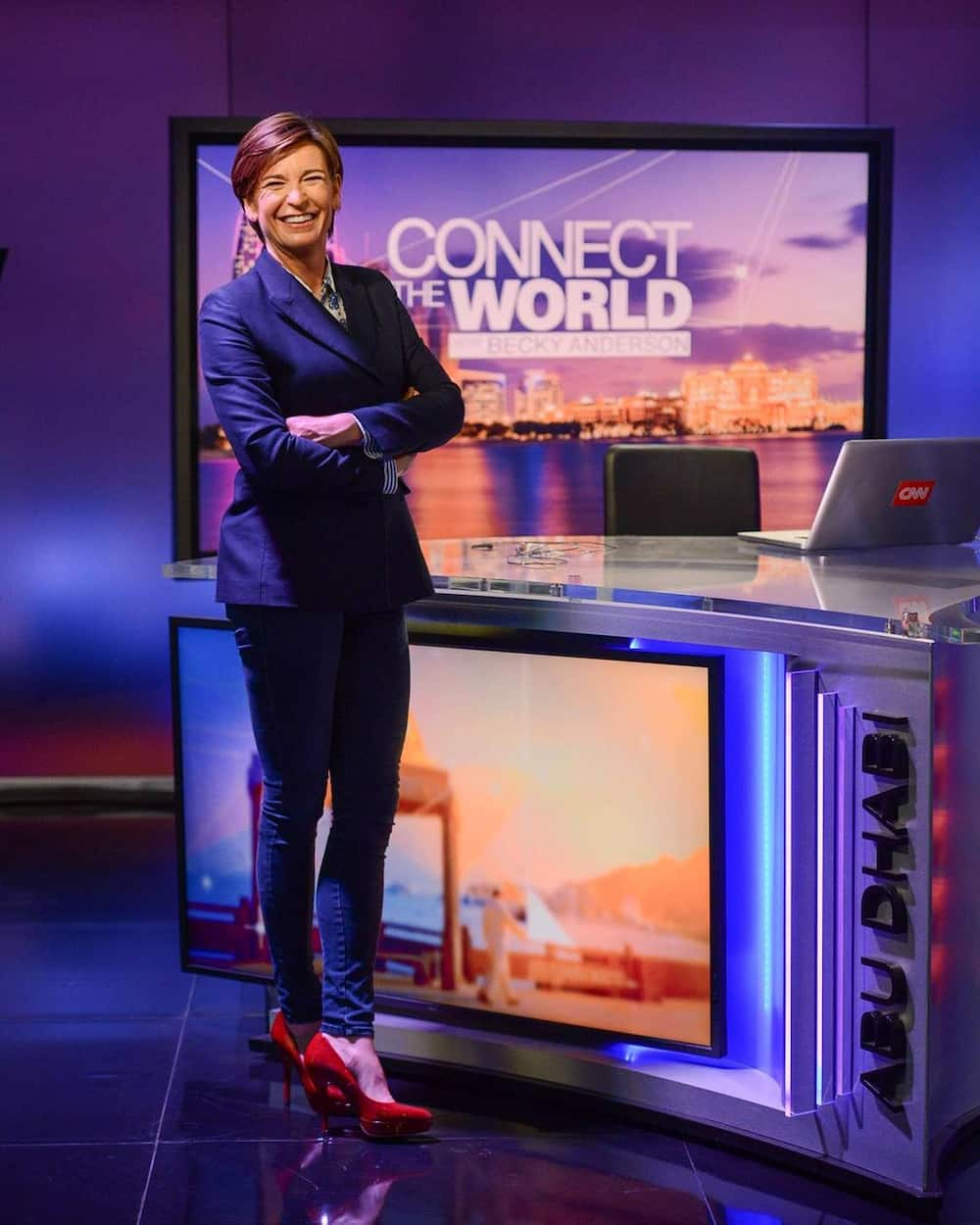 Becky has cemented her name as an interviewer. She has had the coveted opportunity to interview some of the thought-leaders, decision-makers, and political leaders. Her experience includes interviewing some of the most influential leaders in the world. This list provides a few of them.
Kofi Anan
Ban Ki-Moon, the eighth Secretary-General of the UN
Benjamin Netanyahu, the former Prime Minister of Israel
Hamid Karzai, the former president of Afghanistan
She has also had sessions with some of the world's most celebrated icons like Oprah Winfrey, Brad Pitt, Lady Gaga, Beyoncé, Javier Bardem, Andrew Lloyd-Weber, Juliet Binoche, Lupita Nyong'o, to mention a few.
Most significant achievements
In July 2014, Anderson and her team at Connect the World left Abu Dhabi for a journey around the Middle East for two weeks. During this time, they covered the upheaval in the region. She had an exclusive interview with Shimon Peres during his final week of his position as the president of Israel, and the session made headlines worldwide. She also had sit-down interviews with,
Tammam Salam, Lebanon's former Prime Minister
Recep Tayyip Erdogan, the current president of Turkey
Khalid bin Al-Attiyah, a Qatari politician
Becky also covered the anti-austerity riots in Greece, Pope Benedict's abdication in Rome, the Arab Spring uprising in Tunisia, to mention a few. Another significant achievement is her role as CNN's Olympic Games Correspondent in 2012. She also played the lead role in covering the network's coverage of the war in Iraq and London's 7/7 attacks.
Diversified content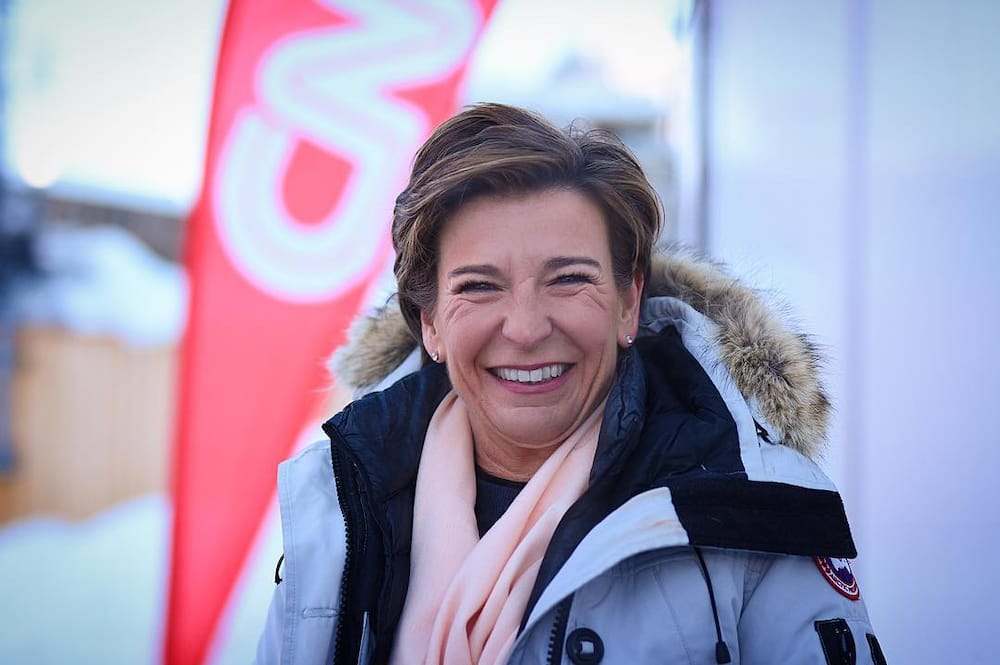 Anderson has also covered issues affecting women and young people all around the world. As Connect the World's anchor, she has interviewed Saudi officials on matters surrounding women's rights records in the country. In 2013, she had the rare opportunity to host Karen Nyberg, a NASA astronaut based in the International Space Station. The live interview drew significant attention on social media platforms.
Being the Jack of all trades, she boasts of extensive business journalism in her wealth of experience. Her posts have been covered on Bloomberg, CNBC, ITN, to mention a few.
Becky Anderson Lebanon
In 2006, she covered the Israel-Lebanon issue. During the coverage, she highlighted how the problem was affecting neighbouring countries. She received accolades for her bravery and intelligence for bringing the matter to light.
Frequently Asked Questions
Becky has been in the media space for more than half her life. Her intelligence and prowess have drawn the attention of people from all walks of life. She depicts bravery through her career, and her interviews are nothing short of someone passionate about humanitarian matters. The answers to these questions will help you know her more.
Becky Anderson and Anderson Cooper related?
Funny enough, the two share a surname and work in the same field; hence, most people wonder, is Becky Anderson and Anderson Cooper related? Interestingly, none of them has come out to confirm the speculation. Furthermore, details of Becky Anderson family remain under the wraps, making it difficult to link them.
Is Becky Anderson still in CNN?
Becky Anderson is one of the iconic anchors at CNN. She hosts CNN's Connect the World, so she still works with the network.
Becky Anderson has done it all by interviewing celebrities to covering natural disasters like earthquakes and bomb blasts. She is blessed with the magic to charm viewers with her beautiful smile, straightforward reporting style, and passion for human rights. The fun in the diversity of the content can easily make you fall in love with her personality.
READ ALSO: Who owns SABC News network?
Briefly.co.za recently published details about the owner of SABC News Network. You will be shocked by how much coverage the network has.
The company has five television stations, 18 radio stations, and other digital platforms affiliated with it. The company belongs to the Government of South Africa. At one point of its existence, Jacob Zuma and The Gupta family proposed an offer to take over the media company, although its management turned down the offer.
Source: Briefly News