- Snake rescuer Nick Evans not only has a passion for saving the slithering creatures but also has a favourite
- Evans has been in the business for six years now and has stated that the black mamba is his fave
- Evans is renowned for his work in rescuing snakes in the Durban area in KZN
PAY ATTENTION: Join Briefly News' Telegram channel! Never miss important updates!
Nick Evans is a well-known snake catcher and rescuer from Durban, KwaZulu-Natal. Evans has been in the business for six years and has learnt that the slithering serpents are actually more scared of us than we are of them.
Evans said that he's heard that black mambas are aggressive but believes that they're just trying to get away to safety. Speaking on the killing of snakes, Evans said:
"Killing snakes has a negative impact on our environment. Please rather call a snake-catcher, even if it is just for advice on the situation."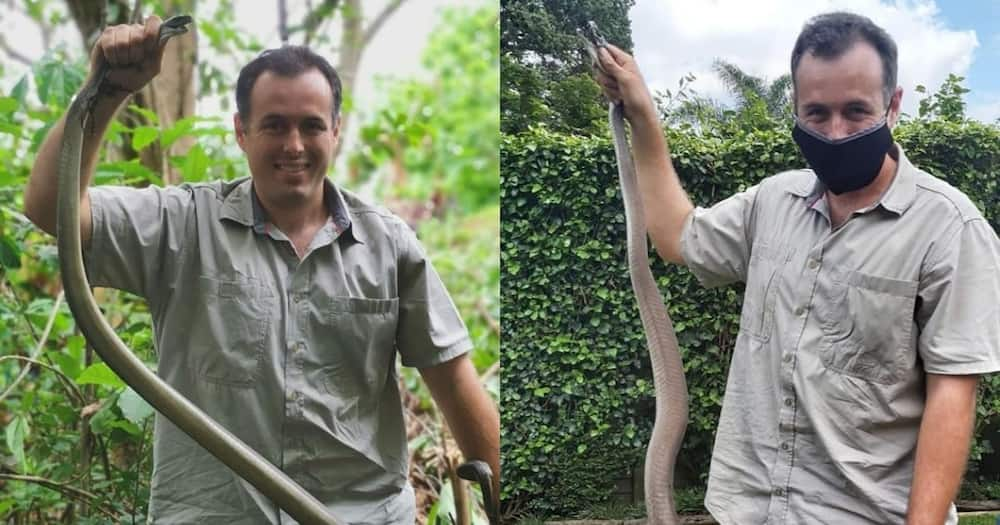 According to a report by News24, Evans has caught many different snakes in his life but the black mamba is his favourite. Evans spoke exclusively to Briefly.co.za about a few snake related issues.
Speaking about snake encounters, Evans suggests not trying to catch it or kill it. If either of the two is done, it could result in a snake bite.
"A snake does not want to bite you, but if you're giving it a reason to, it will in order to defend itself. If you see a snake, move away from it. You do not need to panic as it isn't going to attack or chase you.
If you're out in the bush, maybe take a photo or two, if you are five to ten meters away. If it's in the garden and you want it taken away, call a snake catcher. If you send a photo of the snake to a snake catcher for ID confirmation and the snake is harmless, you could leave it in your yard."
Evans broke down the reasoning behind the killing of snakes:
"I understand people are scared and want to protect their family, hence why they kill a snake. However, as mentioned, killing a snake is dangerous. It means you have to approach the snake. Hitting or chopping a snake is going to make the snake want to bite you as it can't escape."
Take a look at a recent post about another black mamba rescue by Evans below:
Briefly.co.za previously reported on Evans after he rescued a black mamba in a hamster cage. The black mamba was found in a hamster cage after eating the occupant. Snake-rescuer Nick Evans was called to a home in Glenwood, Durban to meet the mamba.
In a post uploaded to Facebook, Evans said a young man had gone to check on his little sister's Russian dwarf hamster but to his surprise, there was no hamster - just a young black mamba. Evans added that he had never caught a mamba in a hamster cage before.
The post was uploaded yesterday and the comments from concerned Durbanites keep rolling in. Nick ended off the scary post with a little joke: "A Russian dinner, probably a first for this snake." Briefly.co.za took a look at some of the comments under the shocking post.
Ida Luna Bonnevier wrote:
"WOW! Glad the kids and everyone else are fine."
Poppy Theron said:
"Gosh... unbelievable!"
Mandy Rudman commented:
"Shame that was a pet, not prey. This snake needs education."
Enjoyed reading our story? Download BRIEFLY's news app on Google Play now and stay up-to-date with major South African news!