- South African snake catcher, Nick Evans, recently explained how he rescued a large python on a Durban farm
- According to the post, the python was attempting to constrict and eat a goat on the farm when it was spotted by farmworkers
- Many people were impressed with Nick's story, each sharing their thoughts in the comment section
PAY ATTENTION: Join Briefly News' Telegram channel! Never miss important updates!
Nick Evans recently just executed another great snake rescue in the Durban area and as he did, he took to Facebook to retell the tale of how he managed to capture the massive python that was attempting to kill and eat a goat on a nearby farm.
"On Tuesday, on a farm in the Camperdown area, workers had heard a goat 'screaming' nearby. They went to investigate, and as they neared, they saw the goat's legs up in the air, out of the long grass, kicking. They got closer and to their horror, saw a large python wrapped around the goat, constricting it!
"At first they were terrified, but then they wanted to kill it and have it for dinner. They phoned the farm owner to ask what to do and to inform him of his loss. He then called me. At first, when I got the call, I thought maybe it was a prank. Or a tall story the farmworkers had come up with after finding a dead goat.
"The farm owner asked the workers to get a pic, which they did. When I got it, I could not believe my eyes. I told him to tell his staff to keep away from it and to not kill it, explaining legally they could get into big trouble for killing it. Away we went, at speed."
He then explains how he grabbed the python by its tail before struggling to get hold of its head, which he finally did with the help of one of his crew members. He also mentioned that the snake weighed a whopping 27.6 kilograms.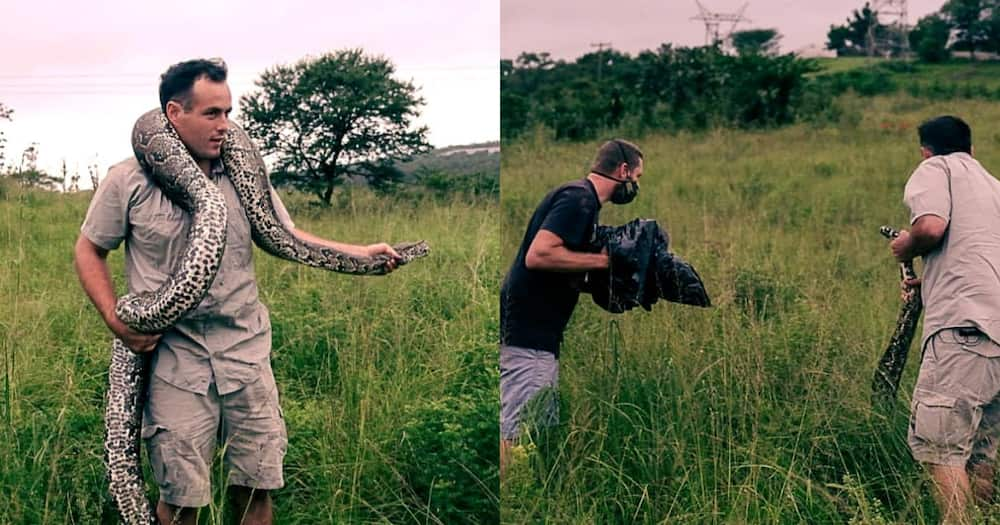 Facebookers had this to say about the post:
Faye Angela Dean said:
"Incredible story, sorry about the goat but happy you rescued the python."
Helen Ferendinos said:
"What a huge specimen! My word! Well done for rescuing it."
Briefy.co.za also reported that Nick Evans is a well-known snake catcher and rescuer from Durban, KwaZulu-Natal. Evans has been in the business for six years and has learnt that the slithering serpents are actually more scared of us than we are of them.
Evans said that he's heard that black mambas are aggressive but believes that they're just trying to get away to safety. Speaking on the killing snakes, something he does not think very much of, Evans said:
"Killing snakes has a negative impact on our environment. Please rather call a snake-catcher, even if it is just for advice on the situation."
Enjoyed reading our story? Download BRIEFLY's news app on Google Play now and stay up-to-date with major South African news!