- Vusi Nova recently opened up about his relationship with Somizi and his past drug addiction
- The musician spoke candidly about the controversial issues with podcast host Jon Savage
- Nova denied being in a relationship with Somizi and insisted the pair are just very good friends
PAY ATTENTION: Join Briefly News' Telegram channel! Never miss important updates!
Vusumzi Nongxa, more popularly known as Vusi Nova recently had a sit down with Jon Savage to candidly chat about his life. The singer recently dropped an album titled 'NguMama' and has been promoting it countrywide.
In the midst of all that, the singer has been dragged in gossip surrounding his relationship with media personality Somizi Mhlongo.
Joining Jon Savage on his 'What's Your Poison?' podcast, Vusi and dished out the tea about what's really going on.
Vusi shared his passion for music started when he moved up to Johannesburg from Port Elizabeth when he was 14 years old to live with his mother.
"My mom had me when she was 18 so my grandmother told her 'You don't have a kid. You are going to go to school and finish your studies. This is my kid."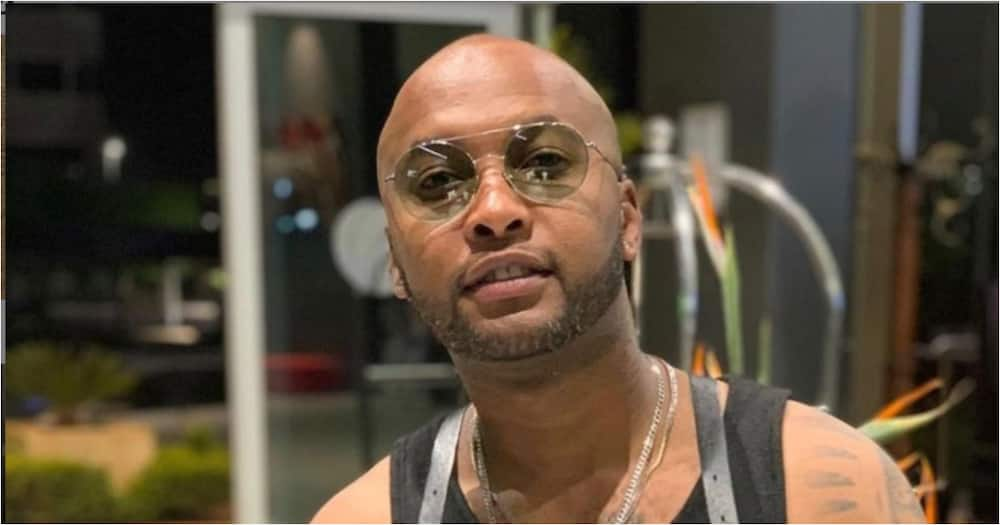 Once her mother completed her studies and was able to provide for Vusi, she took him.
"Then, I moved to Johannesburg to live with my mother."
Vusi picked up a drug habit in his teenage years. Starting off with weed, Vusi then experimented with other substances including Mandrax, cocaine and ecstasy.
His mother's passing when he was 21 fueled his habit as the maternal figure left him with a lot of money. He used the cash to fund his habit.
Vusi also opened up about how his mother passed away.
"My mother was HIV positive and, for the longest time, I was telling people that she had cancer because I was afraid of how people would label her."
As previously mentioned, Vusi has been making headlines because of his close friendship with Somizi. Vusi clarifies their relationship by saying:
"I have known Somizi for 16 years. I met him before I even got into the music industry. He's so real and supportive."
"Somizi is one of those genuine people that believes that if you have a dream, no matter how big, you can work towards it and achieve it. His success has been motivation for me to believe this is possible. Somizi is living proof that reaching your dreams is possible."
Vusi re-affirmed that he is not dating Somizi.
"We have mutual respect for each other and we trust each other a lot."
In an exclusive interview with Briefly.co.za, Jon Savage shared his experience interviewing Vusi.
"It was quite a slow braai'd interview. I often start a chat either interested in the person or a fan of what they are doing - I'm often more of a fan of how the people move and shake then of just the music. Usually these chats are quite light hearted but for some reason we connected pretty quickly and things got deep - I'd never met him before but within 20 minutes we both chatting about the passing of one of our parents. On What's Your Poison, there is no direction, we go where the conversation takes us and with Vusi, that was to his childhood. He was incredibly open and I have a whole new found respect for him now!"
Jon also shared some insights on why podcasts are becoming the more preferred method of broadcast.
"Podcasting is able to offer a whole universe of value that traditional radio does not and is able to capture the attention of an audience (potential consumer) in an active engaged environment. Podcasts don't just fill the background silence; they educate, inspire, entertain, enlighten and you can find a podcast on just about anything you can imagine."
"In addition, the more niche the subject, the higher the audience retention. Podcasts are not aimed at a broad demographic like TV or radio - they are aimed at highly interested niche audiences who are actively engaged with the subject matter."
"If you were selling expensive fishing rods, consider putting an advert on radio in front of 1 million disinterested listeners (reach) vs partnering with a podcast that has 1000 highly dedicated, fishing-mad enthusiasts (engagement). The cost of the latter is considerably more affordable AND more effective."
"We are still blooming late in South Africa but the industry is growing rapidly in 2020 and even more so in 2021."
Meanwhile Briefly.co.za previously reported that Somizi Mhlongo is a true friend. The media personality proved that recently when he dropped everything to go take care of his sick friend Vusi Nova.
Taking to Instagram, Somz revealed that Vusi Nova is currently sick and has turned to him for assistance. Nova is apparently suffering from a tummy bug and Somizi was swift to be by his side.
Speaking on an uploaded Insta post, Somizi revealed that Vusi is a "cry baby".
"Can someone tell this one that I'm his best friend not his mother... he is such a cry baby when sick and now I have to fly back to Joburg coz he has a minor stomach whatever, hayi suka maan."
Enjoyed reading our story? Download BRIEFLY's news app on Google Play now and stay up-to-date with major South African news!