Lady Shares Pics of Dead Giraffe She Killed, Leaves SA Outraged
- A local woman has received a ton of backlash after shooting and killing a giraffe and then sharing the pictures online
- The woman also said how proud she was of her catch and kill
- Not long thereafter she was criticised by many South Africans who called her out for her animal cruelty and blatant disregard for wildlife
PAY ATTENTION: Join Briefly News' Telegram channel! Never miss important updates!
A South African hunter recently received a ton of backlash after she headed online to share pictures of a giraffe that she had hunted down and killed. She also said how proud she was of herself for doing it.
"Two weeks ago a dear friend Chrisjan Bakker contacted me regarding my request for a big old bull and I couldn't believe my eyes, BIG BLACK and 0LD, so old that he was way over his time and the owner didn't know if he will last another 3 months!!!
"My husband booked a trip for us to the palace of the lost city situated in Sun City for our Valentine's weekend, but our plans changed quickly. My wonderful husband knew this was my dream and fully supported me from a romantic 5 star weekend away to roughing it again in the heat and bush," she explained in a long post about finally catching and killing the aninal.
She then explains how happy and flooded with emotions she was after she finally killed the animal.
Very soon many locals flooded the comment section with angry words. Read a few of their comments below:
Sara Harrison said:
"I don't understand how you are proud of this. You didn't work for it. You didn't earn it. It wasn't hard. But yet you're gloating as if you have accomplished something important. You're happy because you shot a large, slow-moving animal with a high-powered rifle from a close distance after getting led to its location? Do you also get this sense of pride after a large bowel movement?"
Sonia Jaeger said:
"Sorry, hunting for meat is okay but just for a trophy. Not okay or a big achievement!"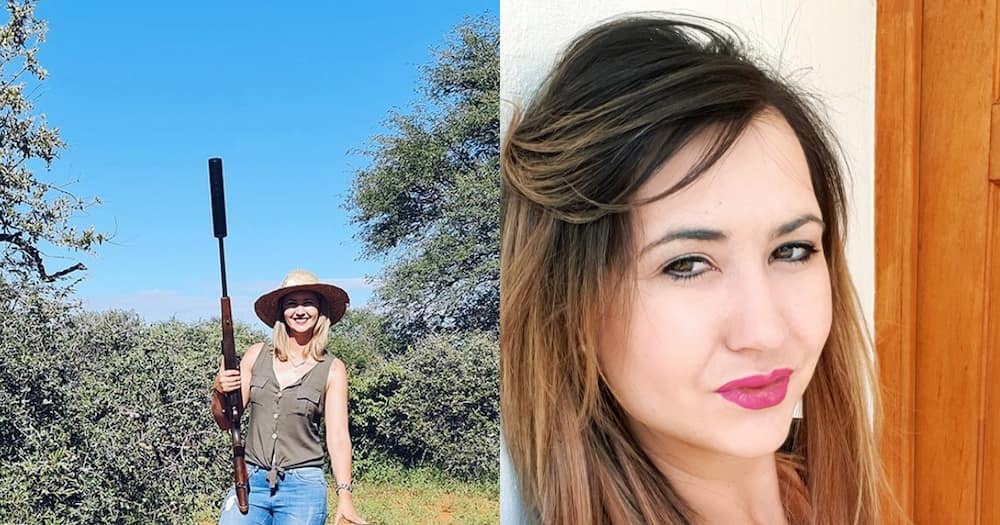 Hunting is legal in many parts of the world, but the most big game hunting takes place in Africa, The Sun reported.
In 2015, MarketWatch reported it cost $3000 - which is about R45 000 - to hunt giraffes in South Africa.
Even though hunting is considered a beloved sport by many, thousands of people are opposed to the needless killing of animals for one's own pleasure.
In 2018, another woman came under fire when she bragged about killing a giraffe on social media. Tess Thompson Talley gushed about her experience of hunting a 'rare' giraffe in a Facebook post.
"Prayers for my once in a lifetime dream hunt came true today! Spotted this rare black giraffe bull and stalked him for quite awhile".
The trip allegedly took place the previous summer, but South Africans' rage reignited after the pics started circulating on Twitter.
In other Briefly.co.za news, a local snake catcher, Jason Arnold aka the Snakeman recently recounted how he worked cleverly to capture a 3m long black mamba that was hiding in a ceiling vent in Bellamont Road in Umdloti.
"Took a few days to get the Black Mamba in the ceiling in Bellamont Road in Umdloti. The ceiling was not the type that a person could get into, and we didn't want to break the ceiling boards either. So after a couple of failed attempts, I decided to trap it - And it worked a charm. It is a young male snake (not even 3 years old) measuring just over 2 metres long."
Locals had this to say about the Facebook post: Mthulisi Nkomo said:
"Great and amazing work there, but believe me you have to be extra extra careful when dealing with these deadly creatures l suggest you wear highly protective clothing your whole body l don know what type but anything which can block snakebites coz this is serious business that you doing, accidents do occur unexpectedly no matter how skilled and professional you're, we really don't want this to end in tears, we love you Jason you doing a great work for our communities."
Enjoyed reading our story? Download BRIEFLY's news app on Google Play now and stay up-to-date with major South African news!
Source: Briefly.co.za