- A local snake catcher recently headed online to share how he bravely captured a 3m long black mamba
- According to his post, the catch was not easy which meant he had to think of a clever trap for the cunning snake
- His exciting post included pictures of himself and the snake that was hiding in an air vent
PAY ATTENTION: Join Briefly News' Telegram channel! Never miss important updates!
A local snake catcher, Jason Arnold aka the Snakeman recently recounted how he worked cleverly to capture a 3m long black mamba that was hiding in a ceiling vent in Bellamont Road in Umdloti.
"Took a few days to get the Black Mamba in the ceiling in Bellamont Road in Umdloti. The ceiling was not the type that a person could get into, and we didn't want to break the ceiling boards either. So after a couple of failed attempts, I decided to trap it - And it worked a charm. It is a young male snake (not even 3 years old) measuring just over 2 metres long."
Locals had this to say about the Facebook post:
Mthulisi Nkomo said:
"Great and amazing work there, but believe me you have to be extra extra careful when dealing with these deadly creatures l suggest you wear highly protective clothing your whole body l don know what type but anything which can block snakebites coz this is serious business that you doing, accidents do occur unexpectedly no matter how skilled and professional you're, we really don't want this to end in tears, we love you Jason you doing a great work for our communities."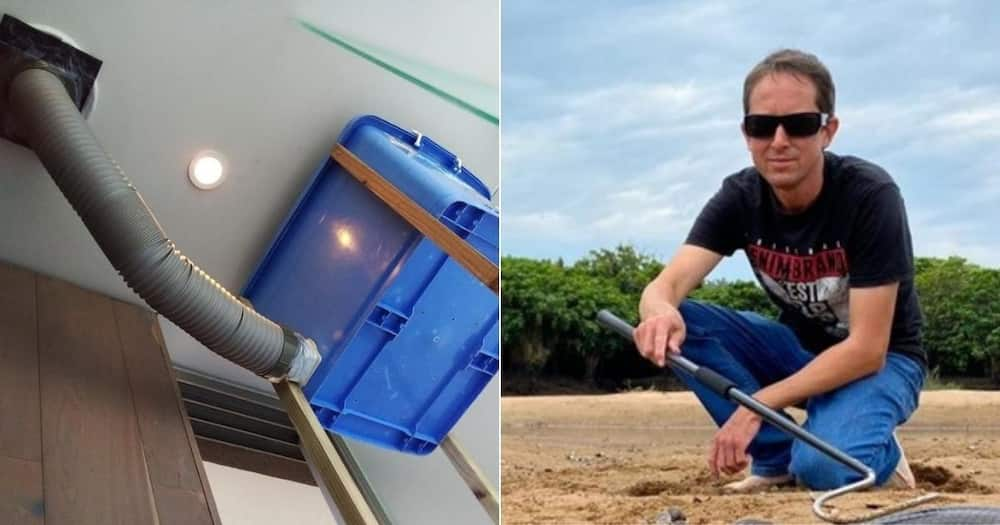 Nishi Singh said:
"Absolutely well done Jason. You are too clued up on how to work with snakes."
In other Briefly.co.za news Nick Evans recently just executed another great snake rescue in the Durban area and as he did, he took to Facebook to retell the tale of how he managed to capture the massive python that was attempting to kill and eat a goat on a nearby farm.
"On Tuesday, on a farm in the Camperdown area, workers had heard a goat 'screaming' nearby. They went to investigate, and as they neared, they saw the goat's legs up in the air, out of the long grass, kicking. They got closer and to their horror, saw a large python wrapped around the goat, constricting it!
"The farm owner asked the workers to get a pic, which they did. When I got it, I could not believe my eyes. I told him to tell his staff to keep away from it and to not kill it, explaining legally they could get into big trouble for killing it. Away we went, at speed."
Enjoyed reading our story? Download BRIEFLY's news app on Google Play now and stay up-to-date with major South African news!