International Women's Day: 4 Sisters Speak About Success of Their NGO
- Briefly.co.za recently did an exclusive interview with four sisters who started a women empowerment NGO
- According to the sisters, they started the programme that provides women with essentials in honour of their late mother
- The women have also found a way to help women with traumatic pasts find a way to become self-sustainable
PAY ATTENTION: Join Briefly News' Telegram channel! Never miss important updates!
Today the world observes International Women's Day and four sisters who started an NGO called Susters 4 Life, dedicated to helping and empowering women are just a few of the women in the world who deserve to be heartily celebrated.
In an exclusive interview with Briefly.co.za, the innovative four sisters share how they started the programme in honour of their late mother years ago. They also touch on how the programme empowers different women from all walks of life.
"The idea to start the Susters 4 Life NGO was born many years ago after the death of our mother due to pancreatic cancer. She, like many women in South Africa, raised her four daughters and remained strong through difficult times.
"Only after our mother was gone did we begin to fully appreciate the difficulties that she faced, and that other women face on a daily basis, particularly single mothers."
The sisters than explain that life in and around their community was very difficult for these women and after getting more deeply involved, realised that formally registering as an NPO would help them make more of an impact. The sisters also explain that the name for the NGO, Susters 4 Life, comes from the fact that they are four sisters who all chose to be actively involved in the programme.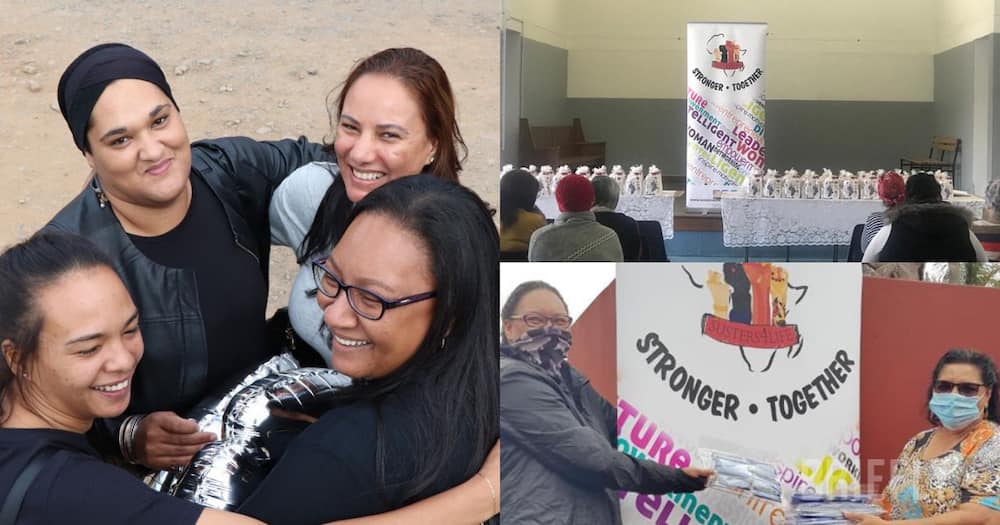 Responding to the question of what does Susters 4 life do, they said:
"Susters 4 Life aims to empower women in high-risk communities through a set of innovative and replicable interventions, for the management of trauma and the development of life skills enabling them to manage their sexuality, personal safety and social and economic development.
"Skills training – sewing, digital material printing, soap making and knitting. The products made are sold from the Susters 4 Life premises and via various markets and small outlets. With COVID-19 we are now selling via our website and social media pages."
One of the things the sisters are very proud of is that they are in the process of registering their very own brand of reusable pads which are made by the many women who they have trained to make the reusable pads. Another thing they are proud of is:
"The first phase of our programmes is to assist women with the trauma they experienced and help build their confidence up again. The second phase of our programmes is to assist them to make an income to become financially independent by generating an income with the sewing and embroidery machines, as well as the soap making.
"We manage to provide entrepreneur and skills training to more than 155 per year. So far we have managed to assist 19 women with obtaining their driving licenses and currently have 2 women that will be taking their driving test soon. We strive to provide practical and sustainable assistance to women to become independent and follow a holistic approach."
For Women's Day this year, the sisters have started a campaign which they are calling 'Choose to Challenge.' In essence, the Susters 4 Life is challenging the government to make good on the various promises they have made to women in the country.
Answering a question about their Women's Day plans for this year they said:
"Last year we partnered with an NGO started by a mother and her daughter, called Hygiene for Women in an effort to make more reusable sanitary pads available free to young girls and women who are not able to afford sanitary pads.
"For every pack of 3 pads paid for by Hygiene for Women, the Susters 4 Life team will match that. As they are an international NGO, we decided that we will do our first big distribution tomorrow. The women from our sewing group made 1000 material masks, soap and reusable sanitary pads that will be donated to schools in vulnerable areas in the Boland.
"We are planning on having these Dignity Drives every three months and to expand them to the West Coast, Central Karoo and Southern Cape."
The sisters close the interview by adding:
"We also #ChoosetoChallenge all South Africans using social media, to tackle GBV in online spaces. To use online activism to promote positive, healthy and non-violent ways of dealing with conflict and anger."
In other Briefly.co.za International Women's Day news, President Cyril Ramaphosa shared a lovely and inspiring message commending and thanking South African women for their hard work and leadership.
This year's theme for International Women's Day is women's leadership and achieving equality in a Covid-19 world. President Ramaphosa saluted the resilience and bravery of women frontline workers.
Ramaphosa thanked a few specific people in his statement and commended them for their dedication to helping women in South Africa, especially during the global pandemic.
Enjoyed reading our story? Download BRIEFLY's news app on Google Play now and stay up-to-date with major South African news!
Source: Briefly News