EFF's Mbuyiseni Ndlozi Goes on ANC Rant: "Baas John Was Spotted at DA Party"
- South Africans have taken to Twitter to air their views on Mbuyiseni Ndlozi's latest controversial video, which takes shots at the ruling party, ANC
- As usual, Ndlozi's post has ruffled many feathers and ANC, DA and EFF followers are sharing contrasting remarks as they digest and react to his sentiments
- It appears that strength of opinion lies in the direction that Public Protector Busisiwe Mkhwebane is not an "ANC deployee" and Ndlozi is over-reaching in his accusations
PAY ATTENTION: Join Briefly News' Telegram channel! Never miss important updates!
The Economic Freedom Fighters' Mbuyiseni Ndlozi is causing a stir on social media once again after posting a video seen as a jab to the country's president Cyril Ramaphosa.
Ndlozi's sentiments come after what he called the emergence of the Democratic Alliance in Parliament, suggesting that the African National Congress is now being bullied by the opposition to remove Public Protector Advocate Busisiwe Mkhwebane.
In support of the motion to remove the embattled Public Protector on Tuesday, Parliament voted after the motion was launched by the DA.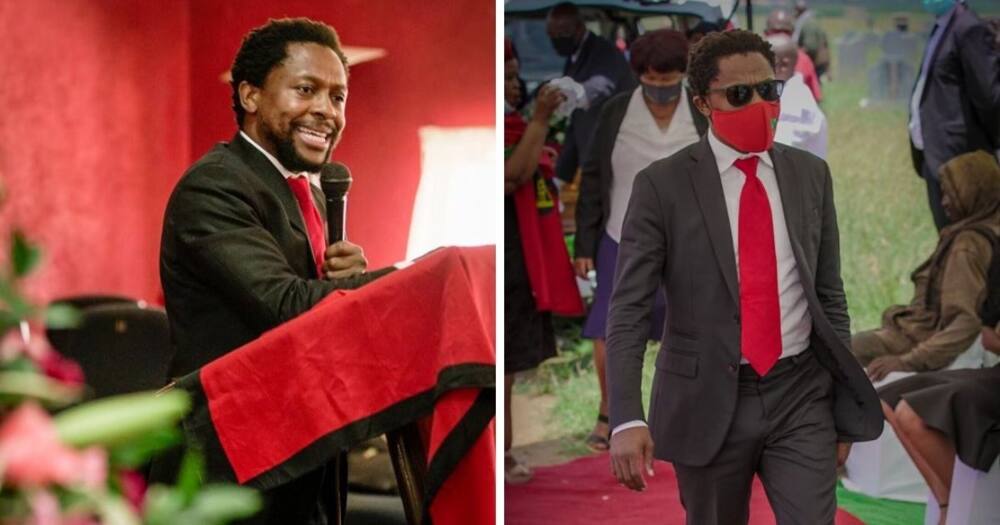 As the ruling party, the ANC had to hold an urgent caucus meeting on the matter just after Mkhwebane's failed attempt to halt the move to axe her through the Constitutional Court.
Moreover, the EFF - through Commander-in-Chief Julius Malema - announced they would challenge the move to evict Mkhwebane from his position, while Ndlozi's post suggests the ruling party has been reduced to a minority in Parliament.
Media reports immediately surfaced that 275 Members of Parliament backed the motion while 40 members were of the view that Mkhwebane is fit to hold the office.
Mbuyiseni Ndlozi controversially stated:
"Baas John was spotted in a DA after-party celebrating the victory of bending the mighty ANC of Luthuli, Tambo & Mandela to the white supremacist leadership in Parliament!"
Despite the EFF's decision to challenge the move, Parliamentary Speaker Thandi Modise explained that the process would now be decided after it has been referred for an inquiry.
In his assessment of the proceedings, the outspoken Ndlozi didn't mince his words. A video posted on Twitter has grabbed the attention of his followers.
The fans and supporters of the Economic Freedom Fighters instantly shared their views in the comment section to express their opinions on the video.
@Tbooze said:
"Same DA you guys shared Tshwane, Jo'burg, and Mandela Bay with? I'm not sure if you guys think people are stupid. Not everyone is a political party loyalist who loans out their thinking capabilities with you guys."
In a response to Tbooze, Fighter Too @refugee_too said:
"1. We never formed coalitions with anyone. 2. We only supported the DA only on occasions where they agreed with us on serving the poor and working-class, case in point the insourcing of security guards and cleaners in Joburg."
@monarekgobe1 joined the conversation and said:
"Everything turns to race every time things don't go y'all way. Laughing out not loud."
@Edo 7662774:
"Mkhwebane is NOT an ANC deployee."
Diago @Ddawg86 said:
"Don't you dare bring Utata Mandela into this when you trashed his name a few weeks back!"
Mkhwebane's future in the office remains a subject of speculation and Briefly.co.za understands that Parliament will form a committee consisting of various parties to assess the advocate's fitness.
Since her appointment to succeed Thuli Madonsela back in 2016, Mkhwebane's reign has not been a smooth one, it has been filled with controversy.
Meanwhile, Briefly.co.za recently ran a story on Ndlozi as some told the politician that United States musician Beyoncè doesn't know him.
This came after The Fighter posted a picture of the Single Ladies hitmaker holding a Grammy Award, calling him a queen in a caption.
In another hilarious post recently covered by this website, the Wits University graduate also shared a clip of men only dressed in shorts and armed with open hands, the two guys can be seen engaging in what can be loosely coined a slapping contest.
With Ndlozi seemingly becoming a hit on social media as numbers of likes and shares might suggest, his followers will definitely be waiting in anticipation of a controversial post and get an opportunity to engage the politician.
Enjoyed reading our story? Download BRIEFLY's news app on Google Play now and stay up-to-date with major South African news!
Source: Briefly.co.za