Must Watch: EFF's Julius Malema Rips Judge Candidate Dhaya Pillay Apart
- EFF's Julius Malema's video in which he interviews Judge candidate Dhaya Pillay is going viral on social media platforms
- As part of the Judicial Service Commission, EFF leader Julius Malema has asked judge Dhaya Pillay about her business interest and if she has shares in Nedbank
- The video clip of the EEF leader has drawn reactions from social media users but some believe the politician was unfair on Dhaya Pillay
PAY ATTENTION: Click "See First" under the "Following" tab to see Briefly.co.za News on your News Feed!
Economic Freedom Fighters leader Julius Malema is causing a storm on social media after a video clip of him ripping #Judge Dhaya Pillay apart went viral.
Malema is a Member of the Judicial Service Commission (JSC) and has alleged that one of the Constitutional Court judge candidates, Pillay, is "nothing but a political activist" whilst also questioning the judge candidate's morals.
The outspoken EFF Commander in Chief questioned the judge whether the fact that she sat on a matter involving Standard Bank while owning shares in Nedbank might have implications on her morals and job or not.
In a video that is going viral on social media circles, Malema is seen roasting and lambasting the judge and it has attracted an overwhelming response from Mzansi users.
"In Case You Missed IT: CIC @Julius_S_Malema grilling Judge Dhaya Pillay about her personal financial affairs and shares in Nedbank. JSC is interviewing ConCourt judge candidates."
Asked Malema:
"It is correct for a judge to look up to a politician for a decision whether to be in business or not? A judge that is applying for the highest court says to us here that a minister will tell me if I must leave the business or not. Do you think it's correct to even say that?"
Replied Pillay:
"I think if you go around and ask judges, many judges have investments in many institutions and if you look at registry of judges' assets you'll find that I have shares as Standard Bank, I have shares in Nedbank and so punishing the other is not going to make any difference. In fact, the judgment against Standard Bank never crossed my mind that my shares will be affected at Nedbank."
@Isaac47810851 said:
"Without Malema, we would be doomed. I don't understand why all Africans are not supporting him."
@Ngoasheng247 said:
"Good question by Julius Malema. Judge Dhaya Pillay has shares in Nedbank & Standard Bank. She bought shares with the expectation of good dividends if they do well. If a judgement, for example, has to do with Capitec or a new bank introduction she'll be compromised."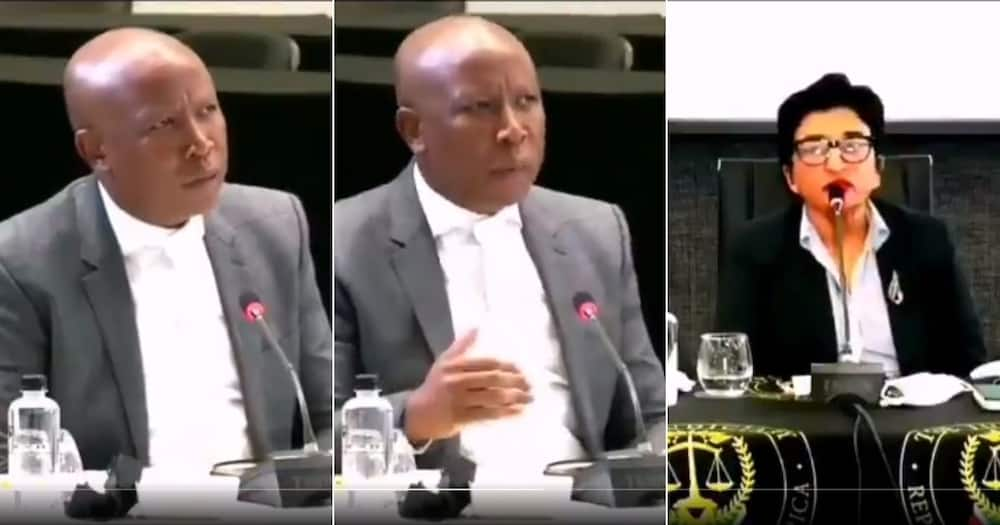 @MandlaNdima2 said:
"It seems as if it's only Julius Malema who is doing interviews there. Are the others there for a tea break and rubberstamping?."
@JMaqoma differed with the CIC:
"The question by Malema is really unfair though, building a share portfolio involves being invested in a number of JSE listed shares. This has nothing to do with how we live our lives or interact in our careers. Everyone should be encouraged to have a share portfolio."
@Gov_Pub1 said:
"CIC did well to expose this judge. She doesn't know the basics of perceived conflicts of interest."
Meanwhile, Briefly News covered an article on the former ANC leader backing EFF member Mbuyiseni Ndlozi who was recently accused of being involved in a rape incident by a well-known media publication.
EFF leader Julius Malema has now come out in Ndlozi's defence and took to social media where he shared two screenshots of a WhatsApp message with the details of Brigadier Mathapelo Peters of the Gauteng South African Police Services.
The message states that Ndlozi was not involved in the rape incident.
Enjoyed reading our story? Download BRIEFLY's news app on Google Play now and stay up-to-date with major South African news!
Source: Briefly News