Exclusive: Thuthuka Mthembu Speaks on the Power of Graduating
- Thuthuka Mthembu recently let Briefly New in on what she had to endure to get her qualification
- Having recently graduated, Thuthuka now wants to encourage everyone to complete their studies no matter their circumstances
- Thuthuka faced many challenges, such as a hectic schedule and Covid-19, but she pushed through and got her degree
PAY ATTENTION: Click "See First" under the "Following" tab to see Briefly.co.za News on your News Feed!
Briefly News was lucky enough to get an exclusive inside into what it took for Thuthuka Mthembu to finally get her qualification. After chatting with her, we can say one thing, she is truly inspiring.
Thuthuka explained how graduating was the best feeling in the whole entire world.
"Graduating and completing my degree is one of many monumental moments I believe I will be blessed to experience in my life."
Completing her degree did not come easy though, Thuthuka had to make many hard decisions and sacrifices.
"This particular one is one that for me has been a test of patience and discipline."
Thuthuka explained how she took time off and had to force herself back into completing her qualification, something Thuthuka is now very grateful that she did.
"I actually started my degree in 2017, thinking that I would've graduated as the class of 2019 and not 2021. I took the year off in 2019 because I had moved to another city and gotten a job that took up a lot of my time."
"When I had eventually gathered firstly the courage to go back, because I somewhat (I say somewhat because it proved to be a much greater challenge than I could've anticipated) had figured out what my work load was like, I took the step towards re-registering and completing my degree."
Thuthuka had already started her acting career and felt that she might not need a piece of paper with a degree pass on it. However, being reminded of the importance of education, thanks to family and friends, Thuthuka jumped to it.
" I honestly contemplated not going back, because I felt I already had my foot in the door, but it was important to me to finish what I started, which is the tone I want to set for the rest of my life, Completion and actualisation. Also, my employers and my family strongly encouraged that I complete the degree, and so I did."
"I'm glad I did too! It is an incredible feat for me."
Thuthuka went on to explain how Covid-19 also had an effect on her studies, but that she was able to push through and complete despite the circumstances.
"Considering my own personal circumstances, the doors I had to knock on so that I was able to complete the degree, as well the huge game changer that was the Corona virus pandemic, made the experience COMPLETELY different. "
Having taken a year off, Thuthuka found it hard to get back into the swing of thing. Knowing now that it is possible, Thuthuka encourages those contemplating completing qualifications, to just go and do it!
"There was also the challenge of being back at school having had taken an entire year off. I had to navigate insecurities that came like feeling I had a mental lag because I had not been critically/academically challenged in a while, and I had to train my mind to get back into that mode. "
"It's a beautiful experience. It's proved to be such a sweet moment."
Thuthuka feels that you should do your best to get your studies done, even if it means knocking on doors to find funds.
"I'd definitely encourage every young person who has the opportunity to acquire an academic qualification to do so, and fervently knock on doors to make it happen should they desire to do so but may not necessarily have the financial means."
Lastly, Thuthuka touched on how many believe qualifications hold no value anymore, but she still believes that they do, and they do!
"Yes, we do exist in a time where your qualification/education is no real measure and/or indication of intelligence or success, but the lessons you learn in that environment are lessons you can take with you into any space you hope to one day dominate."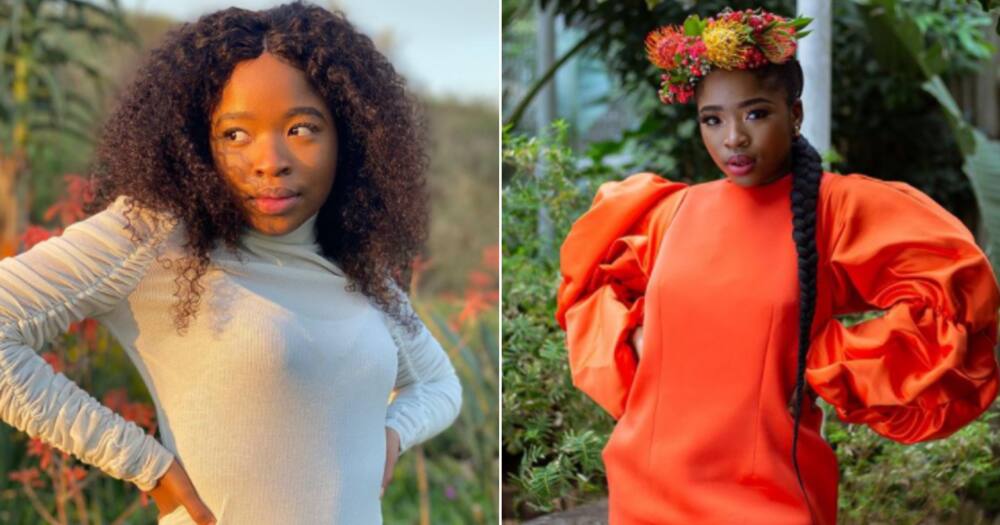 Briefly News previously reported that Thuthuka Mthembu has finally graduated and cannot contain her excitement. Getting your qualification is a feeling that cannot be explained, it's life-changing!
While Thuthuka is already a star, getting her qualification meant a lot to her. Education is so important and Thuthuka knows the power of knowledge.
Having recently graduated from AFDA, The School for the Creative Economy, Thuthuka took to social media to share the incredible news.
Enjoyed reading our story? Download BRIEFLY's news app on Google Play now and stay up-to-date with major South African news!
Source: Briefly News