Inspiring Lady Works as Military Mechanic to Earn Funds for Law School
- A woman, Sharon Sinclair, has inspired people on social media as she showed that success is achievable if they put their minds to it
- Despite dropping out of school because of lack of money, joining the military and working as a mechanic, the lady didn't let this deter her from going back to the higher institution
- Sharon has finally graduated from law school because she believed she could achieve success
PAY ATTENTION: Click "See First" under the "Following" tab to see Briefly.co.za News on your News Feed!
A woman identified as Sharon Sinclair has taken to social media to inspire people that it's never too late to achieve success.
Sharon had it rough when she started college in 1996 and she had to drop out when she ran out of money in 1998.
According to the woman, who shared her story on LinkedIn, she had to join the military in 2000. She then went back to school in 2013.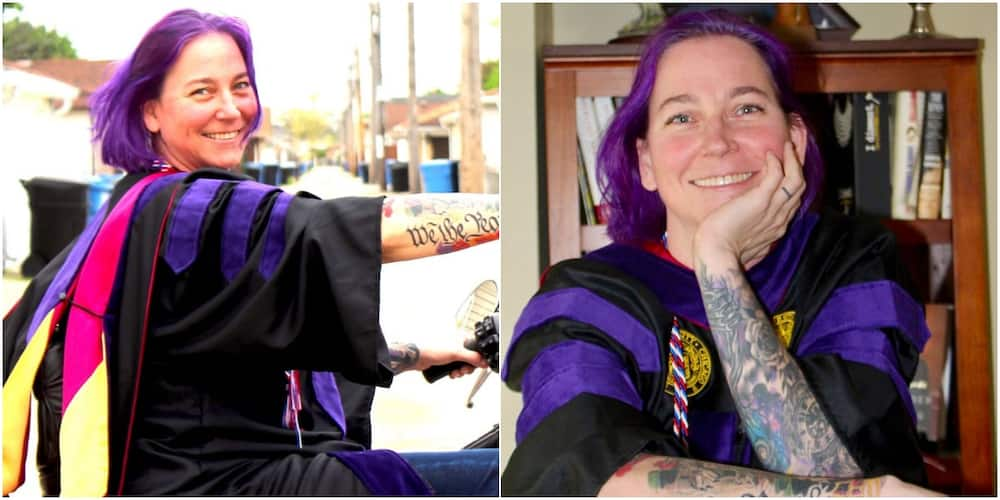 In her words:
"At the time, I was making very good money as a union mechanic. I also worked 12 hours a day, 4 days on/4 days off. I had to take classes on five campuses and online to get around my work schedule. I graduated from DePaul in 2014.
"Everyone asked me what I was going to do with my degree. I told them that I was going to hang it on my toolbox. And I did. I had a fingerprint-smeared, oil-stained copy of my degree in a magnetic clip on the side of my double Craftsman rollaway."
She said less than a year later, she got a job that required 10 years of mechanic experience and a college degree.
The lady added:
"That job gave me weekends off. I had 21 months left on my Post-9/11 GI Bill. I read one prep book, sat for the LSAT, and applied to one law school. If I didn't get in, my GI Bill would expire before I could finish. It was now or never."
Sharon said she got into law school and was offered a scholarship. She concluded:
"At 43 years old, I graduate from Loyola Law School Chicago on May 15th. It's never too late."
PAY ATTENTION: Never miss breaking news – join Briefly News' Telegram channel
Reacting, LinkedIn user identified as Fran Ota said:
"I'm 75 and just finishing year 1 in a Masters in Medieval Norse Studies in Iceland. Just now home to Canada, Norway in the fall for year 2. I have a Music Degree and Master of Divinity, and this was a total left turn ... but such fun."
Phillip Shotts commented:
"I have no idea how my classmates with children did it. All I had to take care of was myself. I could wake up in a gutter and it would be OK as long as I made it to class. I got married halfway through law school, but we don't have any kids. You're amazing."
Richard Luftig wrote:
"You are unstoppable Sharon Sinclair. I wonder what Black would think of the ink?"
George Sisk said:
"It's never too late, indeed. Here's another never: One should never say that attorneys can't/shouldn't be tatted up. From one body art lover to another, I say congratulations on your educational achievement!"
Briefly News previously reported that when Latonya Young received an Uber request to pick and drop a passenger by the name of Kevin Esch, she had no idea it was her path to achieving a lifelong goal.
As an Uber driver, she was in the habit of talking with her passengers to make them feel easy and enjoy the ride.
It happened that during the talk the two exchanged a lot about themselves, with Esch revealing about his divorce and Latonya disclosing that she had dropped out of school and really needed to rejoin but was short of money.
Enjoyed reading our story? Download BRIEFLY's news app on Google Play now and stay up-to-date with major South African news!
Source: Briefly News