'Thanks, Buddy': BI Phakati Inspires Mzansi After Blessing 2 Disabled Men
- BI Phakati has generously helped two disabled men with food and money
- The local do-gooder shared a short clip of his kind deeds which has since gone viral on social media
- Mzansi shared their reactions to the sweet man's generosity
PAY ATTENTION: Click "See First" under the "Following" tab to see Briefly.co.za News on your News Feed!
BI Phakati is at it again, this time helping two very deserving disabled men out on the streets of Mzansi. The good samaritan took to sharing his deeds in a viral video that has since been viewed more than 100k times.
In 3 minute clip, BI begins by introducing himself to a friendly man sitting in his wheelchair at a local garage. It's clear the old man does not have much but still, seems happy and willing to share his troubles with the younger man.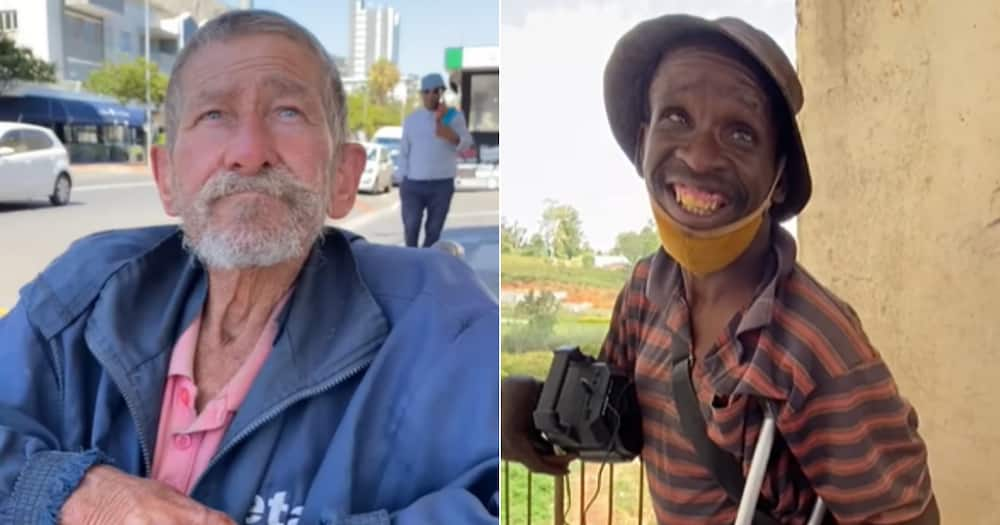 BI then offers the madala a fresh pie and some cool drink before leaving him with a few R100 notes.
In the next part of the clip, the young man performs similarly kind acts, offering a friendly man who struggles to walk a few R100 notes to get by. The man's smile absolutely radiates through the screen as he receives the kind gift.
Mzansi was definitely inspired by the young man's selfless act of kindness. Check out some of the comments below:
Cecilia Phiri said:
"Kindness is LOVE MADE VISIBLE!!! I'm really learning a lot from you, BI Phakathi by your giving. When somebody does a random act of kindness towards me, I pay it forward by doing the same to somebody else."
Bernadette Bremner said:
"Hi my friend still doing great work while I've been off FB my phone is on the end of it's days but thank you for continuing your work as always you have my utmost respect."
Michelle Gn said:
"You are a wonderful human being! Always tell these people going through hard times that they are important! They are someone!"
Joyce Kiongo said:
"The second guy could not believe that gift was meant for him. The first guy was so grateful before receiving his drink n meat pie n I like the way he appreciated it. God bless you B."
PAY ATTENTION: Never miss breaking news – join Briefly News' Telegram channel
Meanwhile, Briefly News previously reported that a generous young man has gone viral on social media after sharing his heart-warming encounters with a lovely madala desperately trying to build himself a home.
BI Phakati is known worldwide for his acts of generosity and shared clothes, money and some sound advice with the elderly gentleman.
In the clip, BI Phakati approaches the elderly man who explains that he's trying to build a house from the scrap plastic. The two men continue having a sincere exchange with the homeless gentleman explaining his many struggles to the younger man.
BI then generously hands the grateful man a handful of cash to hopefully start getting his life together. He returns a few days later bearing gifts in the form of clothes. The two men part ways with the words "I love you."
Mzansi was definitely captivated by the clip, watching it almost one million times. Read some of the heartwarming responses to the post from people all over the world:
Daisy AknCrdz said:
"So relieved to see that he got clothes and shoes too! I was afraid he wouldn't be allowed into the shops because of his looks. You are truly an amazing soul sir! May God bless you always and abundantly so that you can continue your journey of kindness and support.''
Mercy Ndiweni said:
''It's heartbreaking to see a human being living in such a way, when we come across them we've always thought that these people are sick in their heads but now this has changed me, I will see them differently now.''
David Jackson said:
''Very touching, I don't have any words to express my feelings towards this man! God came to him through a guy with a kind heart.''
Vena Quiui said:
''Always a big thank you for the difference you make... thanks for realising he wouldn't be allowed into shops to choose clothes as retailers can be ruthless.''
Enjoyed reading our story? Download BRIEFLY's news app on Google Play now and stay up-to-date with major South African news!
Source: Briefly News