Mom's Tearful Reaction to Daughter's 2023 Mercedes-Benz CLA 200 AMG Goes TikTok Viral
A young woman made her mother very proud with her purchase of a new sleek and luxurious car
The proud mom broke down in tears at the Mercedes-Benz dealership when the car was about to be unveiled
The wholesome video was shared on TikTok recently and has since gone viral with over a million views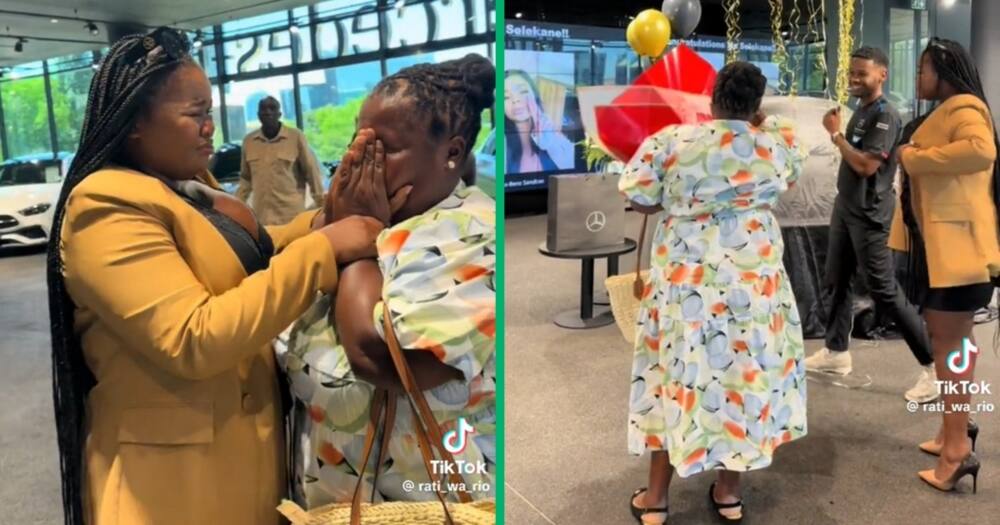 A young woman completely blew her mom's mind with her swanky new car purchase.
As they were at the dealership, the proud mom couldn't hold back the waterworks when the sleek 2023 Mercedes-Benz CLA 200 AMG was unveiled.
Woman shows new car
Of course, you know in this digital age, they filmed the whole heartwarming scene and shared it on the TikTok account @rati_wa_rio. Netizens were living for the touching moment between the mother and daughter duo.
Mercedes-Benz video goes viral
The heartwarming clip racked up a staggering 1.1 million views. It's not surprising because it was a full-on emotional rollercoaster.
Watch the video below:
Mother's love and support
They showered the lucky lady with congratulations on her new ride. Some praised her good fortune for having such an awesome and supportive mom to share the milestone with.
Check out some of the comments below:
@mandycareswa said:
"Sebenzile ntombazane kaMama. ❤️"
@preshilicious mentioned:
"Why am I crying? Congratulations Sis uthando olungaka sibonga uBaba uNkulunkulu."
@bellsnc wrote:
"You've got the best mom, my mom couldn't care less about my achievements big or small.❤️"
@pedihun97 commented:
"When the time is right I the Lord will make it happen.❤️I claim this."
@bee_khaleesi stated:
"Sibonga umdali for allowing your mom to witness."
@user8618761178132 wrote:
"She's thinking of how hard she raised you. Tsedi botse di swanela lapa la gagwe."
@bsummon added:
"May God protect you sisi as you drive that car. May you be covered by the blood of Jesus, declaring that there is no weapon formed against that shall prosper."
@prettym41 said:
"Unfortunately, some of us won't have those moments.God decided otherwise with us and our mother may her soul continue resting in peace."
@angybaby03 posted:
"The way this video gave me goosebumps.❤️Congratulations sis. "
Woman and coworkers celebrate her brand new car in TikTok video, SA loves wholesome content
In another article, Briefly News reported that one woman celebrating a new car with her co-workers went viral. The car owner and her colleagues had a joyful moment together.
The video of their celebration of the new car got over 30,000 likes. Hundreds of comments were gushing about the woman's big win.
Source: Briefly News