Pit Bull Has Vet Running After Giving Injection: Hilarious TikTok Video Leaves People in Stitches
TikTok video showcases a vet's entertaining encounter with a reluctant pit bull patient; Mzansi laughed hard
Vet's attempts to give injections take an unexpected turn, leading to him fleeing the scene with urgency
The video left many people laughing hard, admitting that their fur baby might have done the same
In a side-splitting TikTok video that has taken the internet by storm, a vet found himself in a comical chase after a grumpy pit bull decided it had had enough of injections.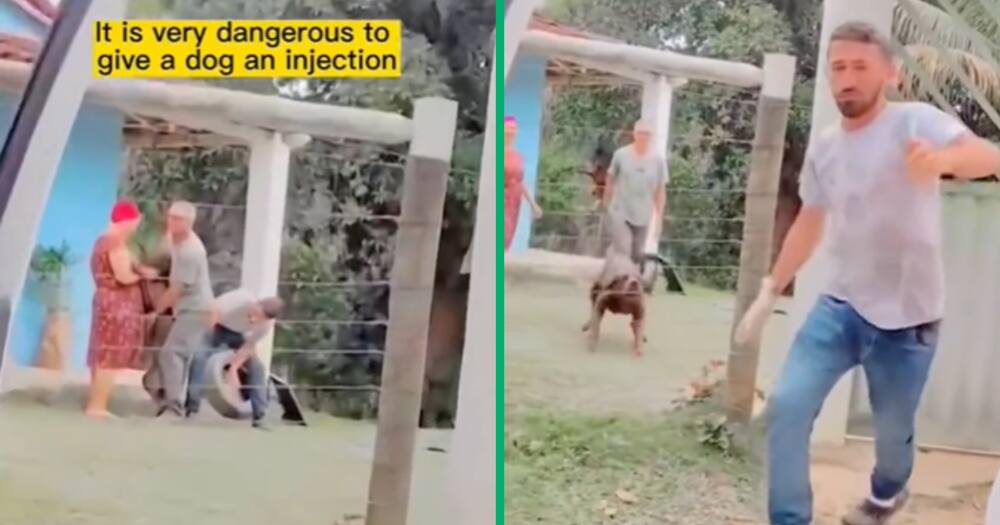 Pit bulls are one of the dog breeds that has a lot of controversy surrounding it. People are scared of these fur babies, even vets.
Vet runs away from a giant pit bull
The video, posted by user @remyeasterling, captures the hilarious moment when the veterinarian administers shots to the massive pit bull, only to end up sprinting for dear life.
The man bolted to the fence, closed the gate, and jumped into his car. The fear on his face said it all. Take a look:
People had a good laugh at the vet's fear
The TikTok video has become a viral sensation, racking up loads of views and an abundance of shares and comments. It's not just the pit bull's reluctance that's amusing; it's the vet's expression of shock and determination to escape the dog's clutches that adds to the hilarity.
Read some of the funny comments below:
@Dianne145:
"That pit bull was not having it! "
@LaughingOutLoud87:
"I can't stop watching this! The vet's reaction is priceless!"
@PhumiLU:
"Every vet's worst nightmare caught on camera!"
@Pit bullMomma:
"My pit bull would do the same thing! "
@VareshM:
"This is the kind of content we need more of! Pure laughter!"
Mzansi amazed by pit bull owner who spoils her dog with gourmet meals and coconut oil: "Routine is good"
In related news, Briefly News reported that South Africans are in disbelief at a pit bull owner who feeds her dog top-class food, brushes its teeth daily and puts coconut oil on its coat.
The dog is fed gourmet meals that include steak, omelettes and pancakes, and the dog's soft life has Mzansi wondering if this dog is not her husband.
@reignstormpit shared her viral video on her TikTok account, sharing updates on how she pampers her pit bull. The video went viral, reaching 1.4 million viewers and 119K likes. The proud owner indicated in her caption that this is her morning routine with moisturising and breakfast for her dog.
Source: Briefly News