Uninvited Guest: Crocodile Swims Into Richards Bay Harbour, TikTok Video Has South Africans Puzzled
TikTok video captures a crocodile swimming in Richards Bay harbour, leaving South Africans confused
Unusual croc encounter stuns viewers and sparks discussions after the TikTok video goes viral
Mzansi people feel for the croc and hope someone helps it, but also want to know how this happened
In a shocking and rare encounter, a TikTok video captured the attention of South Africans as it showed a crocodile casually swimming in the waters of Richards Bay harbour.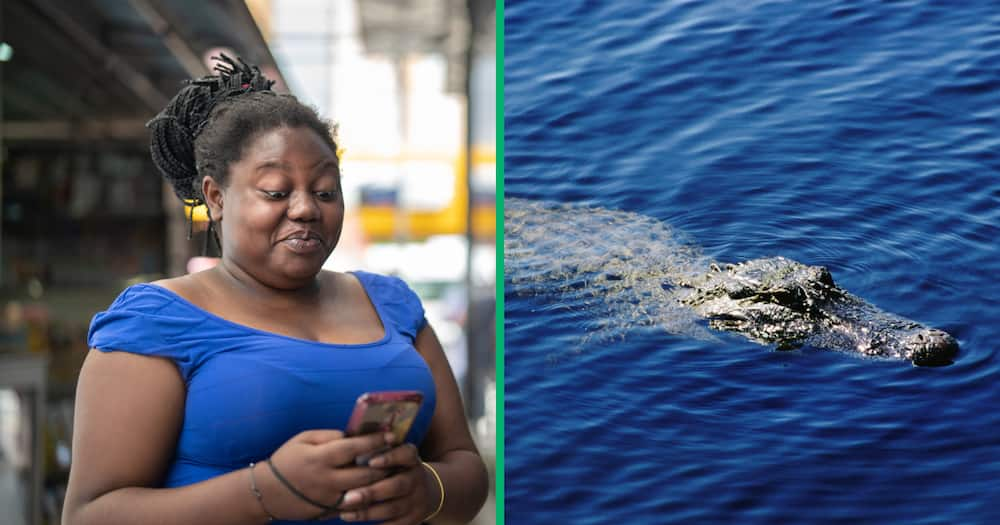 It is not the norm to see crocodiles in harbours, as crocodiles are freshwater reptiles. This video has left many puzzled.
Crocodile swimming in Richards Bay Harbour goes viral
The video, uploaded by TikTok user @cl.boshoff, shows the large crocodile leisurely gliding through the harbour waters, with its large body and eyes visible above the surface.
This is not something any local ever thought to see. A croc in the ocean, things are getting wild out here!
Take a look:
South Africans want to know what's going on
While people were confused by the whole situation, they showed care for the animal as they knew it was not where it was supposed to be.
Read some comments below:
@WildlifeEnthusiast said:
"Nature never ceases to amaze! I hope they can safely relocate the crocodile."
@CuriousMind33 commented:
"I've lived in Richards Bay my whole life, and I've never seen anything like this!"
@SafetyFirstSA was concerned:
"Let's hope everyone stays safe, including our scaly friend!"
@CoastalLifeViews added:
"This is why I love living by the coast; you never know what you'll see!"
@AdventurousSoul said:
"Imagine going for a swim and meeting this guy! Nature is unpredictable."
Man slides head first into jaws of a crocodile in insane video, SA cringes
In related news, Briefly News reported that a video of a performer doing the unthinkable has Mzansi social media users scratching their heads.
The daring act in which the man slides across a wet floor and straight into the open mouth of a crocodile was caught on film and sent shockwaves across social media.
A Twitter user, @ThabangTweezus, shared the clip with his followers, and boy was the fear palpable in the comments that followed.
Source: Briefly News