Cape Town Weather: TikTok Video Captures Ocean at Hermanus Turning Black, SA Starts Praying
TikTok video captures the ocean at Hermanus turning black, sparking widespread bewilderment
Unusual weather patterns in Cape Town raise questions and concerns among South Africans
Diverse interpretations emerge, with some viewing it as a divine sign and others as a message from Mother Nature
In an unsettling and mysterious turn of events, a recent TikTok video showed the ocean at Hermanus turning an eerie shade of black. This baffling occurrence has left the people of Mzansi puzzled and concerned, with some interpreting it as a message from a higher power while others see it as nature's way of sounding an alarm.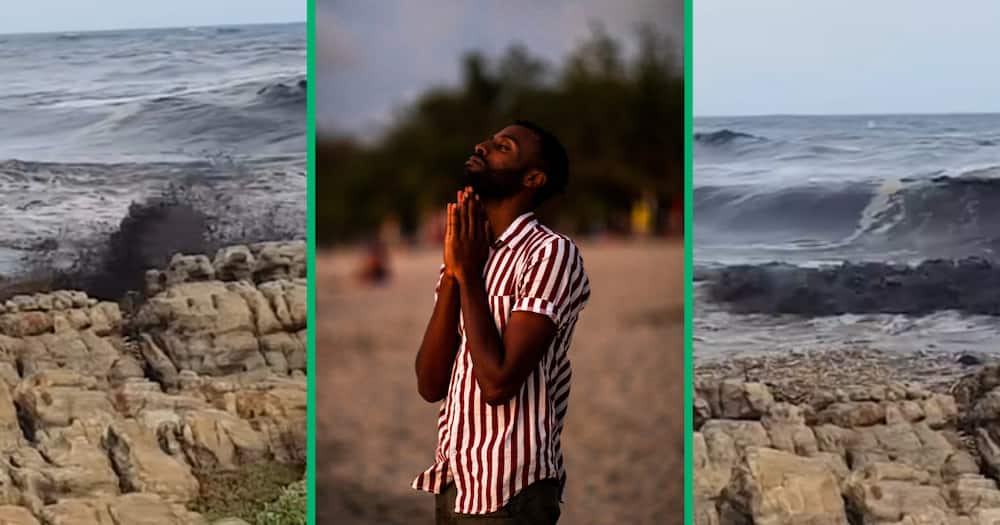 The weather in Cape Town has been doing some scary and strange things. But this black sea is not something people have seen before.
Ocean at Hermanus turns black
The TikTok video shared by @ladybird_g2 shows the ocean waters at Hermanus turning an ominous shade of black.
The bizarre occurrence at Hermanus is just the latest in a string of perplexing events that have caused concern among South Africans.
Take a look:
Mzansi people start praying
As news of the TikTok video spread, mixed feelings and reactions emerged among the people of Mzansi. Some have viewed the phenomenon as a sign from a higher power, interpreting the blackened ocean as a message or warning. Others believe it to be nature's way of expressing frustration, possibly due to environmental changes and human activity.
Read some comments below:
@PhakamileMblos said:
"This is deeply concerning. Our planet is trying to tell us something, and we need to listen."
@FaithInSigns shared:
"I can't help but feel this is a message from God. We should take it seriously."
@WeatherWatcher23 was concerned:
"Climate change is real, and these strange occurrences are its proof. We must act now."
@Robinmeets observed:
"Nature is mysterious, and sometimes she reminds us of her power in unexpected ways."
@PumileM commented:
"Let's not jump to conclusions. It could be a natural phenomenon with a scientific explanation."
'Mother Nature needs money,' Lula tells rich countries at summit
In other news, Briefly News reported that Brazilian President Luiz Inacio Lula da Silva urged wealthy nations to fulfil their unkept promises to fund developing countries' fight against climate change at a summit on saving the world's tropical forests.
Vowing to act as a bloc in future climate negotiations, the eight South American countries that share the Amazon basin and nations from the Caribbean, Africa and Asia called on the industrialised world to do more to protect Earth's disappearing tropical forests, vital buffers against global warming.
Source: Briefly News