South African Woman Shares Struggle of Expensive Cornrows in New Zealand in Viral TikTok Video
A South African woman living in New Zealand was shocked to learn that it would cost her $80 (R893.25) to have cornrows done on her natural hair
She was considering doing a weave sew-in instead, as it would probably be better value for money for her
Many people could relate to the struggle of parting ways with a lot of money to do their hair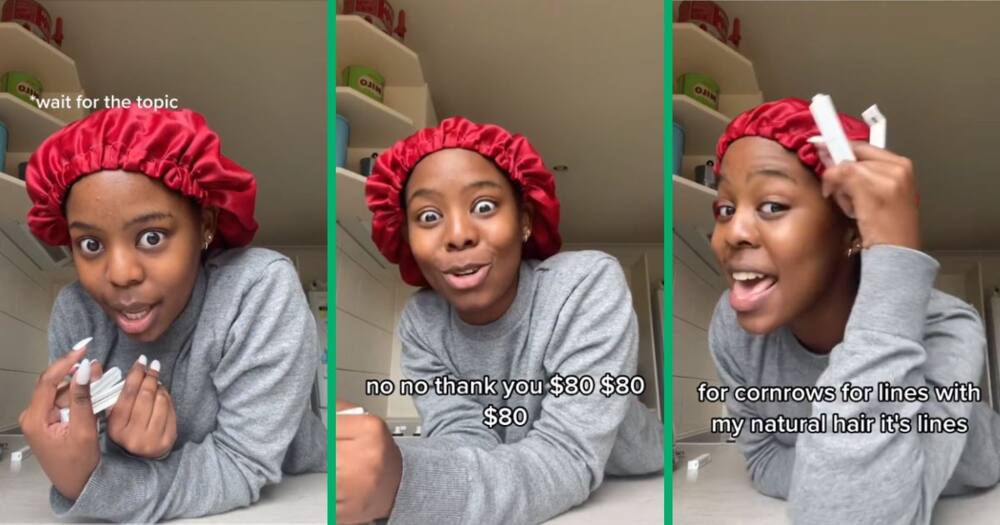 A South African woman living in New Zealand was left stressed and in disbelief after learning how much it would cost her to do cornrows on her natural hair.
SA woman shares struggle of doing her hair in NZ
In a TikTok video, a frustrated and very animated @_.sovereignmango._ can be heard venting about how she learned that she would need to pay $80 (R893,25) to have cornrows done.
Cornrows are a style of braids in which the hair is braided very close to the scalp, using an underhand, upward motion to make a continuous, raised row. Cornrows are often done in simple, straight lines, as the term implies, but they can also be styled in elaborate geometric or curvilinear designs.
The young woman could not believe how expensive it was to braid her natural hair into basic lines and shared that she was considering doing a weave sew-in instead as it would probably be better value for money for her.
Watch the video below:
Netizens feel the woman's pain
Several people could relate to the struggle of parting ways with a lot of money just to do their hair.
Amarah replied:
"80 dollars is R1520. the dollar to rands was R10 some years back. Now dollar to rands is R19."
Carmen replied:
"Yes!!! Even me! R2000 for a cut and blowwave because I have very long hair??? Are you GESUIP?? No one has touched my hair since February ."
Olive said:
"It's more than R800 now we sitting at $1 = R19 ."
Lew_lew replied:
"Girl you need to come to south Auckland, all the girlies here in the hood know how to braid and they'll do it for free!!"
Daughterofa_king_ commented:
"That's why I learned how to braid my own hair and do my own nails because America is getting insane with these prices."
Naso Ntelezi said:
" Bahlanya."
Woman shows R3.5k wig that's so tangled she can't comb it
In another story, Briefly News reported that some hair vendors and companies will have you crying real tears.
This was the case for TikTokker @kayleecarow, who posted a now-viral video showing her stiff, long wig that she purchased for a hefty R3 550.
In the clip, she is seen attempting to comb the course hair, which appears to be a real struggle as she forces the comb down the long and hardened wig.
Source: Briefly News