Spoof Video of Husband Not Helping Wife With Household Chores and Children Gets People Bothered
A family shot a spoof video shining a light on gender roles and how most moms do all the work at home
The clip shows the husband not lifting a finger to help the hard-working wife while he enjoys his sleep
The video bothered a lot of people, and they said even though it's comedic relief, it still reflects the reality of many women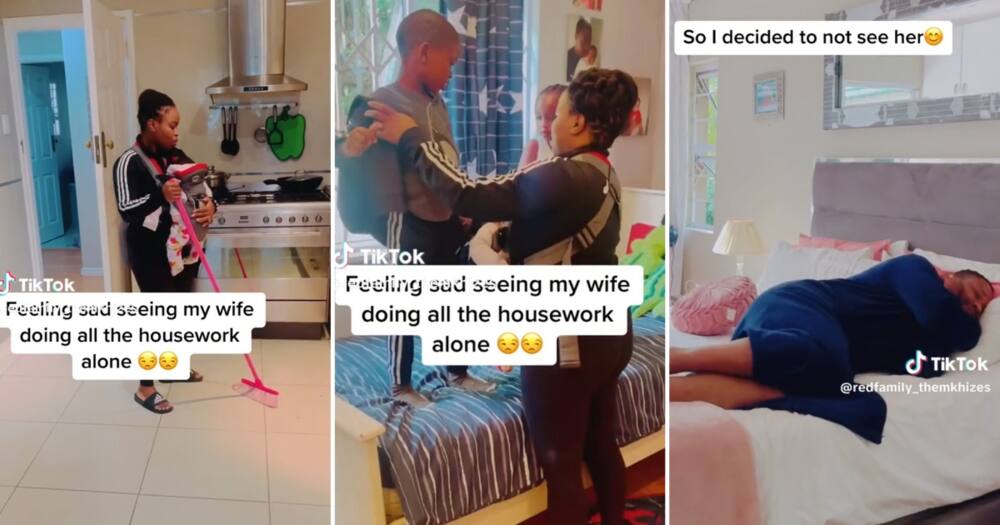 A family of content creators got social media talking with their spoof video about how chores are done in their home.
Family posts video showing unfair gender roles in South Africa
The wife can be seen cleaning the house with a baby on her back and getting the other young children dressed.
She also washed the dirty dishes while her husband watched her with a sad look. Instead of helping, the guy decided to take a nap. The video was captioned:
"Feeling sad seeing my wife doing all the housework alone. So I decided not to see her."
The gender roles clip posted by @redfamily_themkhizes left a bittersweet taste in people's mouths. People found it unfair that women are expected to hold full-time jobs, be good mothers and still do all the cooking and cleaning at home.
Watch the video below:
@jerminahr shared:
"Mina shame I complain, even if you weren't seeing me, you'd hear well."
@twa1011 wrote:
"To think they're some man watching this who will practice this literally knowing exactly its comedy."
@belinalegae posted:
"It's tough. I had 8 metal screws 10 years ago. I'm doing household chores. My hubby helped me a lot."
@funomleya said:
"My reality on daily basics before work and after."
@nosiebaby stated:
"He's just doing this to get a rise out of us. He's not like this."
@luyandomutali added:
"He'll still wake up and ask for breakfast and where his ironed clothes for the day are."
@lady_gee188 stated:
"Just when I thought you were gonna help."
@ojlejabu8323 said:
"Major problem that affects relationships."
Woman pulls hot tea prank on her husband, TikTok of parents playing tricks warms hearts
In another article, Briefly News reported that a lady on TikTok took part in a hot tea prank. The lady set her husband up when she was bringing him a hot beverage.
Netizens were amused as they watched the video of the love birds having fun together. The clip got over 100 000 likes.
Source: Briefly News