Video of 25-Year-Old Woman Wearing Matching Pink Onesies With Her Baby Sister Warms SA's Heart: "This Is Cute"
Two siblings in matching outfits had Mzansi peeps talking about their huge age difference in TikTok
The 25-year-old sister posted a video of them chilling in their pink onesies, and they looked absolutely adorable
A lot of people found the video relatable, and they opened up about how they became big brothers and sisters when they were adults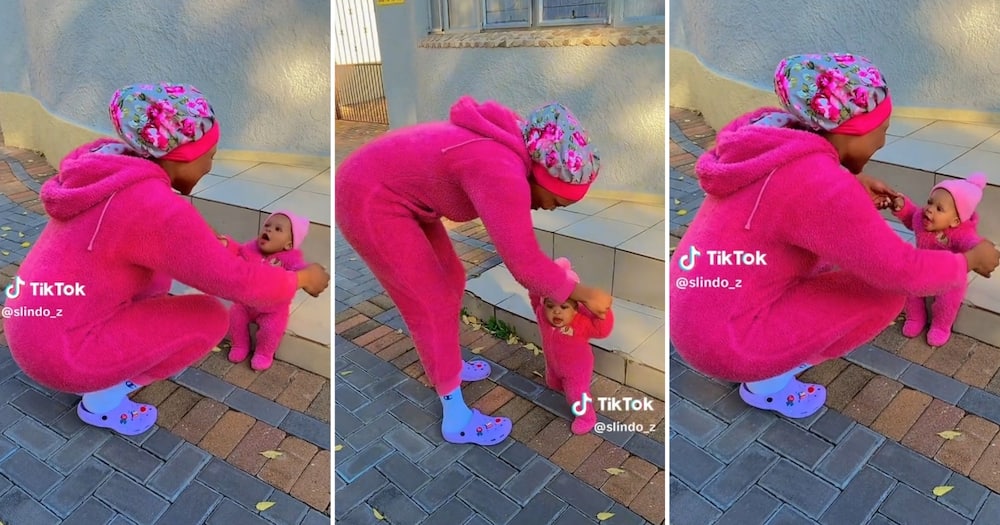 A woman showed off her adorable baby sister, who can easily be mistaken for her daughter. The two siblings wore matching fluffy onesies, and people gushed over them.
Woman in her 20s reveals her baby sister to Mzansi
The woman moaned about her mom making her a big sister at 25. She captioned the video posted on the TikTok page @slindo_z:
"At 25 years, my mom just decided to give me a sister, yho! Abazali, now we're wearing the same clothes."
South Africans swoon over the wholesome TikTok video of the siblings
People joked that she was the baby's honourary mother because her parents were probably too old to discipline and play with the child.
Surprisingly many people knew exactly what she was going through, and they shared stories about their younger siblings in the comments.
Watch the video below:
TikTok users mention age differences with their own siblings
@ayanda870 said:
"Mina I was 27 when she decided to give me a baby brother and then she passed on when he was 5, he's now my son."
@nothandosthandwa wrote:
"Chomie congratulations, you are now an official mother of that baby. My mom did the same thing now and now she's too old to parent."
@poemlaniir2 asked:
"What is happening with our mothers guys? I'm 24 and my mother is due next month."
@visionnobuhlegoboza posted:
"But you are matching with her, you adore this human."
@makathandoh shared:
"I am 31 and my father decided to give me a sister, she's 2 weeks old."
@mpumenhlapho added:
"I will be that mother shame, my daughter is 19 and I'm 38. I want another child now that she is grown."
@ndoufhumu said:
"I'd really love to see your mom."
@luyolo1712 stated:
"Ncoh but this is cute."
2 young siblings get caught being naughty because mom took away phone, video of mischievous kids goes viral
In another story, Briefly News reported that a video of a mother catching her naughty children after they made a mess amused thousands of social media users.
The TikTok shows two toddlers covered in a grey-pinkish lotion that they smeared on their bodies. When the mother asked them why they misbehaved, the little girl said they decided to act up because their mom had taken away their phone.
Source: Briefly News